Windows 8 deserves a chance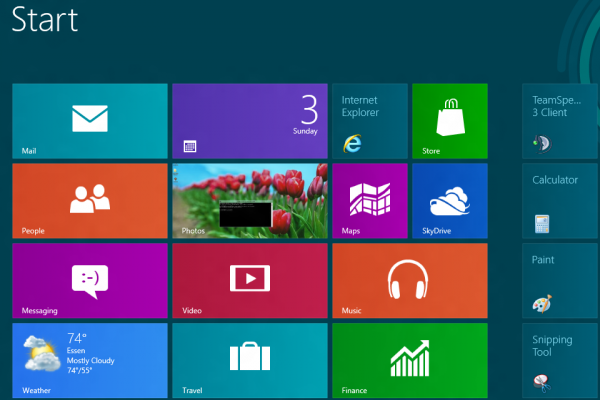 When I set up my first Windows 8 system back when Microsoft released the Developer Preview, I was somewhat irritated by the removal of core operating system features like the Start menu that I had been using for over a decade in different versions of Windows. Even more alien was the new startpage that Microsoft had added to the operating system which felt like a new interface that had nothing to do with the desktop and the way Windows used to be.
I too believed at this point that Microsoft was making a huge mistake, that it was betting big on touch and that touch-enabled devices would become the de facto standard in computing. While I believed that they got it right for the mobile computing market, I could not see myself using a touchscreen on my desktop PC. Sure, the startpage and Charms menu did support mouse and keyboard as well, but it somehow felt like something that Microsoft added on top of the native controls.
The release of the Consumer Preview did not change my perception of the operating system and I joined the chorus of Windows users who felt that Microsoft was neglecting the desktop in favor of a system that did not work on the desktop, which after all was Microsoft's core home market.
The Release Preview came and I decided to install it on one of my desktop PCs that I work with on a regular basis. I saw this as a last attempt to test the operating system and I wanted to test the system extensively to make sure I was not missing out on something.
And after using the system for a while, it dawned on me that it was not really that different from previous versions. I liked the new search for instance. The controls for search are the same under Windows 8. You still press the Windows key and enter your search term afterwards. The core difference is that Windows 8 won't open the start menu anymore when you press the Windows key. It switches to the startpage instead where you search in full screen and with advanced filtering options that the search in previous versions of Windows did not offer.
I barely use the search in Windows 7, my other desktop operating system, as I have pinned all the important programs to the taskbar from where I can access them right away. And all installed programs are listed in the start menu, so it is that which I browse when I need to start apps.
In Windows 8, I use the search a lot to start applications that I do not want to pin to the start menu. I press Windows, enter Team and hit enter when Teamspeak 3 is displayed as a search result to load the voice communication software. When I want to open the Control Panel, I hit the Windows key, type "cont" and hit enter to load the full Control Panel. The browsing of the start menu is gone, which improves how I work with the operating system.
Sure, Microsoft could have simply pimped up the start menu to feature this kind of search, or even added a floating interface to the desktop that would act like the search in Windows 8: but it did not. And the company's solution is not as bad as some users make it look.
Do I use the startpage for anything besides search? Not really to be totally honest. But it is easy enough to ignore it. I have installed the free Start8 program that takes me directly to the desktop when the operating system starts, and I can even use it to search right from the desktop using the improved search functionality of the operating system.
Has that not always been one of the strengths of Windows? To install third party software and modifications to change the operating system and make it behave like you want it to?
You do not have to work with the start page if you do not want to. It is easy to bypass it and it can for the most part be ignored completely without issues.
If you miss the start menu, install a program like Start8 or Classic Shell and you have it again. It may look different but the functionality that you get is still there, and sometimes even better than before. And if you want, you can even hack the Windows 8 startpage, for instance by making better use of the All Apps screen.
Plus, if you install Windows 8 you get all the feature improvements that Microsoft has implemented into the system. I'm not talking about cosmetic changes to the Task Manager or Windows Explorer, but the underlying features like Secure Boot, the Reset and Refresh feature, Microsoft Account integration to sync user preferences, Storage Spaces, faster boot times, native support for new technologies such as USB 3.0, SmartScreen, a built-in PDF Reader, a touch-ready interface or the File History feature. And all of those and others are available even if you do not want to use the startpage.
Upgrading
Should you upgrade your version of Windows to Windows 8? A lot speaks for it. You get the Pro version of Microsoft's latest operating system for only $39.99 regardless of the XP, Vista or Windows 7 version you currently have installed on your PC. This is an especially good deal if you consider that upgrades to Windows 7 Pro retail for $199.99, and even if you get it cheaper, Windows 8 Pro upgrades will turn out to be cheaper than that.
XP users furthermore need to think ahead, as support for their operating system is ending on April 8, 2014. While that gives them about 18 months of support after Windows 8 is released, they will eventually have to make a decision in this regard.
Vista users are in a better position, as support for their operating system is running out on April 11, 2017. If Microsoft keeps the three year release interval, they will be able to upgrade directly to Windows 9 if the upgrade path includes Vista.
Windows 7 users on the other hand may be the least inclined to upgrade to Windows 8. While they can take up Microsoft on the same offer, their operating system is closely related to Windows 8 and it is likely that users do not feel the need or pressure to upgrade to Windows 8. With a comfortable eight years of support on their plate, they may see two new Windows versions released before end of support is reached for their OS.
Closing Words
It took a while and three attempts to get used to Windows 8 but Microsoft eventually got me on the hook. While I won't upgrade my Windows 7 system to Windows 8, I'll definitely upgrade the Windows 8 Release Preview PC to the new operating system to continue using it.
I'm pretty certain that some of you do not see it this way, and I too have my concerns about the general direction that Microsoft is heading to with the operating system.
What will you do when Windows 8 gets released? Will you upgrade or buy PCs that come with the operating system? Or will you ignore it and hope that the next version of Windows will be more to your liking?