Microsoft releases Windows 8 Consumer Preview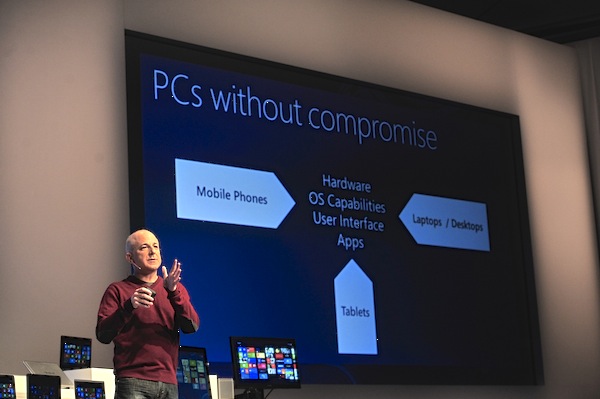 Not since Windows XP has Microsoft promised so much and delivered it so quickly. Today, in Barcelona, Spain, Microsoft officially announced what we all knew was coming: Windows 8 Consumer Preview. The software is available for anyone to download and try, and its timing almost certainly assures -- short of atomic blast, alien invasion or Mayan end-of-the-world predictions come true -- that Windows 8 will release to manufacturing by end of summer and launch in time for holiday PC sales.
Microsoft has greatly improved the look, feel and functionality of Windows 8 since releasing the Developer Preview in September. Given release timing, the software available today should be considered near-final code. Expect few changes before the release candidate, assuming Microsoft even sees need to make one publicly available. The Consumer Preview is available to anyone with a PC capable of running it.
Windows "Reimagined"
Windows and Windows Live president Steven Sinofsky made the formal announcement, as expected, at a press event during Mobile World Congress. "With Windows 8, we reimagined the different ways people interact with their PC and how to make everything feel like a natural extension of the device, whether using a Windows 8 tablet, laptop or all-in-one" Sinofsky says. "The Windows 8 Consumer Preview brings a no-compromises approach to using your PC".
Microsoft has made 100,000 changes to Windows 8 code since the Developer Preview, Sinofsky told event attendees today.
Along with the desktop software, Windows 8 Server Beta and Visual Studio 11 Beta, which developers will want for creating apps for both operating systems, are available. Microsoft didn't release Windows on ARM, which is available to select testers preinstalled on hardware.
For most users, Windows 8 Consumer Preview will offer a dramatically different experience because of the tile-like Metro UI. Those stepping back to the more traditional desktop will find the Office Ribbon.
Today's Preview also makes available the Windows Store, which is built-in to the new operating system. Here Microsoft takes a more curated approach to third-party software, which promises to improve security, diminish piracy and assure more developers are actually paid for their work.
Internet Explorer 10 jumps to Platform Preview 5, with today's OS release. Microsoft has increased the browser's role in Windows 8, which extends HTML 5 capabilities throughout for developers and people using their apps.
Home-Grown Fun
The new user interface is extremely polished -- and modern. Suddenly Apple's OS X is outdated. Metro looks even better now than in any previous Microsoft demo or screenshot. To make the point -- from visual and user experience perspectives -- Windows 8 includes a plethora of homegrown apps. These include:
Bing Maps
Bing Weather
Calendar
Mail
Messaging
Music
People
SkyDrive
The new apps extend the "glance-and-go" approach Microsoft uses for Windows Phone and similar delivery mechanism -- tile-like user interface. Related: Settings roam with users across devices when signed in with their Microsoft account ID. So these new apps are live, connected via Microsoft cloud services.
"I can start a project on one Windows 8 PC and finish it on another", Microsoft's Kent Walter explains. Settings and themes also roam via the cloud. "If you share your Windows 8 PC, anyone else can have their own personalized, cloud-connected experience by signing in with their Microsoft account".
Cloud services are clearly core to Windows 8. They, and the live tiles, revive and fulfill Microsoft's Active Desktop concept attempted in the 1990s and abandoned by Windows XP's launch in October 2001.
What You Need
Microsoft doesn't support prerelease software but does provide a forum for users. There's a FAQ that provides system requirements and other information. Regarding those, Microsoft says the operating system can be installed on any Windows PCs. More specifically:
Processor: 1 gigahertz (GHz) or faster
RAM: 1 gigabyte (GB) (32-bit) or 2 GB (64-bit)
Hard disk space: 16 GB (32-bit) or 20 GB (64-bit)
Graphics card: Microsoft DirectX 9 graphics device or higher

Additional requirements to use certain features:

To use touch, you need a tablet or a monitor that supports multitouch.
To access the Windows Store and to download and run apps, you need an active Internet connection and a screen resolution of at least 1024 x 768.
To snap apps, you need a screen resolution of at least 1366 x 768.
Download links: Windows 8 Consumer Preview 32-bit and 64-bit versions; Windows 8 Server Beta; Visual Studio 11 Beta.
Photo Credit: Microsoft