Microsoft to buy Nokia's phone business for just €3.79B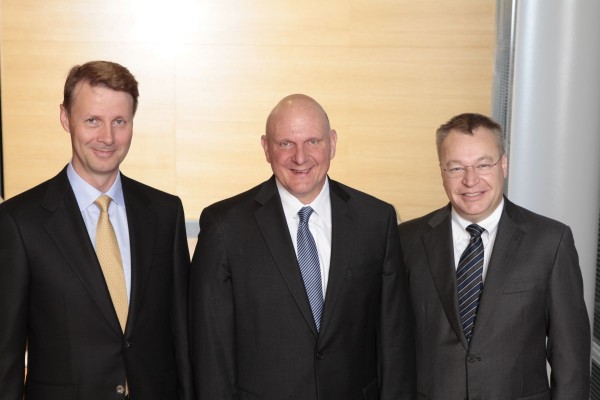 That's not a bad deal -- far from it, in fact. Nokia is leading the pack on Windows Phone sales, has a broad patent portfolio and a former Microsoft executive -- Stephen Elop -- as CEO. The software giant is buying the Finnish company's Devices & Services business -- its phone arm -- and the right to use its patents for just €5.44 billion. Yes, that's right -- just €5.44 billion.
That is considerably less than what Microsoft paid for Skype -- $8.5 billion -- in 2010. Both deals involve trading cash, but whereas the latter has yet to bear fruit across all of Microsoft's services, the former is actually at the forefront of turning Windows Phone -- the software giant's smartphone operating system -- into a solid mobile proposition and competitor to Android and iOS. Not a bad deal.
Here's the cost breakdown of the €5.44 billion deal between Microsoft and Nokia: the former will pay the latter €3.79 billion for its Devices & Services business and another €1.65 billion in order to use its patents.
To put that into perspective, the cost of Microsoft buying Nokia's phone-making business is just (roughtly) four times times higher than what Facebook paid for Instagram or Yahoo paid for Tumblr. In my opinion, that's actually a steal for an ever-growing smartphone-making business (and second-largest phone maker).
The two companies expect the transaction to close in Q1 2014, following the usual procedures -- "approval by Nokia shareholders, regulatory approvals and other customary closing conditions". Following this deal, Nokia will still have its NSN, HERE and Advanced Technologies businesses.
"It's a bold step into the future -- a win-win for employees, shareholders and consumers of both companies. Bringing these great teams together will accelerate Microsoft's share and profits in phones, and strengthen the overall opportunities for both Microsoft and our partners across our entire family of devices and services", says Microsoft CEO Steve Ballmer. "In addition to their innovation and strength in phones at all price points, Nokia brings proven capability and talent in critical areas such as hardware design and engineering, supply chain and manufacturing management, and hardware sales, marketing and distribution".
According to Microsoft's "strategic rationale", the deal is also believed to help the company fight off Google with "more than one 'digital map of the world'", through HERE services. According to the details of this arrangement, Microsoft will become a "strategic licensee" and will separately pay Nokia for HERE (a four-year license is announced today), making the former the third-largest HERE customer, according to the Finnish company.
It will be interesting to see how Microsoft licensing Nokia's HERE services will translate into Windows Phone and Windows mapping features. At the moment, the Finnish company offers four main related apps, namely HERE City Lens, HERE Drive+, HERE Maps and HERE Transit (augmented reality, navigation, maps and transit, respectively) for its Lumia lineup.
Prior to this deal, Microsoft was making less than $10 per each Windows Phone that Nokia sold. That's a small margin, which is actually four times lower than what Nokia makes (as a gross margin) from each of its Smart Device (smartphone) unit sale.
According to the terms of the deal, Microsoft will also take ownership of the Asha and Lumia brands and receives a ten-year license in order to use Nokia's name on feature phones.
Starting today, Stephen Elop will no longer be Nokia CEO, as the man's position is officially filled by Risto Siilasmaa. Elop will still lead the Devices & Services (unsurprisingly) business, as executive vice president. The man will also return to Microsoft, where he will lead "an expanded Devices team" (Elop will report to Ballmer, directly). Elop is also likely the top candidate for Steve Ballmer's place, as Microsoft CEO, once the latter retires, in less than a year (timely, don't you think?).
"After a thorough assessment of how to maximize shareholder value, including consideration of a variety of alternatives, we believe this transaction is the best path forward for Nokia and its shareholders", says Siilasmaa. Well, after stripping down key parts from Nokia, it's definitely the best path going forward for Microsoft, but is it for Nokia as well?