Are you a Bing-er or a Googler? Brits can take the test!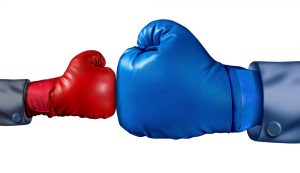 In the red corner, Bing. In the blue, Google. But which is better? Microsoft launches the Bing It On campaign in the UK to enable web searchers to choose which results are best. Google is such a ubiquitous online tool that it has become a verb and entered the dictionary; it is the search engine that automatically springs to mind for most people when they need to research something.
But this does not mean that there is not room for a little competition, and this is something that Microsoft is keen to exploit with its latest campaign.
The Bing It On website can be used to perform a web search using both Bing and Google at the same time -- but it is not immediately revealed where the results are coming from. You'll be shown the two sets of results side by side and asked to vote on which you prefer. After five searches you'll be told whether you are a Bing-er or a Googler.
Brian Kealy, Head of Search for Microsoft UK, says:
We've removed all branding and other visual triggers from the results at www.bingiton.com so people's decisions on which they feel are more useful will be based purely on the content delivered to them. We're confident in the quality of Bing's results and we believe many people will be surprised by the outcome of the challenge.
Microsoft carried out a series of blind tests involving 1,000 people. The Redmond, Wash. company says that 53 percent of those tested indicated a preference for Bing, 34 percent preferred Google and 13 percent were undecided. These results are a little, erm, surprising to say the least. Figures from StatCounter Global Stats for the last three months show that Google accounts for nearly 90 percent of searches worldwide, and takes around 67 percent of the search market in the US, while Bing gets just over 4 percent. Bing's share in the UK increases slightly to just under 7 percent, but Google retains much the same share.
So where does this disparity come from? One set of figures shows that Google is many times more popular than Bing, while the other suggests that close to twice as many people prefer Bing's results.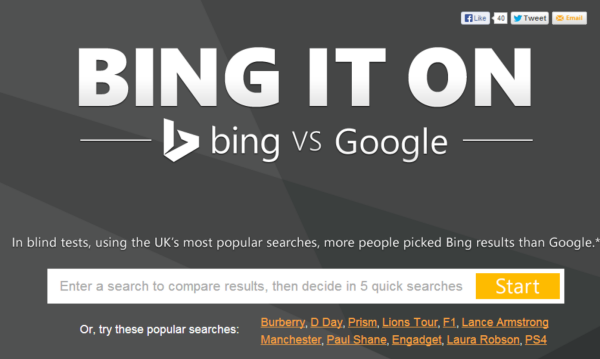 Where do you fit into the stats? For me, Google won four out of five rounds. Take the test for yourself and let us know which service engine comes out on top for you.
Image Credit: Lightspring/Shutterstock