Skype vs Lync: The case for killing off Skype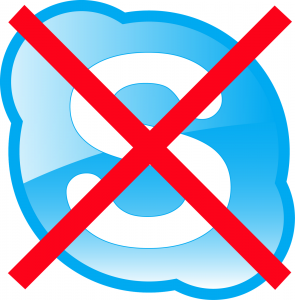 As we enjoy the restive Memorial Day weekend here in the States, I finally have a chance to relax from the hustle and bustle of tech consulting life. In my leisurely net browsing, I came across an interesting conundrum raised in an article I stumbled upon at ArsTechnica by Peter Bright titled simply "Lync 2013 is everything that Skype should be. Why do they both exist?"
It's a very intriguing question that led me to think a bit deeper about this admitted two-face coming out of Microsoft. This is especially true for me because I've had the chance to get knee deep into Lync since we ditched Google Apps in favor of Office 365 last year.
Lync has been a refreshing and very capable internal communications client that puts Google Hangouts to shame, and also trounces Skype in many areas that most people don't know about. After investing many hours in Hangouts and Skype alike, I won't lie: once you go Lync, there's no going back. It's not perfect, but then again, Skype and Hangouts aren't shining IM platforms, either.
But there's a ballooning elephant in the room which Microsoft doesn't want to tackle head on succinctly. There's Skype. And there's Lync. Does it make practical sense to continue pushing two different, yet interoperable, VoIP platforms? I can't imagine I'm the only one who has quit using Skype because Lync fully supersedes everything Skype did.
Both the Lync and Skype clients and related ecosystems exist today, with little talk from Microsoft on what the long term future holds. The company is working diligently on completing the Skype-Lync network  integration, but this only addresses connectivity between the two platforms.
It's fair to say that there is little reason that two ecosystems need to exist for the long run. As I'll show, Lync indeed does everything Skype does, and brings a lot more to the table as well.
The sole acceptable argument in favor of keeping Skype alive, being that there should be a "consumer" play in the form of Skype and "business" play by Lync , is starting to lose headway in my eyes the further Microsoft keeps consolidating services into Office 365. Keeping two distinct brands alive that service relatively the same end purpose is nonsensical as time goes on.
It's why we have a OneDrive (personal) and OneDrive for Business. It's why there's Office 365 Home Premium and Office 365 for Business. And the same reason why Windows 8.1 and Windows 8.1 Pro/Enterprise exist.
But you look at Lync and Skype, and the lines are becoming very, very gray. Microsoft calls Skype the VoIP client for personal needs, but then offers dedicated landing pages on how to use Skype in your business. Likewise, in contrast, I'm told that Lync is meant for work, but Microsoft is busily chipping away at bridging the Lync-Skype ecosystems for full IM/voice/video chat interoperability. In the end, it's a branding message that is turning into a crockpot of use cases, with no proper delineation either way anymore.
Peter Bright of ArsTechnica pitched the very question then that got me thinking: why do we need Skype still when Lync already exists? Peter's pitch for getting rid of Skype is quite valid in numerous areas. Not only does Lync carry functional advantages over Skype in numerous valuable aspects, but it's also wrapped in an arguably cleaner UI, and doesn't rely on closed protocols/standards nearly exclusively like Skype does.
Yes, I know full well that Lync's Mac client is complete garbage right now. But Microsoft has made it clear they are going to make right on the Mac side come the next Office for Mac release, hitting this summer/fall sometime.
The comments section of Peter's article are what truly itched my interest in providing a response to this piece, and actually expanding on the case for why killing Skype would be a very smart move.
Some people hit back at Peter, claiming that among other things, that there are numerous political issues holding back the unification of Skype and Lync. Others made the case that there is an infrastructure divide within Microsoft in terms of how its corporate services (Office 365/Azure/etc) and consumer offerings (Outlook.com/Skype/etc) are doled out and supported.
And yes, there was even mention of Lync's convoluted pricing scheme with staggered CAL functional/price points, that I've long argued need to come down. I can't even count the amount of time I've lost trying to coach clients on the nuances between the Lync Online editions and the on-prem CAL licensing (no less than 5 flavors between the two modalities, which is pathetic I fully admit).
But licensing cleanup is something Microsoft can easily fix if it had the internal push to do so. Windows 7 had six distinct SKUs and Windows 8 came out with only three (not counting RT). And Office for the most part, at least in the subscription side of the suite, delivers a common application set for the most part now. There's little reason Microsoft couldn't clean up this picture in a potential unified Lync/Skype world, for whatever prosumer options it would offer on a paid basis.
But the real answer to the question raised by Peter goes much deeper in my opinion. After taking some time to dig into the overlaps and differences between Skype and Lync, and investigate some of the surrounding circumstances going on with both products, I tend to agree with him at face value.
If I were in charge of Skype and Lync, I'd be cutting Skype out of the equation entirely, albeit gradually. Am I crazy?
Perhaps not as much as some may think.
Skype vs Lync: The Functional Limitations of Skype
The Microsoft Skype team boasted in April 2013 that its service now rolls through about 2 billion minutes of connectivity between users per day. That's without a doubt a large number, and one of the reasons why Skype is by far the most widely used VoIP chat client on the planet.
But most widely used doesn't necessarily translate into best. Let's not make that mistaken mental leap. Skype has a substantial market lead not because it offers revolutionary features or capabilities, but because of the obvious licensing and targeting decisions Microsoft has made (so far) with the way it markets and sells Lync.
Yes, I know full well Lync is primarily a business-oriented offering. But who says this will be the case indefinitely? The licensing bureaucrats at Microsoft could slay the licensing demon associated with Lync quite easily if they really wanted to -- if there was a compelling business case to do so. As such, I say there definitely is.
What if there actually was a consumer edition of Lync with a similar feature set as its paid offering, with some frills missing? Would you really choose Skype over Lync? I'd argue that the answer is no -- given, of course, that you're actually aware of all the limitations Skype brings to the table.
For starters, let's have a look at the number of participants you can have in a group chat on Skype and Lync. What previously used to be a Premium feature, Microsoft very recently unlocked and now allows up to 10 people on a single Skype chat.
In stark contrast, I can easily do video/voice/IM/screen sharing with 250 people at a time in Lync Online in Office 365. And that limit, as has been rumored at some recent Lync events, will be going up to 1000 to match the on-premises edition of Lync (called Lync Server 2013). For those who say Lync's infrastructure can't scale, I think the numbers speak for themselves.
Skype's desktop sharing capabilities are also rather poor by Lync standards, being limited to a single party at a time. With Lync I can broadcast a screen share (along with take-control rights to any attendee) to the entire group of up to 250 people.
People will bounce back and claim the obvious: well, Lync is a paid service and Skype is free. And they're absolutely right. But there's little reason Microsoft couldn't consolidate its VoIP needs into Lync and offer a free consumer edition, prosumer edition, and then the standard business editions, with the higher end of the spectrum having the rich PSTN (telephony for business needs) options being baked in.
If the full Lync experience can be had for as little as $5/month right now in the Small Business edition of Office 365, how much of the cost is truly associated with Lync? Keep in mind this price tag also affords a 50GB email inbox, spam filtering, 1TB of OneDrive for Business storage, SharePoint access, and other frills. In the Office 365 realm, Microsoft's cost-per-user on Lync must be very, very low.
I'd argue that Lync could easily be spun off on a consumer offering without the hefty licensing that Microsoft pushes onto on-prem business users. Lync is caught up in the draconian licensing dept at Microsoft which still holds too much control over the company's products. As I mentioned earlier, a clear business case for bringing Lync into the consumer arena could easily slim down and eliminate the complex licensing which exists today for the product.
Screen sharing and group chats aren't the only areas where Lync has factual leverage over Skype. Another awesome area that Skype has never offered is whiteboarding capability within chats. While this feature is nice for standard mouse/keyboard users, it really shines in situations where you can leverage touch (or best yet, stylus input) on modern Windows 8.1 devices.
Being able to share thoughts on a virtual whiteboard that can be saved and shared after a group chat is powerful, and severely holding back Skype group chats beyond anything more than bona-fide multi way conference video calls. If you think Skype's the only one that can freely handle group video calling, Oovoo is already doing 12 party video calls. Skype's so 2005 at this point.
Lync also offers an integrated way to share OneNote notebooks during group chats, in which participants can markup and collaborate on in a seamless fashion during the meeting. Sure, you can open up OneDrive and share out a notebook from there, but it's one more place you have to step into, and attendees all have to be led in the proper direction to gain access. Lync brings the functionality into the chat experience which is powerful for less technical attendees.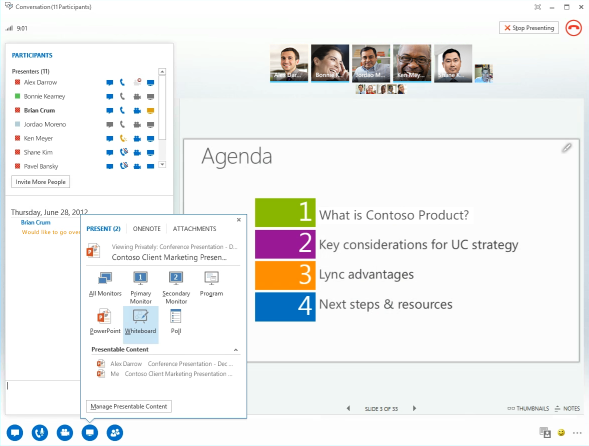 Although Skype recently upped video chat to allow for 10 attendees, Lync still blows it away by offering up to 250 person chats, with 1000 person limits in the works already. Perfect for allowing teachers to webcast with students, among other modern use case scenarios. Add in the capabilities of doing whiteboarding, OneNote sharing, streamlined PowerPoint presentations, and per-app screen sharing, and Lync easily trounces Skype in almost every respect -- all at up to full 1080p HD. Peter Bright was right: what exactly does Skype offer that Lync doesn't? (Image Source: Microsoft)
It's also important to note that Lync has a huge leg up in the security department. For example, a doctor can't legally use Skype to talk with a patient because the product carries zero form of HIPAA compliance. Healthcare in general has to treat Skype with a hands-off approach due to HIPAA regulations. Even though Skype boasts internal encryption, its infrastructure and supporting technologies aren't tested and held to the high standards that Lync is.
In contrast, all aspects of Lync are fully encrypted too, but the product takes it one step further by extending HIPAA compliance guarantees from Microsoft in the form of a standard BAA (Business Associate Agreement). This is big for people who want to use video/IM/voice chat with patients or colleagues in the healthcare arena. And healthcare isn't the only vertical heavily regulated when it comes to VoIP. Financial services, public sector (government), and other industries are in the same boat for needing something more than what Skype offers.
It's also worth mentioning that Skype's approach to codecs has been of a closed, proprietary nature until recently in comparison to where Lync is heading. Skype's audio needs are served by SILK which, while being pursued as an open standard in the form of Opus, is still a codec which is primarily only used in the Skype world. Skype made the move to H.264 for HD video only as well, with non-HD calls still being handled by VP8 as far as I'm aware.
Lync 2013 made the open H.264 its default video codec and supports numerous open audio codecs out of the box like G711 and G722 which are already widely adopted and used in a plethora of VoIP applications. It's nice to see Skype making shifts into a more standardized codec ecosystem, but for all intents and purposes, it seems that Lync 2013 is already there when it comes to utilizing industry standards. As a result, Lync is interfacing better than ever with competing video system and app producers like Cisco, Polycom, and others.
Developers in the Skype community have also rightfully thrown up their arms since Skype has effectively shut down all access to its previous API which enabled a wide variety of excellent apps to thrive off the Skype ecosystem. Almost all third party apps that depend on the Skype API are either being forced out, or are on their way out (Skype extended a reprieve to some "integral" app areas, like call recording). Things like MP3 Skype Recorder will soon be a thing of the past when Skype shuts its API doors for good, with little insight as to what will come to replace these excellent third party enhancements natively.
The reasoning behind the API closure? Beyond making broad claims of "evolving the user experience" and improving the infrastructure behind Skype, nothing too concrete was shared. Lync, on the other hand, has a widely available API set and SDK which see no signs of slowing down or being shut out from the developer community. I have to question the long term viability of Skype with next to no third party future development effort providing value-add for the ecosystem.
Finally, while the rest of the internet world is actively making inroads towards shifting to IPv6, Skype is stuck in an IPv4 bubble with not much public mention of progress being made in this area. As you may imagine, Lync already has full IPv6 support since the launch of Lync 2013 (and subsequently, the version that runs Lync Online). This topic may not be of much interest for regular consumers, but to the technical community, a lack of formal IPv6 support plans indicates that internal development at Skype may be leveling off to some extent, at least in my opinion.
Besides, can you recall any major new features or functionality that Skype has introduced in the last year or two? Besides the expected introductions of apps for Windows 8.x devices and Xbox One, and tearing down the Premium subscription walls, Skype hasn't been blazing any major notable functionality trails like we've seen with Lync.
Lync has been getting roughly quarterly releases for new features, including things like spell check, tabbed messaging, and other noteworthy additions.
Microsoft's actions with Skype may be talking much louder than any words it has been letting through the grapevine. Could Skype indeed be slowly but surely shifting into the sunset?
PSTN (Telephony) in Skype: Nice Feature, But Too Many Rough Edges
One of the big areas that is going to, in my opinion, elevate the usefulness of Lync above what Skype currently has to offer is in the arena of traditional telephony support. PSTN, as the telco nerds like to call it. I already made the argument two months back that PSTN-enabled Lync Online is going to be the tipping point for making VoIP viable for the true masses. It may need to trample over Skype in order to get there.
But wait, doesn't Skype already offer VoIP service that is connected back to traditional phone lines? Yes it indeed does, but its been a feature hobbled by numerous limitations which most people don't know of. I was personally very interested in using Skype with a home phone adapter as a replacement for my now-dead OBITalk adapter, which was laid to rest when Google shut down third-party Google Voice calling (via the now stripped XMPP standard).
However, there's a lot lacking in Skype's PSTN (public switched telephone network) offering. Here are just a few of the biggest caveats about treating Skype as a traditional phone endpoint:
Unless something major changed inside Skype, I don't see them retreating on some of these positions anytime soon. The honest feeling I get from how Skype treats PSTN connectivity is that of one with a two foot pole. We'll grudgingly offer it, but don't expect anything spectacular.
Just their continued stance on not allowing external number porting is reason enough to stay away from using Skype in a primetime fashion for telephony. Mind you, Google Voice has been allowing number porting for some time, and even amateur provider Ooma also supports porting. So Skype's resistance to porting numbers leads me to believe they are holding back for an eventual reality, such as a potential Skype transition into Lync.
It's not tough to connect the dots on the changing landscape that will soon be entangling Lync Online into full blown PSTN. Brian Riggs posted an excellent piece on his takeaways from the Lync 2014 Conference, namely in how Microsoft is going to be establishing phone service within Lync Online.  While it's already becoming evident that full blown "enterprise voice" isn't coming to Lync Online in the short term, PSTN connectivity will be hitting the service -- and ostensibly, eventually allowing Lync to swallow what Skype provides with a better feature set, better pricing, and much wider reach (potentially touching all Skype and Office 365 users, which is massive).
Voice-enabled Lync has been a tough find in the cloud so far. I've written previously about the poor selection of providers on the market who have been offering hosted Lync voice for business use. Very recently, we have started working with a rather good provider, CallTower, which aims to fill this massive gap and the results thus far have been promising.
You can light up PSTN voice on desk phones, conference phones, and of course, the Lync software client on both the desktop and on mobile devices, in order to make outgoing and take incoming phone calls. Yes, it works just like Skype but so much better; it's truly what Skype should have been when it comes to telephony.
But CallTower is dedicated to offering cloud hosted Lync voice for businesses and as far as I know, it has no plans to extend anything for the residential sector. Which is a real shame because the technology they offer is what Microsoft should be striving to bring to the masses in Lync Online someday.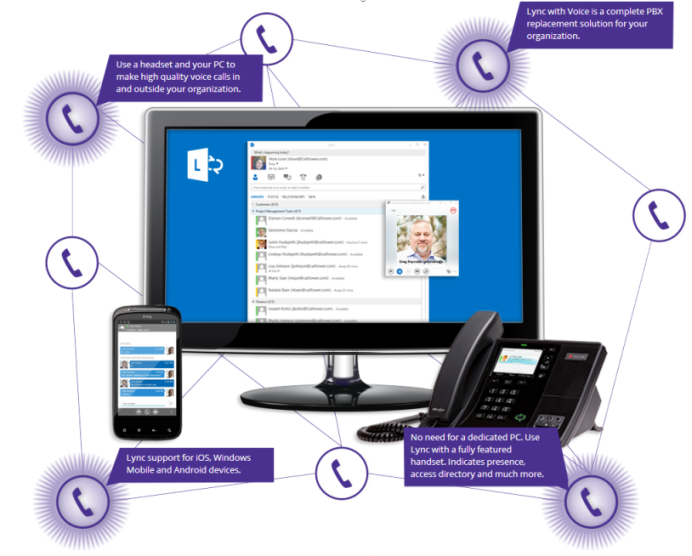 While Microsoft continues to take its sweet time in offering full voice in Lync Online, companies like CallTower have filled the void for clients in offering full PSTN voice support in a cloud hosted Lync offering. The service does everything I wish Microsoft could have done by now: provide a dial tone within the Lync soft phone across all devices; provide a dial tone for traditional VoIP desk phones; and offer interoperability with Skype so one can use Lync as their sole unified communications app. Although CallTower's service targets businesses for now, this is likely a good preview for what a consumer offering on Lync could entail. (Image Source: CallTower)
Some people commenting in the ArsTechnica article claimed that it would be tough for Microsoft to re-establish the relationships in the telco sphere to provide Lync what it already offers Skype. How so, I say? It's already been let loose that Microsoft is formally working with the likes of ATT and Verizon to light up PSTN voice in Lync Online.
If Microsoft could converge what it already has in the form of partnerships for Skype phone calling, which seems to have a global reach thus far, then it could consolidate its efforts into a new consumer offering in Lync Online that could potentially blow away the Skype counterpart. Lync already has full support for e911, traditional SIP interfacing with VoIP phones, and a soon-to-be-public relationship base with telcos for the PSTN connectivity.
Likewise, some commenters claimed that scaling out Lync for a potential consumer offering and takeover of Skype's user base would lead to trouble with infrastructure scale-out inside Microsoft's datacenters. Complete crock, I say. In dealing with Office 365 on a daily basis, and seeing how we can spin up 50-100 person (and larger) organizations on Lync Online within a matter of a half hour or less, it's hard to believe the underlying ecosystem wouldn't be able to scale to the levels of what Skype or Outlook.com support today.
Between the massive server deployments Microsoft has to support for Office 365, SharePoint Online, Azure, and all of its other cloud services, I find it hard to believe an argument that Lync couldn't be taken to a grander scale with some minimal effort. The backbone is there; the real challenge will be migrating users off Skype and into Lync, along with all the related difficulties of shifting a global user base.  Lync apps already exist on all of the major platforms. With the flick of a switch, Microsoft could likely offer consumer-level accounts the ability to sign into Lync without any major re-engineering of the core backbone.
I wouldn't be shocked if all that heavy lifting is being prepared and tested under the guise of the Skype-Lync interoperability project. This would be the opportune time to bridge the Skype-Lync gaps even further than are being publicly admitted to.
I see little reason a post-Skype future couldn't work well if Microsoft fixed the nagging limitations that Skype refuses to address to this day. And with most of the braintrust and development time being spent on Lync these days anyway, shifting focus to a multi-faceted Lync approach for consumers and businesses would make perfect sense.
Microsoft Has Consolidated Product Lines Many Times Before
Does Skype have a future at Microsoft if Lync clearly has the functional, developmental, and other advantages under its belt? I'd have to argue no. As much as I like Skype, and have used it for numerous purposes in my personal and professional life, I'll fully admit that exposure to Lync has spoiled me in many ways.
No, Lync's not perfect by any means, but its making vast strides release-over-release, especially in contrast to Skype's almost trickle of a development pace at this point in its life.
So here's what I'm getting at: It's time for Microsoft to can Skype and roll its user base into Lync for good. Roll it into the Office 366/Lync ecosystem and offer a free edition with premium features for paid subscribers of ala-carte functionality, like home phone service. Even offering a full-blown edition that comes with Office 365 Home Premium wouldn't be too far off track. Isn't that what Microsoft has already done successfully with Office, and is preparing for Windows as well? It only makes logical sense to continue down this similar subscription based model, tying more pieces of the Microsoft ecosystem into it.
As it stands, Skype continues to be a pariah of the Microsoft family. It doesn't get much prominent placement in Microsoft marketing these days, except for the snippets mentioning free Skype calling mins included with Office 365 Home Premium and other special promos. It seems like even Redmond has little certainty with how it wants to continue pursuing Skype.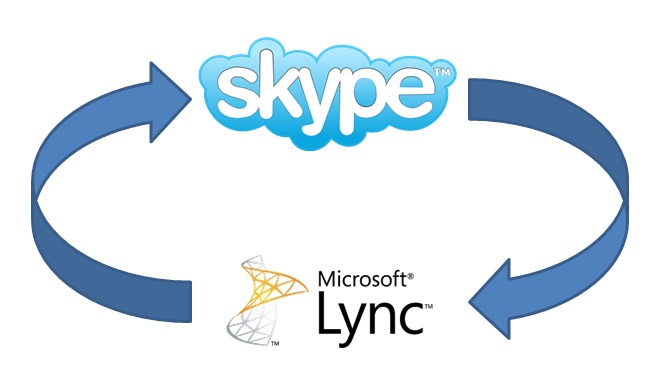 Today, Microsoft still plays a mysterious balancing act between Skype for consumers and Lync for businesses. Yet both platforms will soon be interconnected between one another. Is there a reason to keep two distinct software ecosystems alive, when Lync does everything Skype can do, and much more? It's time for Microsoft to consolidate onto the better client, Lync, once and for all. (Image Source: Telcospinner)
So why not just kill it and get this prolonged death march over with? Skype is merely doing enough to stay afloat, not actually get ahead. With fierce competition starting to arise from the camps of Viber, Oovoo, and Google Hangouts, Microsoft needs to spice up the consumer VoIP realm and not continue to rest on its laurels, as Skype is clearly doing.
If you're thinking that such a move is unprecedented in Microsoft history, guess again. Microsoft has consolidated overlapping product lines more times than one can count on one hand, and the results have generally been for the better.
Here's just a sampling of some of the instances where they killed off duplicitous products with success:
Outlook Express (XP), Windows Mail (Vista), and Windows Live Mail all replaced by Outlook and Windows 8.x Mail app. Microsoft has a long history with dabbling in half baked email clients. I'm not the biggest fan of Outlook proper myself (I use OWA for my day to day needs) but it does, for better or worse, power the world's largest email deployments. And I've got legions of small business and even residential customers who swear by it. OE died with XP; Windows Mail was a loner that came and went with Vista; and the replacement for both of these, Windows Live Mail, hasn't been updated since 2012 and still carries the Live branding which is pretty much dead. Microsoft consolidated all of these products into either full Outlook for business users, or is offering its new Windows Store Mail app which comes pre-installed with every Windows 8.x device. As Paul Thurrott unveiled a short time ago, Outlook is getting the full touch treatment for Windows 8.x, so everything could be coming full circle eventually to be wrapped into Outlook for both desktop and touch users alike.
Microsoft Works gave up to regular Office. I always hated Microsoft Works. It was full of me-too Office equivalents that did a decent job but continued to push their own file formats that made life living hell when it came to cross-OS compatibility. Microsoft realized that there was no place left for Works, and just consolidated its productivity software efforts into Office. No one in their right mind is clamoring for Works to come back.
The Courier tablet was killed in place of Surface. Microsoft publicly admitted to killing Courier in 2010, shortly after the iPad came out, and you shouldn't be so naive to think that this didn't have anything to do with work starting on the Surface. Just look at all the concept art that showed what Courier was meant to do, and it's clear that Surface Pro has met all of those needs, especially in the focus on the stylus-driven input. We didn't need two half-baked efforts competing against iPad, and hence, Microsoft took Courier behind the barn in favor of its shinier, more capable cousin, Surface Pro.
Live Mesh killed off; rolled into OneDrive. This consolidation wasn't surprising in the least bit. OneDrive (formerly SkyDrive) was doing everything that Live Mesh offered, barring some niche functionality few used. Today, OneDrive continues to thrive and Microsoft is actually placing it front and center in marketing efforts, something that Live Mesh never received. It rode off into the abyss with as much as fanfare as it received when it was introduced.
Custom domain support in Outlook.com killed, and users asked to move to Office 365. Last August I wrote a well-received piece outlining how you could use Outlook.com as a free custom domain email host, since Google Apps cut that functionality out a while back. How short lived that was. Microsoft recently trimmed this functionality out, and is moving all users of this service onto Office 365 for Business gradually. It makes complete sense, as Office 365 provides much richer domain capabilities and actual phone support for when issues arise - which is nice because I was on the receiving end of countless emails each month from users looking for free help on a product Microsoft wouldn't take phone calls on. How ironic.
Windows Small Business Server no more. Lots of small business consultants I know loved to install Windows SBS for customers. I was not one of those who fell in love with SBS. The product was in a similar spot as Skype is in today; surrounded by better offerings from Microsoft, and Redmond is merely trying to see how it can best cut off the umbilical cord without creating too much backlash. SBS bit the dust and while 2012 Essentials is a half-hearted replacement to SBS, it lacks numerous key features that actually differentiated SBS like integrated Exchange, SharePoint, and other nagging limits. Essentials 2012 was pretty much Microsoft easing small businesses to go with Server 2012 Standard, or just make the proper move to Office 365 (which is likely their best bet, anyway).
MSN TV killed and integrated into Xbox 360/One. This was a perfect example of a service that came way before its time. MSN TV (and WebTV) were supposed to provide a rich internet experience in the home theater. Which, as we all know, is accomplished in an easy way by Xbox 360 and Xbox One by the way of Internet Explorer. Play some Halo 4 and answer some emails, you know, if you really need to on the couch.
InfoPath closes up shop; functionality likely merging into SharePoint. While InfoPath carrier a dedicated following of developers who loved creating forms with almost zero coding know how necessary, all good duplicitous things must come to an end. With Microsoft putting all of its online workflow and document organization focus into SharePoint, it isn't shocking that InfoPath had to bite the dust. Seeing that you can now place Access Apps up into SharePoint Online with relative ease, and the other improvements Microsoft is adding into SP on a consistent basis now, much of what InfoPath did will likely be replicated on SP fairly soon.
And I can guarantee you there are plenty more where those came from. Microsoft has a good track record at noticing where its overlapping efforts, and killing off the logical weak links in its product lines.
Will Skype be the next one on the chopping block?
Unless there's something Peter Bright and I are missing, it's time for Microsoft to double down its efforts on Lync and bid farewell to Skype. It was good while it lasted, but in all honesty Skype, you're in a prime position to be replaced by Redmond's own natural selection.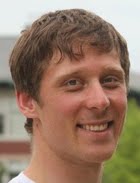 Derrick Wlodarz is an IT Specialist who owns Park Ridge, IL (USA) based technology consulting & service company FireLogic, with over eight+ years of IT experience in the private and public sectors. He holds numerous technical credentials from Microsoft, Google, and CompTIA and specializes in consulting customers on growing hot technologies such as Office 365, Google Apps, cloud-hosted VoIP, among others. Derrick is an active member of CompTIA's Subject Matter Expert Technical Advisory Council that shapes the future of CompTIA exams across the world. You can reach him at derrick at wlodarz dot net