Will Apple steal Windows 8's thunder?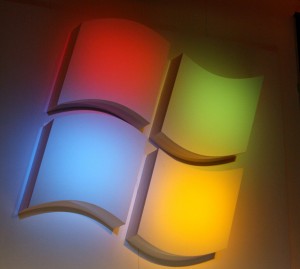 Microsoft's BUILD developer conference is almost here (save the date, September 13). It's going to be a big event for Microsoft and the official debut of Windows 8 (c`mon, you know there's going to be a developer beta).
Apple could spoil it all, with one of its famously-timed leaks or official product announcements. With iPhone 5's launch expected as soon as October, timing would be right for an Apple spoiler. Blogger, news media and Wall Street obsession about Apple is sure to succumb to a competing gravity well that pulls attention and online posts/print stories from Windows 8 during its special week.
Apple has skunked many competitors' events before. Windows 8 is ripe for the picking, because the user interface changes and support for tablets running ARM processors are simply so big. Then there's Windows Phone "Mango", which Microsoft will present to developers in a big way. BUILD is going to be an Apple compete-fest like Microsoft hasn't had in years. But wait! There's more. Microsoft's annual Financial Analyst Meeting takes place during the event, too. Apple's stock is high flying, while Microsoft's is laid low. How could Apple possibly resist?
As a journalist covering BUILD, the last thing I want is another big distraction from "can't keep junk in its pants Apple". How many times must it show off the equipment as distraction to others' big things? But Apple has done it so many times before, I've got to wonder.
Apple has refined the science of leaks and selectively-timed product announcements into an art form, and the Apple Fanclub of bloggers and journalists are so eager to oblige. Besides, people want to know. Curiosity draws attention and builds anticipation. Selective information release, by way of blogs or even leaks, generate buzz. Fanclubbers and others trip over themselves to post first and drive up pageviews, generating anticipation and providing Apple loads of free advertising.
The examples are simply so numerous, I chose just use as few:
* In an unprecedented move, Apple preannounced iCloud ahead of its unveiling by Chairman Steve Jobs during the Worldwide Developer Conference. I can't recall an example in recent history where Apple issued a press release announcing something before Jobs could do it himself. For all the talk of Apple innovation, Jobs and Company have yet to invent time travel. Computex and the D9 conference took place the week before WWDC; Jobs couldn't present ahead of them. I wrote about iCloud's preannouncement: "Surely Apple is looking to steal some thunder" from both events, which started the same day. Intel unveiled Ultrabook at Computex and Microsoft Windows 8's Metro UI at D9, and Apple stole attention from each show.
* Verizon iPhone went on sale February 10, just as attendees and participants were arriving for Mobile World Congress 2011. Apple didn't participate, but its presence was everywhere.
* Apple distracted from Microsoft CEO Steve Ballmer's Consumer Electronics Show keynote -- and big Windows 8 news there -- by launching the Mac App Store. Suspiciously, many new product announcements came before CES started and Microsoft preempted its keynote, presumably as vendors sought to get ahead of Apple news.
* Apple stole the thunder from other Consumer Electronic Shows -- rumors about the iPad during December 2009 ahead of its headline-stealing January 2010 announcement. Rumors about the original MacBook Air before its mid January 2008 debut. Who can forget iPhone, announced in January 2007 after weeks of rumors?
There are many more examples of Apple's thunder-stealing ways, but these make the point. The company employs clever marketers who realize there's more to selling products than spending millions of dollars on advertising. Buzz is priceless. I've been saying for years that in business perception is everything. So is timing.