ESET Security 5 adds gamer mode, updates cloud protection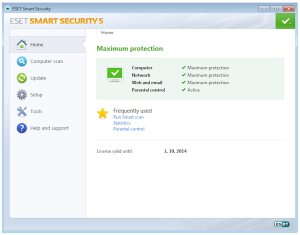 Slovakian security firm ESET has updated its anti-malware and all-in-one security packages to version 5. ESET Smart Security 5 32-bit/64-bit and ESET NOD32 Antivirus 5 32-bit/64-bit both include ESET Live Grid, a renamed and revamped cloud-based protection based on the previous release's ThreatSense.Net technology.
Also new to version 5 of both products is Removable Media Control, which prompts the user to scan a removable drive when it's plugged in, and Gamer Mode, which reduces ESET's system footprint and suppresses all pop-up windows. Also new to ESET Smart Security 5 is a new parental control module and improved startup performance.
ESET Live Grid introduces two new features: the ability to speed up scan times by utilising a cloud-based whitelist of safe files, which can be safely skipped during the scanning process. It also utilised cloud-based reputation from other ESET users to help add an additional layer of protection against potentially malicious files.
Removable Media Control is a new tool that automatically triggers an alert whenever a removable drive, such as a USB thumb stick or camera memory card, is plugged into the computer. This extols the user to scan the drive for potential malware, and has been added in response to the increasing amount of malware that is using removable drives as a means of spreading between machines.
Both ESET Smart Security 5 and ESET NOD32 Antivirus 5 adds HIPS (Host Intrusion Prevention System), a tool for advanced users that allows them to customise how different parts of the system -- including the Registry, system processes, applications and files --behave.
Gamer Mode allows both tools to be switched to "silent mode", which minimised system resource use and suppresses pop-ups, allowing resource-intensive processes such as games to run without being interrupted by ESET itself.
Finally, ESET Smart Security 5 also gains new parental control tools for blocking unsuitable websites based on user profiles, while the program has also optimised its startup procedure, so the program doesn't hold up Windows after booting while it waits for signature downloads to complete. ESET stresses that this is done without compromising system security.
ESET Smart Security 5 32-bit and ESET Smart Security 64-bit, and ESET NOD Antivirus 5 32-bit andESET NOD Antivirus 64-bit are all available as free trial versions for PCs running Windows 2000 or later.