Apple releases iCloud, iOS 5 and Mac OS X 10.7.2 -- get them now!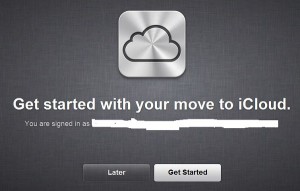 Early this afternoon, Apple flipped the switch making iCloud and its next-version mobile operating system broadly available. To use one you'll need the other, and for Mac owners that also means OS X 10.7.2. If you didn't get iTunes 10.5 yesterday, you'll need it, too.
In many respects, the big news from Apple this week isn't iPhone 4S, no matter how long the buying lines might be come Friday, but iCloud and iOS 5. As I contended earlier today: "iCloud is Apple's killer app". iCloud is a synchronization service that pushes email, contacts and calendars -- like predecessor MobileMe -- and offers online data storage. But there's much more, such as synchronization of applications or digital content like music and movies purchased from the App Store across devices. It's unsurprising that Apple would take a sync-across devices approach. After all, the company generates most of its revenue from selling hardware, not offering cloud services.
To date, Google has been the sync leader, but with as much pull as push. For example, to stream content from Google Music, users must upload it first. By comparison, Apple's cloud scans the computer and then makes content available to all supported-iOS devices. The service is free for content purchased from Apple, but the forthcoming iTunes Match includes all your music -- for a $24.95 yearly fee.
The push sync story is compelling in other ways. iCloud also stores documents in the cloud and automatically syncs them among devices. It's a different approach from Google, which stores documents in the cloud and keeps them there.
iCloud offers 5GB of storage for free, and users have the option of buying more. Existing MobileMe customers like me must migrate to iCloud -- and that means upgrading to iOS 5 on devices and OS X 10.7.2 on Macs first. Windows users just need Vista or later and Outlook.
The new mobile operating system is nearly as significant as iCloud, and users will need one to get the benefits of the other. Apple claims that iOS 5 packs more than 200 new features. Among the notable ones:
Cloud Synchronization -- calendars, contacts, documents, email, photos and even music, among other content categories pushed out to all iOS 5 devices or computers running Mac OS X 10.7.2 or greater
Over-the-air updates removes the need for connecting iOS devices to iTunes. This is the big catch-up feature. OTA has been standard on Android, Symbian and Windows Phone for some time.

iMessage, which has been dubbed by some as a BlackBerry Messenger killer. Users can send text, photos and videos over carrier data networks or WiFi. There is group messaging, and even delivery receipts.
Twitter -- tweet once, tweet often from pretty much anywhere in iOS 5.
Newsstand is a publisher's clearinghouse for iOS devices. The feature organizes together magazine and newspaper apps, which now have their own repository at the App Store.
Reminders, which is a souped-up to-do list.
Mail gets a makeover and increased availability. Apple had provided mail through the $99/year MobileMe service. Free iCloud replaces the paid-for service and makes Apple Mail freely available to everyone.
iTunes sync, which is a service from iCloud. The new service can push/sync digital content from PC or Mac to any device from the cloud -- no uploading of content required.
To get iOS 5, Mac users should upgrade to OS X 10.7.2 and iTunes 10.5 -- Windows users just the music software. Plugging in the iOS device launches iTunes and prompts to download and upgrade to v5. FileForm download page: iPhone 4 GSM; iPhone 4 CDMA; iPad 2 GSM. iCloud is accessible from the web and OS X 10.7.2 from Mac Software Update.