I really want to get excited about Lumia 800 Windows Phone, but...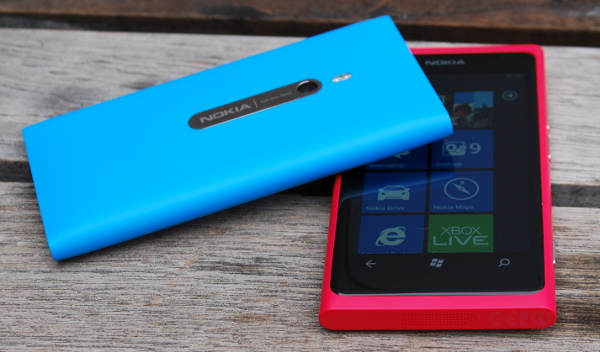 Nokia makes it damn hard. No US distribution this year. (Europe? With the Euro zone in state of collapse?) No front-facing camera -- long a standard feature on Nokia handsets -- and, hells bells, Microsoft now owns Skype. Surely that makes front-facing camera selling in Europe, Nokia's and Skype's home turf, required equipment. The phone maker announced the Lumia 800, and lower-cost Lumia 710, today at Nokia World.
I'm a longstanding Nokia enthusiast -- a rare-breed in the United States and particularly among journalists, many of whom trumpet for iPhone. I've owned two different N95s, E71, N79, N97 and N900, among other Nokia handsets -- and loved them all, even with their quirks. But in January 2011, I opined: "Confessions of a former Nokia enthusiast", writing "I love Nokia, but Nokia doesn't love me". I'm still not feeling the love, and perhaps I set expectations too high. A few weeks back I thought of writing a post titled something like: "Will the hottest phone this holiday come from Nokia and not Apple". Good thing, I didn't.
I had hoped that Windows Phone would bring a fresh new era to Nokia handsets, instead the Lumia 800 clings to sadder tradition -- shipping last year's model. Before Apple shipped iPhone in July 2007, Nokia defined bleeding-edge mobility, rightly claiming handsets like the N82 or N95 were pocket computers. But the Finnish phone maker lost its way with smartphones, a category it created in 1996. Each new model post-iPhone seemed to be behind others, often because they took so long coming to market. When Nokia announced the N8 in April 2010, the tech looked pretty good but old when it shipped half-a-year later, following iPhone 4.
Nokia should be applauded for fixing the lag-to-market problem. Independent analyst Ian Fogg observes: "The Lumia 800 Windows Phone is already shipping from Nokia's factories just eight months after the major strategy change". He, like me, contrasts this against N8's slow move to market.
Last Year's Model
Back to those features of yesteryear, only the camera stands out as likely being ahead of competitors. But Nokia has long had and maintained leadership here. The f/2.2 Carl Zeiss lens and big sensor (for a phone) are suited to capturing good photos in low light -- then there is the dual-LED flash; most competing phones have single-LED flash.
Otherwise it's last-year's tech for a smartphone of this class:
Single-core processor, while iPhone 4S, Galaxy S II and others are dual-core
720p video recording, while competitors are 1080p
Bluetooth 2.1, while iPhone 4S has Bluetooth 4.0
512MB, like iPhone 4S; both are behind Androids
AMOLED display is okay, except outdoors
Because of the single-core chip, some people complain the Nokia Lumia 800 is underpowered compared to iPhone 4S and Androids in the same class. "At this point, is there really any reason to buy a single-core personal computing device unless it's a throw-away? That applies to any platform or form", writes Simon Pasieka, in response to a question I put on Google+.
I've been deprived using Windows Phone and can't say, but real users and wireless carriers tell me that Microsoft's software is light and responsive on handsets with single-core chips. If true, the 1.4GHz Qualcomm MSM8255 single-core processor is fine. Still, Pasieka has a point: "Unless WP7 does not multitask well, and from what I am hearing it does, there is no way a single core Nokia will be more responsive than multi-core Samsung or HTC".
See Tim Conneally's slideshow: "Hands-on with Nokia's first Windows Phones"
I want to root for Nokia and Lumia 800, but I'm not feeling it yet. There's something here that feels unfinished. Has Nokia primed Lumia 800, and sibling 710, before its time or simply shipped what was ready now rather than wait to get it all? I want to give Nokia benefit of the doubt, but it's hard when comparing Lumia 800 hardware to the luscious Symbian-based N9 (and similarities between them are, unsurprisingly, striking).
Nokia N9 quick specs: 3.9-inch AMOLED display -- curved Gorilla glass -- with 854 x 480 resolution; 1GHz ARM Cortex-A8 OMAP3630 processor; 1GB RAM; 16GB or 64GB storage; 8-megapixel rear-facing camera -- Carl Zeiss f/2.2 lens with 2x LED flash; front-facing camera for video conferencing; 720p video recording; Near-Field Communications; Bluetooth 2.1; GPS: 1450 mA battery; and MeeGo 1.2 "Harmattan."
Nokia Lumia 800 quick specs: 3.7-inch AMOLED display -- curved glass -- with 800 x 480 resolution; 1.4GHz Qualcomm MSM8255 processor; 512MB RAM; 16GB storage; 8-megapixel rear-facing camera -- Carl Zeiss f/2.2 lens with 2x LED flash; 720p video recording; Near-Field Communications; Bluetooth 2.1; GPS: 1450 mA battery; and Windows Phone 7.5 "Mango".
Clinging to Hope
"What a disaster for Nokia & WP7. Ugly phones, no front camera, with iOS 5 running circles around these phones", BetaNews reader ilev comments. "Ah, and according to [Nokia CEO Stephen] Elop these are the REAL WP7s, so, anyone who bought a WP7 until now bought crap phone".
Others are more optimistic about today's announcements. "Nokia World 2011 marks just the start of a new Nokia. Nokia has progressed through the first stage of a transition", Fogg says. "But there's much much more to do. These two Lumia handsets just the first two smartphones of what Nokia intend to be an entire product family that will spearhead a revival in the US, Europe and Asia".
The Lumia 800 will be available in France, Germany, Italy, the Netherlands, Spain and United Kingdom, from 31 operators, starting next month. Nokia plans to bring the Windows Phone to Hong Kong, India, Russia, Singapore and Taiwan by year's end. These are core Nokia markets, by the way, and right place to start.
What about missing the United States during the holidays? I asked Stephen Baker, NPD's vice president of industry analysis. "I don't necessarily see not having a product in store in the US for the holiday as a negative", he says. "They'll have Europe and since their presence here is so anemic I think holiday would be a struggle to get some mind share amid all the noise of the holiday season".
Can Nokia pull it together, and can Microsoft and Windows Phone make a difference? I'm feeling less pessimistic today than July. But not enough to get excited, sigh, about Lumia 800. What about you?
Photo Credit: Tim Conneally