Developers are hot for Kindle Fire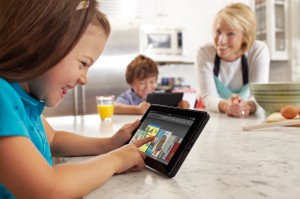 Amazon's Kindle Fire is just starting to ship today, but it already is the most popular Android tablet among developers. IDC and Appcelerator say the Fire edges out the Samsung Galaxy Tab, and interest in the device is similar to that seen before the launch of Apple's iPad in April 2010.
IDC's study confirms BlackBerry's continuing fall from grace, as Windows Phone moved into the third spot among most popular mobile operating systems for development. Nokia's new lineup of Windows-powered phones are the reason, as developers expect market share for the platform to rise as a result. Half of those who expressed interest in Windows Phone cited the Microsoft/Nokia partnership as the reason.
"Amazon has shown exceptional early success in appealing to developers with the Kindle Fire showing that price and differentiation are keys to competing in the crowded Android tablet space, rather than simply chasing the iPad market", says IDC mobile and connected consumer platforms research head Scott Ellison.
Forty-nine percent of developers say they are "very interested" in developing for the Fire, four points shy of the iPad's mark pre-launch. Kindle Fire's low price is a factor and one that has brought Android development into focus in recent months.
In positive news for Microsoft, 38 percent of developers say they were very interested in developing for Windows Phone. IDC says this is a record for the platform and could help the Redmond, Wash.-based company's Nokia gamble pay off. Oftentimes consumers will look to application support in making decisions, and for a large part of Windows Phone's existence, it just has not been there.
Developers are not concern-free though when it comes to Android or the Kindle Fire. Fragmentation was cited as a concern, IDC finds. That should in turn concern Google and those partial to Android, who at times have argued that so many different versions of Android running on various devices is a non-issue. Fragmentation presents an issue to developers in that they must consider not only the capabilities of the device but also issues surrounding a particular version of an OS.
In terms of platforms themselves, iPhone continues to garner the most interest among developers, with 91 percent citing they are very interested in development for the device. This is followed by the iPad at 88 percent, Android phones at 83 percent and Android tablets at 68 percent.
IDC notes that interest in development for Android phones and tablets fell four and six points, respectively, but surmised it had to do with renewed interest in iOS coinciding with the release of iOS 5.