Antenna turns your PC into an Internet radio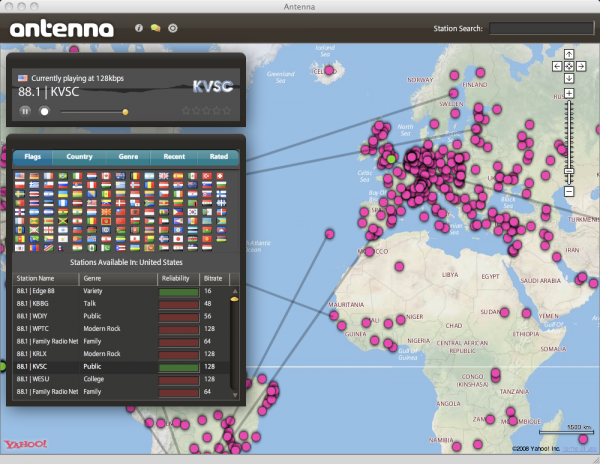 When it comes to listening to the radio, the Internet means that you are no longer limited to listening to what you are able to pick up through your set's antenna. There are a huge number of radio stations broadcasting online and while this means that there is no shortage of choice, it does mean that it can be difficult to find something you like unless you know about it in advanced. Antenna is a free Adobe AIR app that takes a new approach to internet radio.
Tracking down a new station to listen to is a wonderful interactive process that can be approached in a few ways. If you already know the name of station, you can simply perform a search for it, but if you would like to find something new, you can browse through the interactive map where pushpins are used to represent radio stations.
Alternatively, you can use the icon-driven interface to filter radio station based on the country they are broadcasting from or the language they use. Of course, there is the usual option of browsing through stations that fall into the genre of your preference, and an online chat facility is available to enable you to chat with other listeners and exchange details about your favorite stations.
If a station you like is not available through the app, you can adds its URL so you can use Antenna to listen to it in future, and the option to rate and bookmark stations provides you with additional filtering options and easy access to stations you like. Antenna also enables you to record streaming radio, although we did find that this was occasionally a bit hit and miss. Minor niggles aside, this is a great looking app that's well worth checking out.
You can find out more and download a copy of the app by paying a visit to the Antenna review page.