Verizon 4G LTE reaches 200 million Americans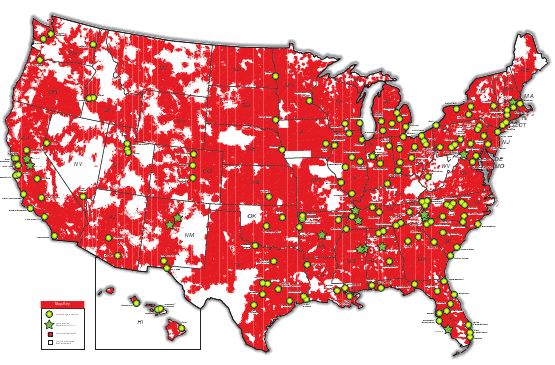 Verizon Wireless says that network expansion planned for tomorrow will bring 4G LTE to 200 million Americans. That's not the news we were waiting for. Google-branded, Samsung-manufactured Galaxy Nexus, a LTE phone, is rumored to be launching tomorrow. How about a peep or two about that, Verizon? Wassup with these delays?
On December 15, Verizon will flip the LTE switch in Dover, Del.; Lafayette, Ind.; Fitchburg/Leominster, Mass.; Duluth, Rochester area and St. Cloud, Minn.; Manchester/Nashua, NH; Poughkeepsie, NY; Findlay/Tiffin and Youngstown/Warren, Ohio; and Indiana, Pa. Coverage will expand here on the West Coast in San Diego and San Francisco and Eastward in Savannah, Ga.; Chicagoland, Ill.; Baltimore and Hagerstown, Md.; and Washington, DC.
"Introducing the 4G LTE network has been the fastest rollout of any next-generation network in our history. In one year and 10 days, we have brought 4G LTE to more than 200 million people", David Small, Verizon Wireless CTO, says. "That's more than twice as fast as our 3G network rollout". In the coverage map above, the yellow-green circles denote where Verizon offers LTE service.
LTE is hugely important to the country's largest carrier, which offers eight LTE handsets, all Androids. Galaxy Nexus would make nine. Verizon also offers a handful of LTE tablets: Motorola Droid XYBOARD 8.2 and 10.1; Samsung Galaxy Tab 10.1; and Moto XOOM (which is currently out of stock).
By comparison, AT&T offers just two LTE phones, the recently launched HTC Vivid and Samsung Galaxy S II Skyrocket. The nation's second-largest carrier reaches 15 cities with its 4G service. However, AT&T promises considerably faster data throughput -- up to 70Mbps downstream compared to maximum 12Mbps for Verizon LTE.
I tested 4G speed on my recently-purchased XOOM LTE last night. My apartment gets terrible cellular and data service from AT&T. Verizon delivered 5.83Mbps downstream and 5.78Mbps upstream. I'll test tomorrow, when Verizon expands coverage here in San Diego.
LTE matters to Verizon, which assumes it matters to you. But does it? Right now, 4G LTE is only available on Androids. AT&T doesn't yet offer LTE in San Diego, but I bought the Skyrocket as investment protection when the service is available. What about you? Have you recently purchased a LTE phone or plan to buy one in the next three months? Stated differently, is 4G a must-have feature for your next smartphone? You know where to answer.