Apple claims smartphone crown from Nokia, Samsung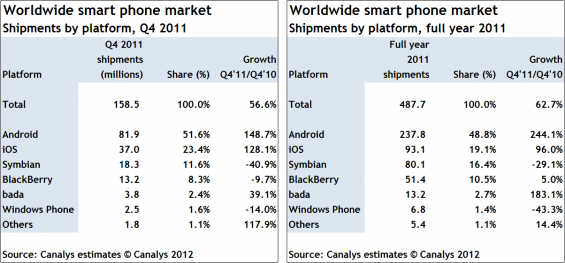 iPhone's remarkable fourth-quarter surge -- 37 million units -- lifted the handset ahead of the two previous smartphone leaders, according to Canalys. For full year 2011, Apple shipped 93.1 million smartphones, compared to Samsung's 91.9 million and Nokia's 77.3 million. Nokia, the company that invented the smartphone, has bled share since iPhone launched nearly 5 years ago, but artery versus vein since announcing the switch to Windows Phone from Symbian in February 2011.
Apple's climb to the top followed October's iPhone 4S launch and availability of older 3GS and 4 models for free and $99, respectively. Samsung shipped 35.3 million smartphones in Q4, behind Apple, while Nokia shipped 19.6 million -- a stunning 31 percent decline. By comparison, iPhone shipments surged 128.1 percent for the quarter and 96 percent for the year.
However, Android shipments outpaced iPhone/iOS by considerable degrees, up 148.7 percent for the quarter and 244.1 percent for the year. Nearly 82 million Androids shipped during fourth quarter and 237.8 million for the year. Android captured 51.6 percent global smartphone share for the quarter and 48.8 percent for all 2011.
The quarter's biggest loser -- and big isn't, well, big enough -- was Windows Phone. Despite shipment of the first Nokia Windows Phones and release of v7.5 during the quarter, market share plunged a stunning 43.3 percent. Windows Phone ended the quarter with a puny 1.4 percent share. For perspective, that's below Samsung's Bada, which launched in mid 2010. Bada shipments grew 183.1 percent year over year, granted from a small base, to 2.7 percent share.
More broadly, 158.5 million smartphones shipped in Q4, up 57 percent year over year. For all 2011: 487.7 million, up 63 percent.
"Smartphones have grown from being a niche product segment at the high-end of the mobile phone market to becoming a truly mass-market proposition", Chris Jones, Canalys principal analyst, says. "The greater availability of smartphones at lower price points has helped tremendously, but there has been a driving trend of increasing consumer appetite for Internet browsing, content consumption and engaging with apps and services on mobile devices".