iPhoto comes to iOS, and you'll want it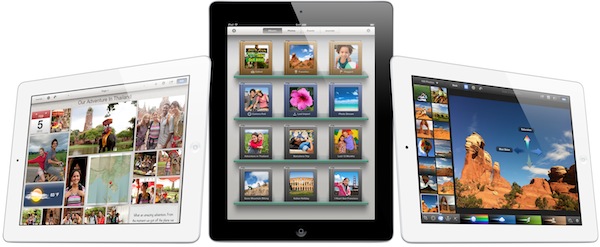 During today's media event, where Apple debuted new iPad and new Apple TV, software also took the stage, including the new iPhoto for iOS and updates to GarageBand and iMovie. All three apps are available for $4.99 each. Apple also released new iWork apps -- Keynote, Numbers and Pages -- and they sell for $9.99 a piece.
The Cupertino, Calif.-based company updated the apps in part to support the new iPad's 2048 x 1536 resolution "Retina" display. Yesterday I answered "Why does iPad need a HD display?".
iPhoto completes the iLife suite for iOS and packs in lots of features. Users rely on a scrollable thumbnail filmstrip to navigate photos, and it's available in either portrait or landscape mode.
Not surprisingly, the app relies heavily on touch for everything. As I expressed recently about Samsung Galaxy note, the pen isn't mightier than the finger. Samsung heavily promotes the quasi-phone tablet's stylus -- eh, pen -- as selling point.
Human beings are tool users who experience and manipulate the world through five senses. Hands and fingers are important because they are active -- they're how people tactilely manipulate the world around them. Touch is hugely important, and makes tablets more personal, the experience more intimate. The finger and touch are more natural, because they extend you. Good user interfaces build on the familiar -- and there is nothing more familiar than me, myself and I. Touch photos is very intimate, and Apple's choice of features for manipulating images is very personal.
Apple's marketing material makes the point, about using fingers to "crop out a distracting background (or maybe an ex-boyfriend)". What could be more personal than that!
Users can apply six photo effects, which number seems limited to me, with a simple touch. Apple also provides "brushes" for adjusting different areas of photos, such as "lighten", "darken" and "sharpen". These kinds of tools are common among photo-editing apps. Touch, with a little practice, promises more precision where, ah, touchups are applied.
iPhoto for iOS also can create online "Photo Journals", leveraging Apple's iCloud. It's one of several interesting alternative products to Facebook Timeline.
Another feature is less directly personal but no less meaningful. "Photo Beaming" wirelessly sends, say, a pic taken on iPhone immediately to iPad. No user intervention required.
iPhoto for iOS requires iPhone 4, 4S, iPad 2 or the new iPad. iPhone 3GS and original iPad users are out of luck.