Apple sells 365 million iOS devices, primps iOS 6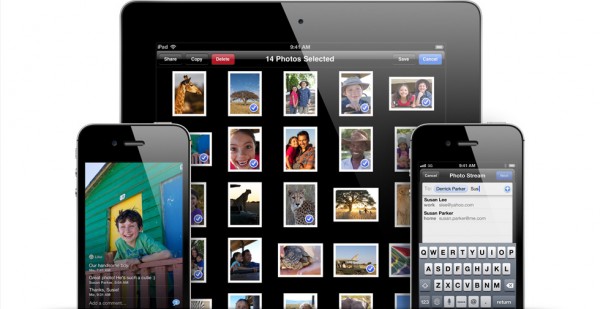 It's a big number and one still well ahead of Android. Just in early 2012, Apple has shipped at least 50 million iOS devices, with iPad adding force to iPhone. Apple calls them "post-PC devices". For all 2011, Apple sold 172 million iOS devices. But wait, haven't we heard this 365 million number before? Indeed, it's same as revealed in late April for the period through end of March. I'm quite surprised Apple didn't update the number, considering the big iOS 6 reveal during today's Worldwide Developer Conference keynote.
New iOS 6 features include FaceTime video over cellular, Facebook integration, Passbook for buying movie tickets and other passes, shared photo streams and new maps app, among others. The new capabilities aren't just for iPhone users but developers, as Apple provides them more built-in utilities to tap into. They received iOS 6 beta today. The software ships in autumn, presumably with iPhone 5.
Android and iOS are engaged in a brutal platform war that likely will define the next major computing era. However, much still depends on what Microsoft accomplishes with its next-generation Windows PC and mobile operating systems. Two weeks ago, Microsoft issued Windows 8 Release Preview, and OEM partners showed off compelling touch-and-keyboard models during last week's Computex tradeshow. These include Windows RT tablets that will compete directly with iPad, and also Androids. New Windows devices are expected for the holidays, setting the stage for a dramatic upset for Android.
Google's operating system does well, but almost exclusively on smartphones. Late yesterday, Android chief Andy Rubin revealed there are 900,000 activations per day -- that's 27 million per month or 81 every 90 days. Gartner, which tracks sales to end users rather than the analyst firm standard of shipments into the channel, reports 81.067 million Androids sold during first quarter. Based on the reconciled numbers, and those from analysts tracking tablet shipments, Android does squat in the device category.
Beyond devices and operating systems are applications. Today, Apple revealed that App Store now offers 650,000 applications -- 225,000 just for iPad -- and that downloads now top 50 billion.
Google's response comes in just 16 days, when its developer conference opens. Top of list: Android 4.1 "Jellybean", where Google can answer Apple. Problem: Even as Google pushes ahead with Jellybean, the user base is largely stuck on Gingerbread (Android 2.x) -- 65 percent -- based on devices accessing Google Play for the 14 days leading up to June 1. Ice Cream Sandwich: 7.1 percent.
The importance of iOS to Apple and keeping ahead of Google, Microsoft and their partners can't be overstated. According to financial filings, for calendar 2011, Apple sold 92.95 million iPhones and 40.45 million iPads -- generating $61 billion and $24.95 billion revenue, respectively. For all calendar 2011, Apple generated $127.84 billion revenue. The two products accounted for 67 percent of the company's sales for the year (again referring to calendar and not Apple's fiscal year, which is offset by one quarter). During first calendar quarter, Apple shipped 11.8 million iPads and 35.1 million iPhones, generating $6.6 billion and $22.7 billion in revenue, respectively. Combined the two products accounted for 75 percent of Apple revenues during first calendar quarter.
The point: Apple's future is iOS, not OS X. Executives really mean it when talking about the post-PC era, which really means post-Mac, too. Still, OS X is a big investment for Apple, as seen by today's launch of new MacBook Airs and Pros and Mountain Lion's launch date being set for July.