Google I/O Liveblog Day 2 -- how could it possibly be better than this?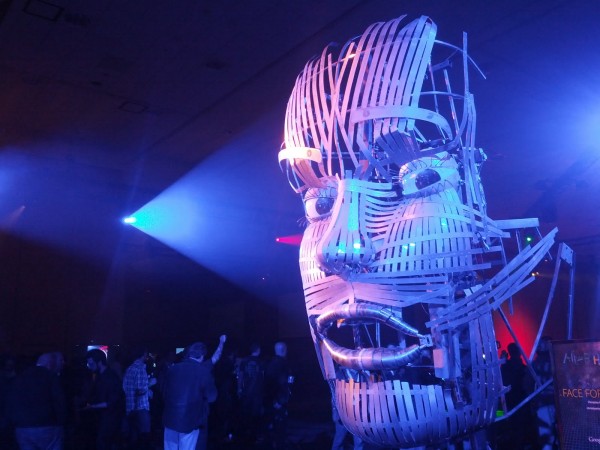 I've covered lots of events over the years, but few as exciting as Google I/O 2012. Seriously, the cloud computing giant innovates in ways that, well, people attribute to Apple. There's a very aspirational quality about presentations so far, right down to the hard-knuckle coding sessions. You can feel a real sense of empowerment in the air -- that somehow these developers, and the customers they create products for, will have better lives for participating in this ecosystem.
Like yesterday, I will liveblog the keynote, which begins at 10 am PDT (1 pm Eastern Time) and post in reverse chronological order, meaning the newest stuff will be one top. But it's hard to imagine how Google could out-do yesterday's stunning presentation. Still, there is much ground to cover -- Chrome, Chrome OS, Google TV and the rumored Amazon Web Services-like platform, to name a few. There are still two days of sessions yet. Check back and refesh often.
Quick Day 1 recap:
Android activations are now 1 million a day, with 400 million devices activated, which now makes the install base larger than iOS.
Google unveiled Android 4.1 Jellybean, which hot, new features make it the personal assistant Apple's Siri aspires to be, using search history and other interactions to anticipate needs. Software will be available next month for Galaxy Nexus and Motorola XOOM.
As rumored, Google unveiled Nexus 7 tablet, for $199 or $249; preorders now, ships next month. I call it a Kindle Killer, Randall Kennedy says it's DOA.
Nexus Q is Google's first consumer electronics device, connecting to the cloud to stream all your content. The Android device ships next month and is available now for $299 preorder.
Google+ got a big upgrade, with a new app for Android tablets and smartphones and some exciting new features -- Events is standout among them.
Oh yeah, Sergey Brin brought by some guys wearing Glass. They jumped out of a plane in squirrel suits and landed on the Moscone center.
11:24 am. Brin moves around the roof, while bikers roam round. Now someone scales down the building.
10:26 am. Brin says he hopes Glass will lead to something important. And that's a wrap. Keynote ends!
10:25 am. The bikers race into Moscone.
11:19 am. They land!
11:18 am. They jump!
11:10 am. Google cofounder Sergey Brin is back. He's on the Moscone Center roof with Glass. There are jumpers above in an "airship". They're participating with their Glasses in a Google+ Hangout. Brin jokes that it's tough for them to remain in the Hangout because of the "challenging" wireless environment.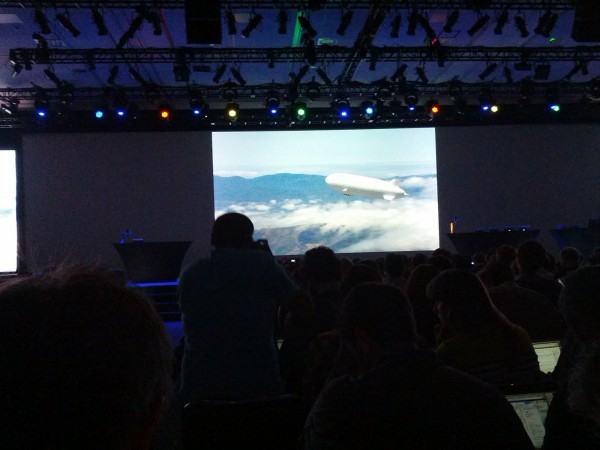 11:08 am. Google I/O developers will receive a Chromebox. What? No Chromebook?
11:01 am. Now it's Circus Olay -- in a browser. Wow. All demoed on Chromebook. Google really is doing what Netscape envisioned in the 1990s and Microsoft moved to prevent it: Browser as development platform, no Windows required.
10:56 am. Pichai demonstrates a game, full screen, running in Chrome on Chromebox.
10:55 am. Pichai returns to talk about games, in Chrome. One objective: Games are so intensive, if you can do games your platform can handle just about anything, he says.
10:51 am. Hölzle claims 50 percent more performance per dollar than competing services. Google Compute Engine is available in limited preview.
10:46 am. Hölzle announces Google Compute Engine, which he describes as "infrastructure as a service" -- Linux virtual machines running on Google servers.
10:44 am. Urs Hölzle, one of Google's first 10 employees, talks about servers and app engine.
10:42 am. Chromebook is available starting today in 100 Best Buy stores and more retail outlets coming for the holidays.
10:41 am. Chrome OS updates every six weeks.
10:40 am. Pichai talks Chromebook. I'm using one now, and I love it.
10:38 am. Google Drive enables developers to take advantage of sync and seamless log-in capabilities.
10:37 am. Google Drive SDK 2.0 is available today.
10:35 am. New today: Offline editing for Google Docs. Crap, now I'll have to work on the plane flight home.
10:33 am. Wow, there's a demo of Google docs changes syncing across devices in real time. Again, I say! Sync is the killer app for cloud-connected devices.
10:27 am. Whoa, Pichai zings Microsoft SharePoint!
10:30 am. Google Drive is available today for Chrome OS and iOS. Again, that's more invasion onto Apple's platform.
10:26 am. Pichai is back, talking about consumers and companies "going Google" -- "45 states have gone Google" and 66 of 100 top universities.
10:22 am. Chrome will be available later today for iPhone and iPad. Sync and other features will be there. This is huge Google cloud services invasion onto the iOS and iCloud ecosystem.
10:20 am. Holy crap! Chrome for iOS launches today! Bye, bye, Safari.
10:19 am. I've said for years that synchronization is the killer app for the connected era. There's Chrome sync demo going on now -- across devices.
10:13 am. "Chrome is the most popular browser in the world, globally", Pichai claims.
10:11 am. There are 310 active Chrome users, up from 160 million a year ago and 70 million 12 months earlier.
10:10 am, Sundar Pichai,senior vice president of Chrome and Chrome apps, says that for many people in the world the smartphone is the main way for accessing the web, "We're in the middle of a revolution".
10:06 am. Vic Gundotra is on stage. More than 2,600 people logged into Google+ Party Mode for last nights party. Participants uploaded 13,700 photographs.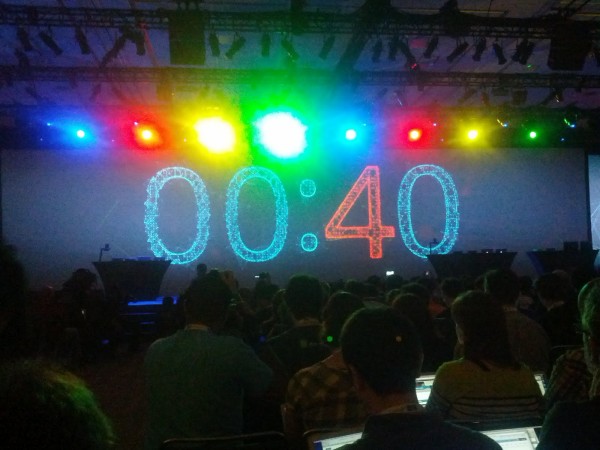 9:55 am. We're in the keynote hall, finally. Music charges the atmosphere.
9:33 am. A crowd of 5,000 waits to get into the keynote. What you see here is a fraction of the number.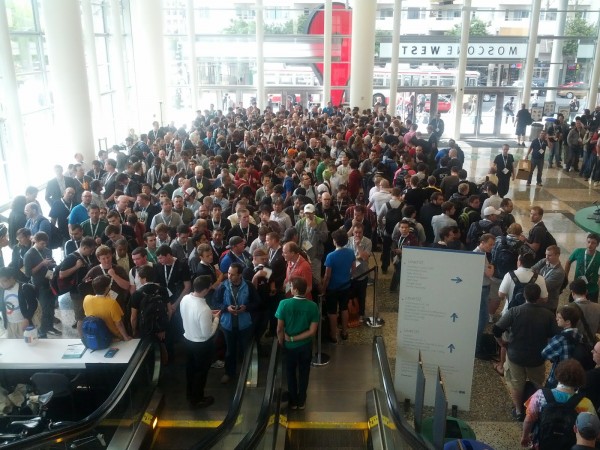 9:30 am. I return from posting a story.
8:28 am. This is not a Windows crowd. I see more Mac laptops and iPads than anything, although there are lots more Nexus 7 tablets today.
Photo Credits: Joe Wilcox