Happy Birthday Google (belated)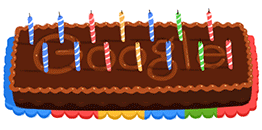 If you went to Google.com today, you probably noticed the logo was replaced with a fun little birthday cake animation celebrating 14 years of incorporation. Google was incorporated on Sept. 4th 1998, but chose today to celebrate the birthday. What does it matter when they celebrate, after all, Google has had a great year.
In April, Google released a concept video about Project Glass, fancy glasses with computers in them. In May, the search giant closed the purchase of Motorola Mobility. During the annual developer conference in June, Google made a lot of announcements, among them: Android 4.1, Nexus 7 tablet, Nexus Q and creepy but useful Google Now. The fun: skydiving, bicycles and rappelling down the side of a building. Big surprise: event participants could purchase a developer version of Google Glasses.
But September has been huge -- and appropriately so for the birthday month. Cumulative Android device sales passed iOS -- 500 million to 400 million -- with IHS iSuppli predicting 1 billion next year but Apple's platform not reaching the number until 2015. Daily Android activations now top 1.3 million. Android is the most popular mobile OS with 64.1 percent global sales market share, according to Gartner.
Just yesterday, Google announced there have been 25 billion downloads from Google Play, and 675,00 apps available.
But the big thing, perhaps most appropriate for the birthday, is Google's share price, closing at $756.50 today. The stock reached a record high of $764.89 earlier this week. That's higher than Apple, which closed at $681.32 and this month set a record high of $705.07.
You can't ignore the bad, however. The whole debacle over the Street View spying continues to affect Google. Apple removed YouTube and Google Maps from iOS 6. Marissa Mayer left the company to become CEO of Yahoo, in mid July. Later that month, Google suspended Nexus Q sales. The company's top executive in Brazil was even arrested yesterday.
Whether you like it or not, Google is an important part of our daily lives. The company has 91 percent of search market share worldwide and uses the money it makes from advertising to provide more services that are free -- Android, Chrome, Maps, Translate, YouTube, Blogger, Voice and some that are free to consumers, but that businesses can pay to use with support: Gmail, Google Drive/Docs and Google Calendar.
It is now possible to live almost your entire digital life with Google, particularly if using a fancy Chromebook or Chromebox to access search, Gmail, Drive and Calendar to be productive, Google Wallet for all your purchases and, if you live in Kansas City, the Google Fiber, Gbps Internet service.
Fourteen years have passed since the company began to change the Internet, so much so that Google is now a verb -- and almost a way of life.