BUILD is back!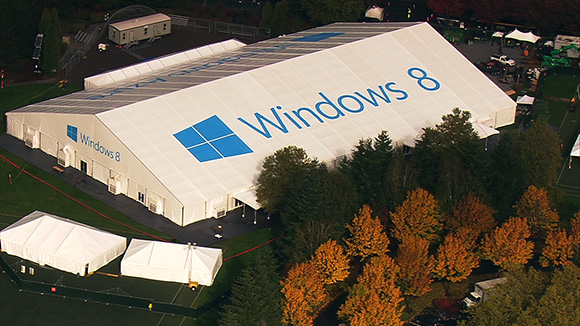 Today, Microsoft kicked off its second BUILD. Last year's event replaced the Professional Developers Conference. This year marks a change in venue, from Los Angeles to Redmond, Wash. and comes amid, rather than before, a flurry of new Microsoft products. Windows 8 launched October 26, Windows Phone 8 yesterday and Office 2013 is released to manufacturing and available to developers and corporate customers. There's Windows Server 2012 and more either out the pipeline or coming down it.
Microsoft is determined to woo developers to its new stuff and accompanying platform changes. During today's Day 1 keynote, attendees learned about the schwag: Surface RT 32GB and Nokia Lumia 920 smartphone. Consider them tools of the trade, for creating and testing new applications. Microsoft also slashed developers' fee for Windows Phone to $8 from $99. That is for just eight days.
Hard Sell
There is no right way to emphasize the importance of BUILD 2012. Microsoft asks developers to adapt to Windows architectural changes, which include a more locked-down kernel, WinRT runtime and ARM processors as well as supporting two motifs -- the revised desktop with Office Ribbon and Modern UI. Then there is the new Windows Store for selling their wares.
Meanwhile, cloud services integration is tighter among all products, including inclusion of Skype and support for Office 365. With the latter, Microsoft hopes to make its productivity suite in the cloud more of development platform, like what Google does with Apps, only with deeper ties to desktop and server software. Microsoft asks much of developers, as Android, iOS and web apps pull away their attention.
No time in its history has Microsoft faced so much competition for developers' attention. The sudden surge in cloud-connected devices creates new sales opportunities for developers, particularly as more people bring their own devices to work -- all while creating management problems for enterprises.
"The era of the PC has ended", Phil Redman, Gartner research vice president, claims. "The convenience and productivity gains that mobile devices bring are too tempting for most companies and their employees".
Windows 8 and ARM-supporting companion RT are Microsoft's mainstay push into newer cloud-connected device categories, such as convertibles and tablets. General and BYOD manageability matter to enterprises, and Windows is trusted for such capability on the desktop. "Securing corporate data on mobile devices is a big challenge, but one that companies must embrace", Redman says. "Enterprises are struggling with how to support and secure this dynamic workforce".
They're struggling because consumers want something more than PCs. "The 'Great PC Exodus' on the Internet is happening because the PC was never truly a consumer product", Karsten Weide, IDC vice president, asserts. "Many consumers use them because there was no better alternative. Now, with the huge and growing installed base of more user-friendly tablets and smartphones, there are". And they're bringing those device to work, invading Windows' sacred turf.
Opening Windows?
Gartner predicts that by 2017, 90 percent of enterprises will support two or more operating systems. Consider the market shift: During the PC era, businesses generally supported one platform, Windows. During the early cloud-connected device era, many enterprises adopted iOS, Gartner claims. Where they fall, particularly following Windows 8's release, will be somewhere in-between -- and that's without considering Android as eventual contender. But the point, surely not lost on many developers: The days of Windows dominance -- 90 percent share on the desktop -- is over.
Microsoft's challenge over the next three days is to convince them otherwise -- that the Office-Windows-Windows Server apps platform stack is still hugely relevant and place where they can still make lots of money. Steve Guggenheimer, Microsoft's chief developer evangelist, made the big pitch for relevance and money to be made:
The developer opportunity on Windows has never been greater. Between expected PC shipment volumes in the coming year and the incredibly flexible terms of the Windows Store, the path to app monetization on Windows represents a huge business opportunity to everyone from the independent developer with a great idea to the world's biggest companies who develop apps, games and device experiences to reach customers, extend their brands and drive revenue.
Change is rapid now. Gartner predicts that next year, globally, mobile phones will be more commonly used to access the web than PCs. Two years later, 80 percent of handsets sold to mature markets will be smartphones. Today, Microsoft mobile operating systems global market share measures less than 4 percent, based on combined analyst estimates.
Guggenheimer answers that problem: "The platform commonality and shared core between Windows 8 and Windows Phone 8 is very much a part of the opportunity. This is about enabling developers to quickly get from a great idea to a money-making app running on multiple devices, by reusing their skills and, in some cases, the actual code, all built using a common toolset in Visual Studio".
Photo Credit: Microsoft