Apple iPad 4 review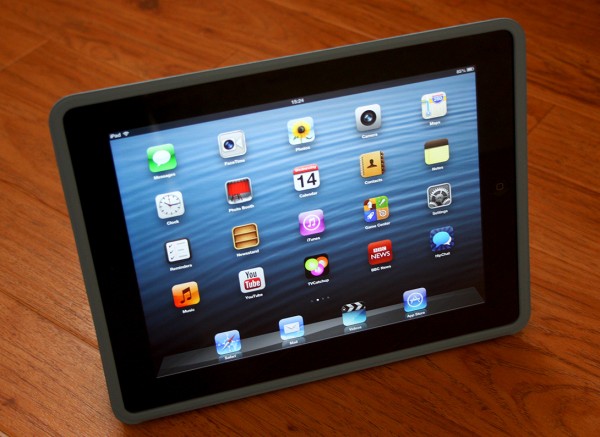 I've been thinking about getting a new tablet for a while. Although there's nothing physically wrong with my iPad 2, I've been itching for a bit of new tech in my life and there are some truly excellent choices available this year, including the newer "new" iPad, the iPad mini, Microsoft Surface, and the Google Nexus 7 and Nexus 10. All of which are definitely worth considering.
A friend let me borrow his Nexus 7 for a week, during which time I realized a small tablet was not for me, so that also ruled out the iPad mini. The Nexus 10 looked appealing, and so was on my shortlist. Microsoft Surface I discounted because even though I now use Windows 8 daily, I still don't really like it and the current lack of great apps for Surface is a bit of a deal breaker. Maybe in the future…
Birthday Wishes
In the end the choice came down to getting a 4th-gen iPad or the Nexus 10. On paper the difference in price seems considerable (the Nexus 10 is $100 cheaper), but then I factored in apps. I've purchased at least $400 of iOS apps over the years -- via iPhones, iPod touches and my iPad 2 -- and if I switch to Android, I'll have to start my purchasing all over again. And of course not all the apps I use on iOS are available for Android. So I plumped for the new iPad (32GB, Wi-Fi only), which I purchased on the Apple site, with a little free case engraving.
A few days ago, just in time for my birthday, the iPad arrived, along with the SmartCase I ordered to protect it (although this hides the engraving on the iPad's aluminum rear, it's not a problem as Apple can add some free text to the back of the cover too).
First Impressions
The first thing I noticed on getting the tablet out of the box, was how similar to the iPad 2 it is. I couldn't compare them side by side, as I'd sold my older tablet the week before, but turned off the latest iPad could easily have been the old one in new packaging. When I turned it on, however, the retina display quickly dispelled that notion. It's bright, crisp and colorful, and although the 2048 x 1536 display isn't technically as sharp as the iPhone 4S (264PPI versus 320PPI), and doesn't even compare all that favorably with the new Nexus 10's resolution (2560 × 1600), it's still stunning.
The battery was 75 percent charged to begin, so there was no need to plug in. All I had to do was work my way through the getting started wizard and install my favorite apps. Charging the iPad simply involves plugging in the new Lightning connector, which is no better or worse than the old standard connector. I don't have an iPad dock or other peripherals, so at least I don't have to worry about replacing them or buying pricey adapters.
The new tablet feels solid, in a good way. It is noticeably heavier than my old one (by almost 60 grams) but the SmartCase means I don't need to hold it to watch movies or even to type, so the additional weight never becomes an issue. The external buttons, of which there are four, are well placed and easy to access.
The A6X processor means the new device is much, much faster than the iPad 2, and graphically intensive games like Asphalt 7, The Amazing Spider-Man, and Mass Effect Infiltrator, run impressively smooth.
Core Features
Snaps taken with both the 5-megapixel rear camera and the 1.3MP front one are certainly decent enough, with a good level of detail in strong light and an impressive auto-macro mode. The tap to autofocus feature works really well, but the ability to take photos using the volume key could also be described as the option to include your fingers in every landscape shot you take, as your hand automatically covers the camera when tapping the button. It's just plain awkward. To be honest though, I don't ever intend to be the sort of person who goes out into the world taking photos on a tablet, so this doesn't worry me too much. The new iPad unsurprisingly hasn't improved the chats I've had using FaceTime, but this is an issue with my friends rather than the hardware. The quality of the video is much sharper though.
iPad 4 runs iOS 6 out of the box, although it does require an update to get it on to 6.0.1. There's lots I don't really like about the new OS (including Maps and the revamped App Store design), but I'm getting used to it. The ability to switch between open apps by swiping your hand left across the screen is a great addition, as are the other two multi-tasking gestures (pinching in with all your fingers will open the home screen, while flicking upwards will show the multi-tasking bar).
Browsing the web -- one of the reasons a lot of people will want a tablet -- is a very pleasant experience, and websites look great: crisp, clear and easy to read. Pages load quickly (to be fair I'm on a 100MB connection at home, which is a major factor) and it's great to have tabbed browsing now. The option to save items for reading offline later is very handy too when using a Wi-Fi only device.
As I never had an iPad 3, the new version is a major jump forward from my old tablet. The retina display certainly wows, and the much faster CPU means I can really enjoy games and other processor intensive apps as they are intended to be. iPad still gets pretty warm when really pushed, but I've not burnt my legs using it (yet).
The Right Choice
Was it worth the upgrade from iPad 2? For me, yes. Faster, with better visuals and some clever touches. For other iPad 2 owners, who aren't overly bothered about things like the Retina display, there isn't such a pressing need to upgrade, especially given the price (£479.00 here in the UK; $599 for Americans).
There's definitely no need to upgrade from an iPad 3. Am I happy with my choice of tablet -- unquestionably so. Do I think it's the best tablet on the market? Personally, yes, but it's really just a matter of preference now, and the next time I come to upgrade it's likely I'll be considering the competition's offerings much more closely.
Photo Credit: Wayne Williams