Zombie Shooter: blast the undead into a bloody mess with this free arcade-style game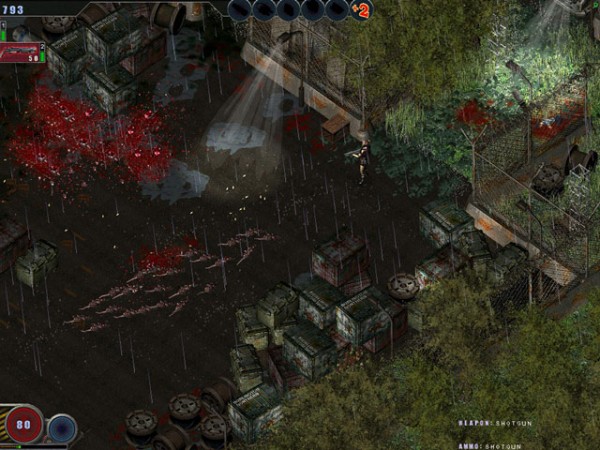 The Walking Dead is now on its mid-season break, but if you're missing the show already then you could turn to Zombie Shooter, a free game which provides all the opportunities for walker-slaughtering you're ever likely to need.
Okay, it's true, you won't get quite the character development here that you do in the show (or, indeed, any at all). The game's plot, such as it is, it rather more basic: essentially you're just running around a secret research lab, slaughtering zombies, picking up weapons, ammo and health packs, and trying to figure out what's going on.
And as you can see from the screen grab, the graphics are fairly basic, too. Zombie Slaughter is a straightforward top-down isometric affair, and if we discovered it was actually written 15 years ago, that wouldn't be too much of a surprise.
Still, this simplicity also has many advantages. The program will install and deliver good frame rates almost anywhere, for instance (it runs on anything from Windows 95 upwards). There's no need to learn some lengthy back story before you get started. And you'll probably figure out the core controls without ever checking any documentation, as they're mostly just what you'd expect: point with the mouse, move with the cursor keys, fire with the left mouse button, and choose a weapon with one of the number keys.
And there are plenty of supporting extras here, too. So you get multiple game modes from a quick "kill everything you can see" to a longer campaign option. And there are all kinds of bonus weapons you can purchase between levels to upgrade your armory and try to ensure your survival.
If you prefer your games to be a little more mentally challenging then the program may not keep you amused for too long. And even we began to get a little bored in some sections of the game, where essentially all you have to do is hold down the left mouse button and wait until you've destroyed everything in sight.
Ultimately, though, Zombie Shooter's hassle-free nature makes it an easy game to like. There's no manual to read, no lengthy cut scenes to watch, no complex settings to master: everything works more or less as you'd expect, and it's the kind of game where you can just jump in for a few minutes, whenever you feel the need for a little old-style zombie annihilation.