Polaroid introduces M7 and M10 tablets, running Android 4.1 Jelly Bean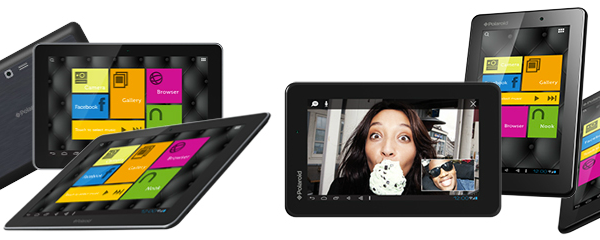 Even though at CES 2013 manufacturers reveal some of the most high-tech products, such as 4k OLED TVs, which are, price-wise borderline unreachable for most consumers, there are some affordable and appealing devices, too. Case in point are Polaroid's M7 and M10 tablets that feature dual- and quad-core processors, respectively, as well as Android 4.1 Jelly Bean.
The US-based consumer electronics company aims for the stars by pitching the two tablets against more established market competitors. Polaroid aims at Apple's iPad Mini with the M7, while the larger M10 takes on Samsung's Galaxy Note 10.1 in the company's wishful thinking. On a more down-to-Earth note, the dual-core M7 packs 7-inch panel with 1280 by 800 resolution, giving it a pixel density of 216 ppi, among the highlights.
Other specs include Wi-Fi, Bluetooth, 8GB of expandable internal storage and a 2MP front-facing camera. The M7 runs Android 4.1 Jelly Bean and will be available in "Spring 2013" for $129. By comparison, the other newsworthy 7-inch tablet announced at CES 2013, the Acer Iconia B1-A71 will run for under $150.
At the larger end of the spectrum is the M10, featuring 10.1-inch display, same 1280 by 800 resolution as its smaller sibling, quad-core processor and whopping 7,800 mAh battery.
Other specs include Wi-Fi, Bluetooth, HDMI, 16GB of expandable internal storage, 2MP front-facing camera and a 5MP shooter on the back. The M10 will also be available in "Spring 2013", for a sensible $229.