LG unveils a second and different Optimus G Pro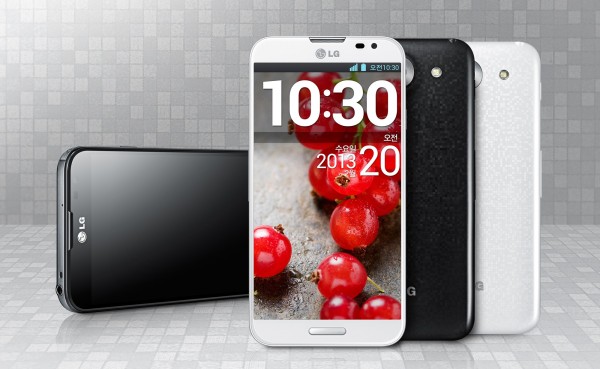 If you're confused, you are not alone. On Wednesday, LG unveiled a new smartphone dubbed Optimus G Pro, three weeks after Japanese carrier NTT DOCOMO announced a new LG-made smartphone dubbed Optimus G Pro. The twist -- they are not one and the same.
The confusion stems from the fact that the first Optimus G Pro features a 5-inch display while the second model comes with a 5.5-inch display, basically placing the two in different market segments. In terms of panel dimensions, the former is quite similar to the newest batches of Android flagships such as the Sony Xperia Z while with the latter LG takes the fight to Samsung's Galaxy Note II. LG should really make up its mind and pick different names for its handsets.
The two devices don't even share the same design language. The first one announced comes with a thicker side-bezel, elongated speaker grill and an LED flash under the camera lens, among other things. The model unveiled today reminisces the LG-made Google Nexus 4 in the speaker grill department and the back cover, has a thinner side-bezel and features the LED flash on the right-side of the camera.
LG clearly aims to reinvent the wheel on the curved glass terminology by stating that it features a "2.5D" effect, which is both misleading and wrongfully used as the term generally applies to virtual geometric models not physical ones. That said, LG did reveal some down-to-Earth information concerning the hardware specifications.
The 5.5-inch display on the newly-announced Optimus G Pro comes with a resolution of 1920 by 1080. The handset is powered by a quad-core processor, likely of Qualcomm origin. LG did not disclose any information related to the software, which is likely Android 4.1 Jelly Bean judging by the first Optimus G Pro's green droid distribution. Since MWC 2013 (Mobile World Congress) is just around the corner, we can expect more information during the popular event.