Archos unveils the Platinum tablet lineup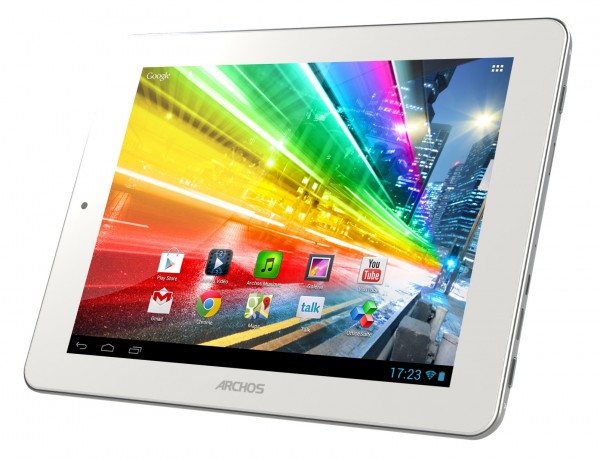 On Valentine's day, French consumer electronics company Archos professed its love for mobile technology by unveiling a new tablet lineup dubbed Platinum. The three devices, 80 Platinum, 97 Platinum HD and 116 Platinum, are designed for the wallet-conscious tablet buyers while also sporting pretty decent hardware specifications.
The common denominators between the three tablets are found inside the shell, with only the physical dimensions and screen specifications separating them. The devices share a quad-core 1.2GHz processor backed by an 8-core GPU (Graphics Processing Unit) and 2GB of RAM. Archos also throws in its branded Media Center applications, front and back cameras, as well as a mini-HDMI port and microSD card slot.
On each tablet Archos preloads Android 4.1 Jelly Bean, which the French consumer electronics company says provides "full access to 700,000 applications" suggesting that the Play Store app comes preinstalled. But enough of common denominators, let's talk about what separates the three.
The 80 Platinum features an 8-inch IPS display with a resolution of 1024 by 768, atop of the above mentioned specifications. Archos pits the 80 Platinum, which runs for $199 starting this month, against the Amazon Kindle Fire HD 8.9 that is available for purchase at $299.
The 97 Platinum HD targets the Apple iPad, which starts at $499 for the latest iteration, through a 9.7-inch IPS display with a resolution of 2048 by 1536. The tablet, which is also available "in February", can be had for $299. Archos must really want buyers to think of the 97 Titanium HD as they do about the iPad, because the resemblance between the two is uncanny.
Finally, the 116 Platinum ships with an 11.6-inch IPS display and a resolution of 1920 by 1080. The 116 Platinum will be available for $349 when it ships later on in April. It is the only tablet of the three that comes with a 16:9 display, with the other two shipping with a 4:3 panel similar to Apple's iPads.
Archos says that the Platinum lineup features "a sleek aluminum design", however the company does not specify whether that's real aluminum or a faux-aluminum, the latter of which is similar to the side-trim used by Samsung on the Galaxy S III and Galaxy Note II, among others.