Promises, promises -- more stores will sell Microsoft Surface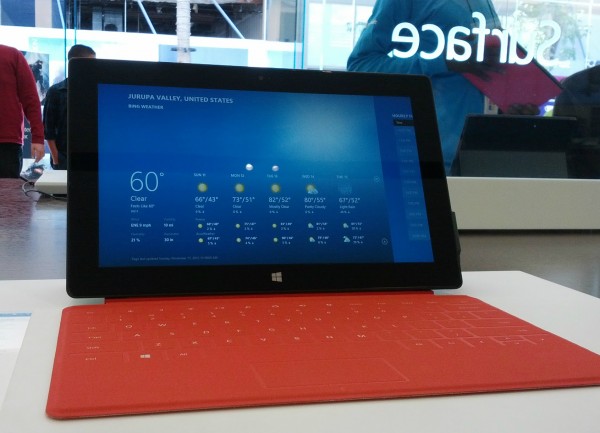 The biggest problem with Microsoft Surface is you probably can't buy it. The model running Windows RT is available in just 20 countries, and Pro even fewer (say, how do you like them Canada and United States). Today, Microsoft promised expansion into new geographies starting in late March, and, get this, taking several months. I can't imagine why tell us all now, other than perhaps to remind everyone that Surface exists and to keep those wanting one hanging on instead of buying something else.
Surface RT is currently available online or in stores: Australia, Austria, Belgium, Canada, China, Denmark, Finland, France, Germany, Hong Kong, Ireland, Italy, Luxembourg, the Netherlands, Norway, Portugal, Spain, Sweden and Switzerland, United Kingdom and United States. Microsoft added 13 on February 14. The months long expansion will bring the tablet to Japan, Mexico, New Zealand, Russia, Singapore and Taiwan.
Microsoft also promises to offer Surface Pro more places, but be prepared to wait. In a blog statement: "We are focused on meeting demand in current markets for Surface Pro and are working super hard to get new inventory into retail but recognize demand exists in other countries as well. We are committed to working with our retail partners to ensure we are delivering a great experience in the above mentioned countries for our customers".
The software giant struggles to meet demand for Surface Pro 128GB, which is once again sold out at Microsoft Store. Best Buy has units, at least according to the online ordering section of the website.
Microsoft promises: "We are happy to be able to tell you that Surface Pro will be heading to Australia, China, France, Germany, Hong Kong, New Zealand and the United Kingdom in the coming months. We will follow-up with another blog post with more details".
But -- there's too often a but -- Surface RT and Pro are only available from brick-and-mortar stores in just a few countries, and that situation won't change soon. In most countries, buyers will initially have Microsoft's online store as their only option -- so expansion is even slower than today's declaration of intent suggests.
I quite like Surface Pro and perhaps you would, too, if you could buy it. Please check out my review. Some readers express great satisfaction, if you're wondering whether waiting for availability in your country is a good idea.
Jesse Livermore:
The surface pro is a wonderful device. I have been married to my beautiful iPad 4 but since I bought the Pro, it has become my new mistress. The Surface is, indeed, a very well built device. Its build quality is on par with the iPad. It feels like the proverbial bank vault.The surface Pro is unbelievably fast -- faster than my HP laptop.

It is also very fluid, unlike Android, and is rock steady reliable. It is so beautiful and powerful and since it is a full-blown computer, it has actually replaced my laptop. Unless I need a large screen, in which case I'll use my new Dell One 27 Win 8 desktop, the Surface Pro has become my computer of choice. There is really not too much to complain about as I feel the Pro is nearly perfect. It would replace my iPad if it had a 4G connection. The Pro is a true computer replacement in the form of a stunning tablet.
Reader rcadams "just got my new Surface Pro" two weeks ago, "and I'm totally in love. Talk about a usable tablet. BTW, I've had iPad, iPhone, android tablets. Probably upgrade way to often, but finally I've found something that is more then a toy. Something solid, has power. Battery isn't an issue at all. Would I like more sure why not. But what I really wish they would have done is make a place for the pen to slide into. I can see me losing the pens".
Photo Credit: Joe Wilcox