I'm puzzled by Chrome World Wide Maze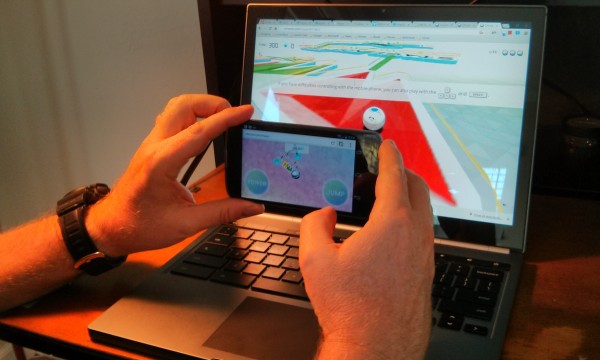 You'll never guess what you gave up Google Reader for? The tried-and-true makes way for a few, ah, experiments. Newest: Chrome World Wide Maze. Geekdom is abuzz about the oddity this evening. I'm simply baffled, although I see the benefits as a technology preview, which surely must be the point.
Essentially your mobile device running Chrome becomes a remote control for a 3D-maze makeover of any website. I couldn't help myself. I chose bing.com. The setup is a bit convoluted, using -- and therefore showcasing -- tab sync. The process involves opening the site from tabs already available on the other device and completing a handshake using a six-digit number. Then the fun begins, or would have if Chrome Beta for Android hadn't crashed and disconnected while my wife took photos. (Hey, every story needs art.)
The marble maze uses WebGL and Java Script among other browser tech to make the magic happen. You'll need a phone with Chrome running Android 4.x or iOS 5 or higher and Mac or Windows PC. Chrome OS is not listed in the requirements, but I had no problem setting things up on Chromebook Pixel. Nor is Windows 8 listed; I haven't tried it yet.
Oh, some of you may want to take Dramamine, if you knowingly suffer from seasickness. :) The ding, dingy music may sooth those people only slightly inclined while driving the irritable to rage. (The opening music gives me Sonic the Hedgehog flashbacks.)
Chrome Experiments aren't new, by any means. I had fun with the Peanut Gallery two days ago (do check it out). Chrome World Wide Maze surprises for a few reasons:
Making over websites into playgrounds -- you choose
Using tab sync to link up computer and phone
Turning the phone into a remote control
You can expect more of the latter. The ill-fated Nexus Q uses Android device as remote control, and YouTube works this way today on Google TV. They're just the beginning.
Now excuse me while I go Scroogle bing.com.
Photo Credit: Anne Wilcox