As iPhone market share peaks, there's one direction to go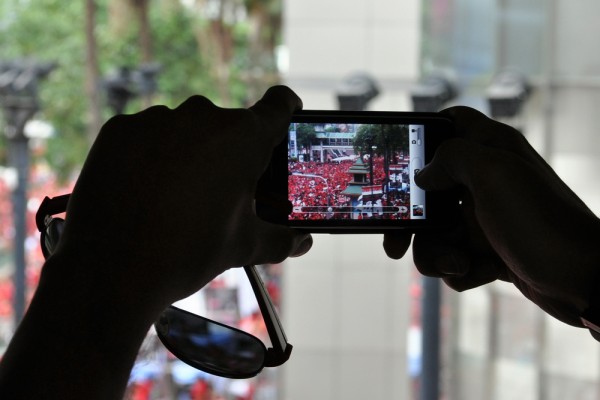 You will reads lots of dribble today about Samsung first quarter phone gains compared to Apple. Most will ignore something fundamental to the numbers: What they represent. IDC and Strategy Analytics separately put out data, for shipments, which mean handsets going to carriers, dealers and other sellers. That's very different from sales to businesses and consumers, Gartner's measure and the more accurate one (that data isn't ready yet).
For few quarters is the difference between shipments and sales likely to be so pronounced, actually even more so in Q2. Apple comes off its second full quarter of iPhone 5 sales and global distribution, and so shipments into the channel, nearly complete. Meanwhile, Samsung ramps up for Galaxy S4's launch, while achieving full global availability for the S III. Second quarter is the more likely bloodbath for Apple, but actual sales will foreshadow much. Still, shipments hint something now, and iPhone faces serious challenges.
By Strategy Analytics reckoning, Samsung shipped 106.6 million handsets during Q1, obtaining 28.6 percent global share. Apple ranked third, with 10 percent share from 37.4 million units. IDC puts Samsung shipments higher (115 million) but share lower (27.5 percent). Apple's number is same as Strategy Analytics but market share less: 8.9 percent.
"Apple's global mobile phone market share is approaching a peak", Woody Oh, Strategy Analytics senior analyst, warns. "Apple will need to launch new models, or partner with additional major carriers like China Mobile, if it wants to expand significantly beyond its current ceiling of 10 percent global volume share".
But no new models are coming. Apple chooses not to compete with Samsung, by holding back new phones until autumn. During this week's Apple earnings conference call, in response to a question about when to expect new products, CEO Tim Cook answers: "We've got some really great stuff coming in the fall and across all of 2014". Don't expect anything sooner. So Galaxy S4 and other Androids, like HTC One, face no new competition from Apple.
Smartphone Story
Global phone shipments actually mask Apple's broader market situation. The data pits a smartphone against competitors selling handsets of various types. Three things:
Smartphone shipments exceeded feature phones in Q1 for the first time, reaching 51.6 percent share, according to IDC.
Apple smartphone share declined nearly 7 points, even as unit shipments nudged up.
iPhone growth fell way behind the market, reversing trend of exceeding it.
On a smartphone-to-smartphone basis, in the category now globally more important, Apple struggles for the first time. Meanwhile competitors -- Samsung significantly -- bring exciting new models to market while the fruit-logo company rests on iPhone 5's laurels.
Smartphone shipments grew by 41.6 percent during first quarter, according to IDC. Among the top-five, only Apple grew below the market, and considerably less -- just 6.6 percent. By comparison: LG (110.2 percent); Huawei (94.1 percent); Samsung (60.7 percent); ZTE (49.2 percent).
Top Five Smartphone Vendors Q1 2013 (Units in Millions) 
| | | | | | |
| --- | --- | --- | --- | --- | --- |
| Vendor | 1Q13 Unit Shipments | 1Q13 Market Share | 1Q12 Unit Shipments | 1Q12 Market Share | Year-over-year Change |
| Samsung | 70.7 | 32.7% | 44.0 | 28.8% | 60.7% |
| Apple | 37.4 | 17.3% | 35.1 | 23.0% | 6.6% |
| LG | 10.3 | 4.8% | 4.9 | 3.2% | 110.2% |
| Huawei | 9.9 | 4.6% | 5.1 | 3.3% | 94.1% |
| ZTE | 9.1 | 4.2% | 6.1 | 4.0% | 49.2% |
| Others | 78.8 | 36.4% | 57.5 | 37.7% | 37.0% |
| Total | 216.2 | 100.0% | 152.7 | 100.0% | 41.6% |
Source: IDC Worldwide Mobile Phone Tracker, April 25, 2013
Clueless Cook
During this week's Apple earnings conference call, Bernstein analyst Toni Sacconaghi put forth a 30 percent industry growth estimate (now known to be too low), observing iPhone to be much lower, and looking ahead: "Broadly incorporating your guidance for next quarter and thinking about fiscal Q1, it appears very unlikely that Apple will grow at that market rate of 30 percent or more".
Cook's deflection reveals much. He starts by discussing iPad shipments, rather than iPhone, presenting more positive perspective. Hey, that's what these execs are taught to do in media training. He continues: "On the phone side, the numbers that you talked about, the sell-in comparisons year over year, you really have to convert that to sell-through to look at the underlying demand". Cook is right about that, which is why I assert the Gartner numbers matter much more.
Then Cook concedes: "However, I take your point if the market did grow by 30 percent, we still, after that normalization, we grew less than that. And so I think the question or the -- this point is not lost and we do want to grow faster. We don't view it, however, as the only measure of our health". He then goes on to customer satisfaction stats and how iPhone 4 and 4S pricing will woo first-time smartphone buyers.
The first-timers are more likely to purchase from Samsung or, across China and some other parts of Asia, from Huawei and ZTE. Chinese manufacturers "have made significant strides to capture new users with their respective Android smartphones", Ramon Llamas, IDC research manager, says.
Assessing Apple
So I see a few direct takeaways from the data currently available:
1. Apple's real world situation isn't likely as bad as some arm-chair pundits will suggest -- not this quarter, and certainly not based on unit shipments.
2. Gartner's numbers, for actual sales, are better measure of just how well iPhone is doing, and they're not available yet.
3. Second quarter is the one to watch for any Apple bloodbath, measured by either shipments or sales, but better the latter. Apple has nothing new to offer, while the hottest Androids of the year come to market.
4. China's rising stars, particularly Huawei, Lenovo and ZTE, will impede Apple's push into the world's largest smartphone market.
Apple is ripe for smartphone troubles. But it's too early to say how much, or how little.
Photo Credit: 1000 Words/Shutterstock