Tablets devastate laptop market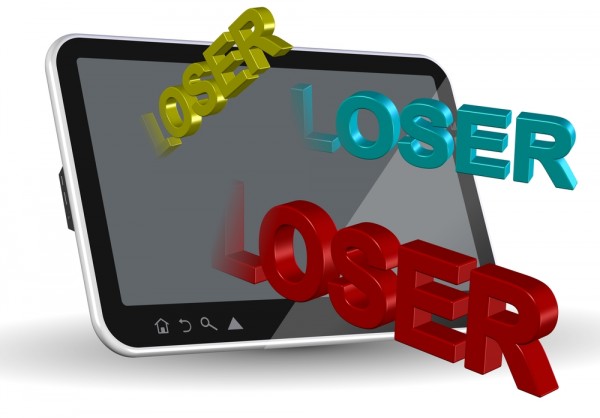 The white box battle is on, and laptops are losers. The big trend in tablets isn't iPad, contrary to public convention, but non-big-brand slates, which account for one-third of shipments, according to NPD DisplaySearch. Their success is good for Android, bad for Apple and worse for notebooks.
The early DOS/Windows PC market succeeded largely because of clones (like those from Compaq) and white label/box manufacturers and build-your-own enthusiasts. BYO isn't a tablet trend, but white box is, and its greatest impact is growth markets PC manufacturers count on -- or at least did.
"The rapid rise and establishment of white box tablet PCs -- tablets made by small local brands, mainly in China -- is putting pressure on traditional notebook PCs", Richard Shim, DisplaySearch senior analyst, says.
Largely lifted by white box models, tablet shipments will reach 256.5 million this year, eclipsing, as NPD DisplaySearch previously forecast, laptops (203.3 million). The analyst firm expects shipments of the one category to rise 67 percent, while the other falls by 10 percent, respectively. By 2017, tablet shipments will reach 579.4 million, while laptops fall to 183.3 million. That's right, more than three times as many.
Emerging Trends
More isn't always significant. Handset shipments are about four times PCs but only marginally affect sales. Tablets are similar enough to personal computers that they either displace sales, or replace them. The latter scenario, occurring in markets where PC manufacturers expected years of growth, is the problem.
"These low-cost tablets are reaching further into emerging regions where notebook PC penetration rates have remained low, resulting in cannibalization by tablet PCs", Shin says. Keyword: Cannibalization.
In March, IDC observed similar trend, but from different perspective. "In emerging markets, consumer spending typically starts with mobile phones and, in many cases, moves to tablets before PCs", Megha Saini, IDC research analyst, says. That reverses a longer trend of handset-to-personal computer migration. Non-big-brand tablets, many localized and selling for less than those from manufacturers like Apple or Samsung, is catalyst for the change.
Touch Me
While lower-cost and localization lift shipments, other factors are significant contributors. DisplaySearch sees an overwhelming shift to touch, which for many people delivers superior user experience to PCs and extends what's familiar on smartphones. As such, expect touch everywhere. DisplaySearch predicts a shipment surge in touchscreen notebooks -- up 48 percent next year. Touch will be big among Ultrabooks, and DisplaySearch predicts even MacBook Air will get the capability.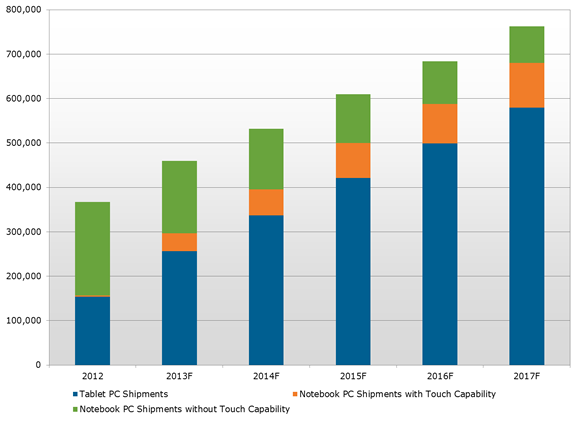 The dramatically changing market validates Microsoft's decision to make touch a priority for Windows 8, with Modern UI. "We built Windows 8 with touch and mobility at the center of the experience, which positions us well in this new era", CFO Peter Klein says. "Consumers and businesses are increasingly shifting their focus to touch and mobility, and as a result, they want touch-enabled computing devices that are ultrathin, lightweight, and have long battery life".
Contrary to Apple's emphasis on apps as an iOS advantage, touch changes everything. Humans are primarily tool users. We look and then touch. Using fingers to touch is more natural and extension of you. There's more intimacy involved with touching something on the screen than interacting with it via keyboard and mouse. Intimacy and immersion shift away from apps to the broader user experience.
Windows 8 Wait
I expect Microsoft to reap big UX payoff as more Windows 8 touch devices come to market. However, Shim sees hardware, not software, driving touch notebook adoption. "Thus far, Windows 8 has had a limited impact on driving touch adoption in notebook PCs, due to a lack of applications needing touch and the high cost of touch on notebook PCs".
He emphasizes: "Form factors aimed at differentiation from standard clamshell notebooks will help to drive consumer adoption of touch-enabled notebook PCs, starting in the second half of 2013".
Meanwhile, white-box tablets, bringing touch benefits for much lower cost, will drive up shipments and cannibalize notebooks. Oh, and which platform benefits most from the scenario? You know the answer. Android.
Photo Credit: eteimaging/Shutterstock