HP unveils the Nvidia Tegra 4 powered SlateBook x2 Android hybrid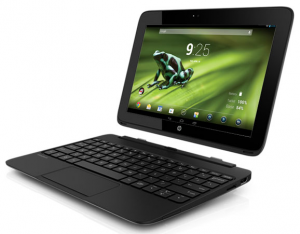 Today, alongside the Windows 8-based Split x2 which I detailed earlier, HP also announced the Slatebook x2 hybrid. The US maker touts it as "the first Android detachable device with the Nvidia Tegra 4 mobile processor". The SlateBook x2 shares some hardware and design traits with the ASUS Transformer tablet lineup.
The SlateBook x2 ships with the latest version of the green droid operating system available today, Android 4.2.2 Jelly Bean, and sports a 10.1-inch touchscreen display with a resolution of 1920 by 1200. The device comes with 64 GB of internal storage. But the biggest highlight is the keyboard dock.
The dock, which features a chiclet design and comes with USB and HDMI ports for extra connectivity, hosts a secondary battery for an extended unplugged operation. HP says that the keys are smaller than those found on the Envy x2 dock.
By comparison the ASUS Transformer tablets also run Android 4.2 Jelly Bean (with the latest update for the Prime and Infinity models), are powered by Nvidia's older Tegra 3 processor, and can be used with optional keyboard docks.
HP says that the SlateBook x2 should be available in August, starting at $479.99 for the base model.