Microsoft brings Outlook to iPhone and iPad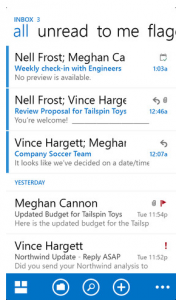 When Microsoft released Office for iPhone, the sentiment among users was mixed. Some customers complained that it could be signaling defeat for Microsoft's Windows Phone 8, while others praised it as a good business move -- it was a mixed bag of emotions. The biggest backlash was the Office 365 subscription requirement which left paying standard Office users (non-subscription) out in the cold. Today, Microsoft continues its trend of supporting the mobile operating system, as it releases Outlook Web App (OWA) for iOS.
Unlike Office for iPhone, Outlook Web App supports the iPad as well. Slate support is essential as many business users are trading their laptops for the Apple tablet to get work done. Unfortunately, the Office 365 subscription requirement also applies here. This is very frustrating, as many large businesses and enterprise users without 365 subscriptions would hugely benefit from this particular app. These customers will be forced to use Webmail in a browser or use a 3rd party app such as the much maligned Good for Enterprise.
 If you are lucky enough to have an Office 365 subscription, you are in for a treat. According to Microsoft you will get the following:
Organize your email quickly with Conversation View, Mark as Junk, Flag, and Categories

Quickly search or browse email in all folders including Outlook Favorites

Schedule meetings using attendee free/busy and room finder

View shared calendars including delegate support

Use your voice to look up a contact or bring up your schedule

Remote wipe erases only your corporate data in OWA for iPad/iPhone and leaves your personal data on the device alone

Separate passcode for OWA for iPad/iPhone provides an additional layer of security
Have you tried the Outlook Web App on your iPhone or iPad yet? Is it making you more productive? Tell me your opinions of the app in the comments below.