Apple Developer site STILL down four days after 'intruder' prompts database rebuild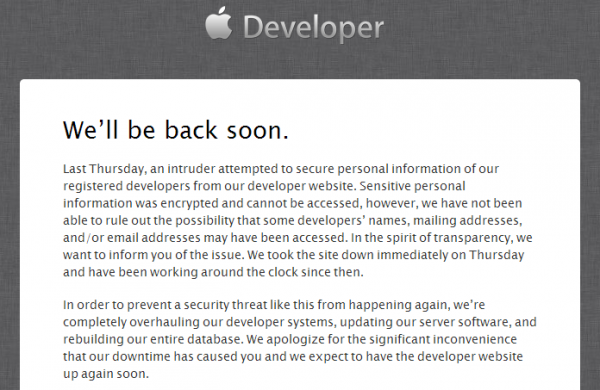 The Apple Developer site remains inaccessible after a security breach on Thursday. The company is quick to point out that personal information accessed in a database was encrypted, but goes on to say the possibility that personal data had been accessed could not be ruled out. Apple is taking the intrusion very seriously it seems.
The fact that the site is inaccessible is down to Apple rather than being the direct result of an attack. Apple states that as soon as it was aware of the breach, the site was purposely taken down. This initially saw the site replaced with a message informing visitors that the site was down for maintenance, but was later replaced with a message from Apple that goes into more detail.
The message now apes the email that was sent to developers over the weekend, with Apple revealing more about what is happening "in the spirit of transparency". The site is offline while the compromised database is rebuilt, server software is updated and the developer system is overhauled.
Anyone attempting to access the iOS or Mac sections of the Apple Developer site is greeted by a message from Apple stating "We'll be back soon". No timeframe is given for when things will be back up and running, but developers with memberships expiring during the downtime are assured that their apps will remain in the App Store until things are sorted out.
Developers with any concerns about their accounts are encouraged to contact Apple through the company's website.