Spotify Connect is like Google Chromecast for your music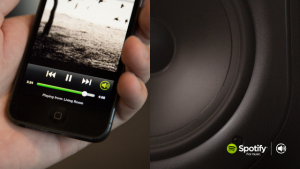 Spotify users with both an iOS device and a premium subscription -- oh, and at least one set of compatible speakers -- will soon be able to take advantage of a new Chromecast-like feature. Spotify Connect allows for a seamless music experience, transferring music playback between devices and sound systems. Everything can be controlled using an iOS app, turn your iPhone into the ultimate music remote.
The new service is showcased in a YouTube video that demonstrates the ease with which music can be transferred from one set of speakers to another. Walk home from work listening to your favorite album on your iPhone earphones, and as soon as you step through the front door you can push the music to your home stereo.
At the moment it looks as though there is no way to automate the process -- but this may come in time. It would be great to walk home listening to "Heaven Knows I'm Miserable Now", reach the front door and have playback automatically transferred to the stereo so you can sing along loudly to the line "In my life / Why do I give valuable time / To people who don't care if I live or die?".
There are a number of big names getting involved. The likes of Panasonic, Yamaha, and Bang & Olufsen will all be producing Spotify Connect compatible speakers and audio systems, but it's also possible to transfer music from one iOS device to another -- so you can use your iPhone to control the music playback on your iPod that's hooked up to a speaker dock.
There is currently no word on an exact release date for the necessary iOS app, but Spotify says that it will be "available soon". Android and desktop users have not been forgotten, but again no timeframe has been specified. While the service will be added to home audio systems "over the coming months", if you're not an iOS user you'll have to sit back and wait as there are "updates to follow".