Microsoft targets musicians with the innovative Surface Music Kit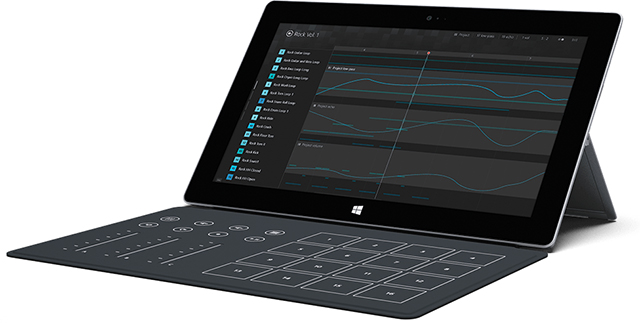 Microsoft is hoping to appeal to serious musicians and remixers with a new add-on for its tablet range. The Surface Music Kit is a backlit cover (called a Blade) that plugs into the Surface keyboard port and replicates the sort of hardware buttons typically used by a music producer or performer.
When you connect the Music Cover, it will install the companion app automatically, providing you with access to all of the building blocks of a song -- templates, drums, bass, keyboard, vocals, and so on. You can use it to create new music but it's particularly well suited to remixes and mashups.
The custom cover, of course, is the key to controlling everything and includes pressure sensitive pads, buttons and sliders. It really is a nifty piece of kit. When my colleague Brian Fagioli first saw Blades at the Surface 2 event he called them "true innovation from Microsoft" and he's right. This is exactly how Microsoft can differentiate its tablet from the cheaper rivals and appeal to creative professionals. In a crowded market you need something that gives you an edge, and Blades do that.
Songs you create with the music kit can be exported in MP3, WAV and WMA formats, and shared as part of the #RemixProject.
The Surface Music Kit isn't available to buy yet (and there's no word on how much it will cost when it is) but to get you excited, Microsoft has released a series of nine videos showing how it works and what you can do with it. The clips cover downloading songs and templates, using the song view, using the loop mode, and mute and solo buttons, matching pitch and tempo with imported sound, adding effects, and exporting your remix.
I've embedded the full selection below for your viewing (and listening) pleasure. The kit is compatible with Surface 2, Surface Pro, and Surface Pro 2. Let me know what you think about it in the comments below.