iTranslate Voice 2.1 reimagines the universal translator for iPhone and iPad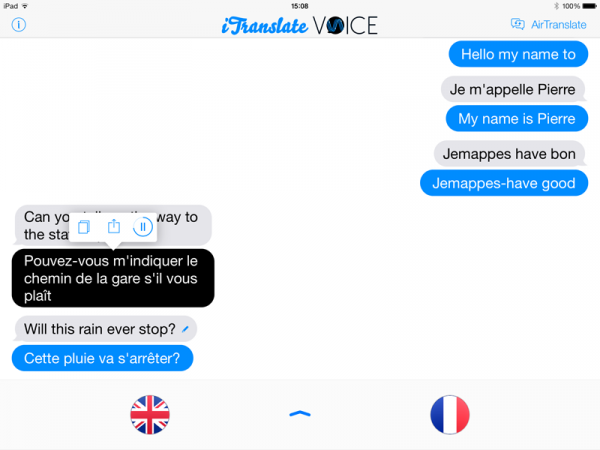 Sonico GmbH has released iTranslate Voice 2.1, a complete remake of its language translation app for iPad and iPhone. The app -- which now requires iOS 7 or later -- takes full advantage of several iOS 7 improvements, and sports a new user interface optimized for the latest version of Apple's mobile OS.
iTranslate Voice 2.1 launches with a 50 per cent price reduction on the previous version, and comes with support for translating while offline, as well as the promise of improved voice recognition.
The app has been "reimagined" for iOS 7, sporting a revamped user interface that has a more stripped back, minimalistic look to sit better on iOS 7 devices. Another refinement is support for iOS 7 offline voices, which can provide much quicker translation results and allows users to use the app even when a network connection isn't present.
The app also comes with the promise of greater accuracy with voice recognition and is packaged in a universal binary for both iPhone and iPad rather than being made available in two separate versions.
The app works by letting users select two languages from over 40 supported. Users then tap on their own language before speaking the words or phrase they want translated (users can also tap and hold to type their phrase instead). The phrase is shown on-screen, allowing users to edit it if incorrect (version 2.1 adds a new feature that offers suggestions to help speed up the editing process).
After a short pause a written translation is provided followed by a spoken version. The chat partner can then respond by tapping their own language button on the user's phone or tablet. iTranslate Voice also sports AirTranslate, a feature that allows two people with the app installed to conduct conversations over short distances using their own mobiles. Version 2.1 makes use of iOS 7's new P2P technology to refine the feature further.
iTranslate Voice 2.1 is available now for iPhone and iPad running iOS 7.0 or later, at a cost of $0.99.