iTunes slaps DRM handcuffs on my music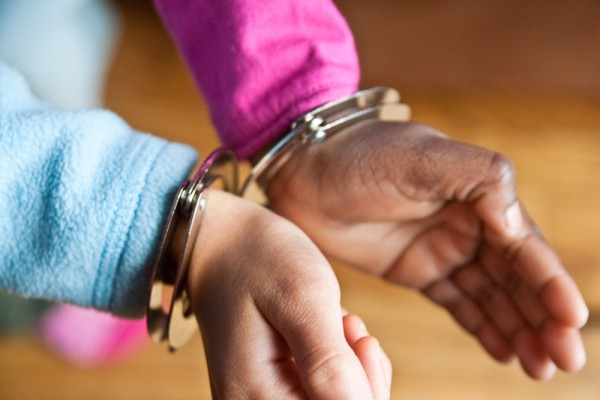 On Sunday, while perusing my music collection by album, I came across lots of new -- or rather, old and forgotten -- tracks purchased before Apple took iTunes DRM-free. My excitement at discovering, and downloading from the cloud, these long lost songs cannot be understated. That is until finding them not to be what I expected. Rather than crisp, 256kbps DRM-free files, iTunes delivered 128kbps protected-AAC tracks. What the frak? Apple is supposed be done with digital rights management for music.
That iTunes Match provides access to this older music, even if DRM-protected, is a benefit. Thank you, Apple, for providing an affordable means for recovering lost or deleted music. What confuses me: Being given the older, lower-quality, locked files when higher-bitrate DRM-free alternatives are available from Apple's store. I don't have an answer why this morning, but I do have some suspicions. Perhaps you're smarter than me or better at finding solutions in online support forums.
What Rights?
I declared DRM freedom in October 2007, replacing many digitally-purchased albums and songs with rights-protection-free alternatives from AmazonMP3 Store or through iTunes Plus. I use too many devices to lock into one company's DRM prison and relished my music's liberation.
The decision wasn't easy, because of financial investment and musical satisfaction. Many songs couldn't be replaced in 2007 or even during the following five years. My practice is to pay rather than steal music; the entire library is purchased, either digital download or CD-ripped. I stored AAC-protected files on a hard drive and never looked at them again. Until Sunday, when seeing them magically available; their appearance likely wasn't new just my seeing them.
To be clear: None of the songs offered from the cloud was on my hard drive. They have been stored since October 2007. According to iTunes Store FAQ:
Can I upgrade my previously purchased music to iTunes Plus?

Yes. If you subscribe to iTunes Match, you can download your previously purchased music again in the iTunes Plus format. To do so:

You need to delete the original DRM song from your library first. Doing this enables you to download the song again in the iTunes Plus format from iTunes in the Cloud.
Click the Purchased tab in the iTunes Store.
Click Music.
Locate the artist of the song you want to upgrade.
Click the iCloud Download icon next to the song you want to upgrade.

Can I still buy music encoded at 128 Kbps with Digital Rights Management (DRM)?

Music on the Store available in iTunes Plus will no longer be available as 128 kbps and with DRM.
Being aware of the policy, I expected that, as in the past, Apple served up DRM-free tracks. Oh, right, that's an omission. iTunes Match has in the past replaced deleted AAC-protected files with non-DRM ones. Just not today.
War of the Worlds
I gleefully clicked the cloud icon for hundreds of songs Sunday, like a mouse tapping the pellet switch at the maze's end. I stopped at "War of the Worlds", a long wanted album. Narrated by Sir Richard Burton, the LP released when I was a college radio DJ. I purchased two tracks, "Forever Autumn" and "Thunder Child", from iTunes in April 2004. A decade is long enough to wait for them all. I clicked the "in the store" button only to be presented with a message that the album isn't available. That's when I wondered about the file. What then did Apple give me? The protected-AAC.
OK, I accepted this as a benefit given the unavailable circumstance. Except Apple does sell the album, a manual iTunes Store search reveals. I chalked the problem to a metadata error -- these things happen -- until discovering a more perplexing problem.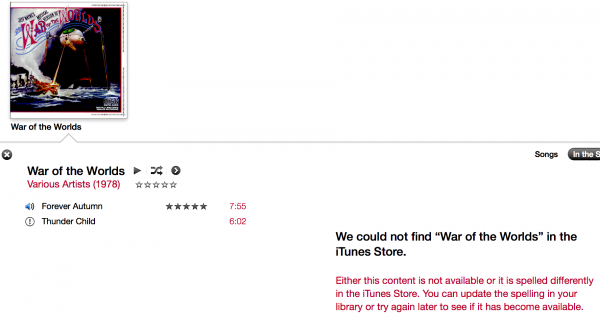 1. iTunes offers to download two songs purchased in 2004. But the album is no longer available.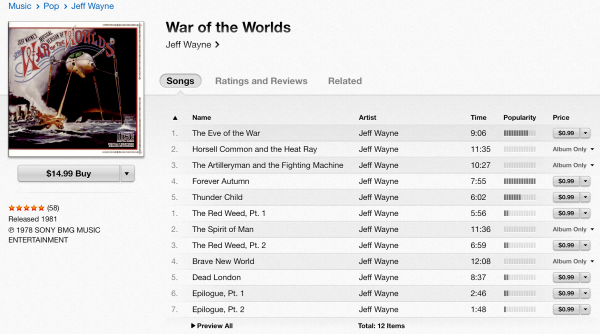 2. But conducting a manual search, the album is available from iTunes, but neither track is disengaged as "purchased".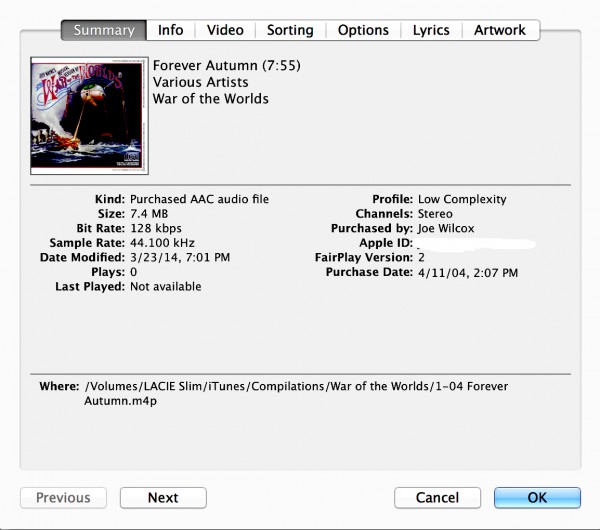 3. Upon closer inspection, the downloaded files are 128kbps protected-AAC (m4p) rather than 256kbps DRM-free (m4a).
Heaven Tonight
Also available from my college radio years: Both versions of Cheap Trick's "Surrender", the original and outtake. I originally bought them in July 2003. When you have purchased a song from an album, iTunes Store indicates such in the track list. "War of the Worlds" lists none purchased by me, which is major reason I dismissed the confusion as being a metadata mismatch. But Cheap Trick's "Heaven Tonight" shows "purchased" for both "Surrender" songs. So I reasonably expected the tracks to be 256kbps DRM-free, but found them to be 128kbps protected-AAC.


1a. iTunes offers to download two songs purchased in 2003.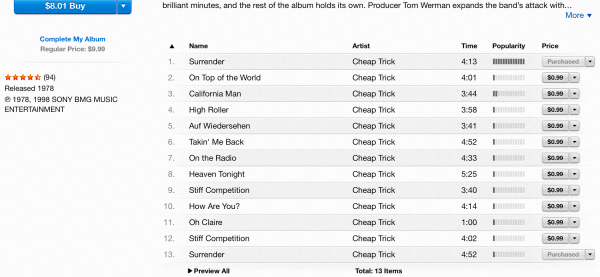 2a. iTunes shows both songs as being "purchased" from the album.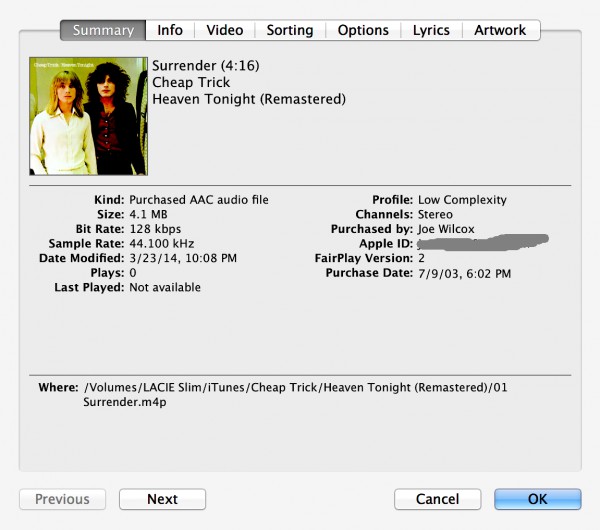 3a. Upon closer inspection, the downloaded files are 128kbps protected-AAC (m4p) rather than 256kbps DRM-free (m4a).


4a. Complete my album adds the other 11 tracks, but suddenly iTunes decides the first two aren't "purchased" after all.
These are not isolated incidents. Metadata sure seems the likely culprit. I see many albums now listed as "Remastered", which would explain why iTunes doesn't offer the upgraded DRM-free file. But there are many other instances like "Surrender", where the songs are listed as "purchased" despite some metadata mismatch.
Not willing to, ah, surrender, I used Apple's complete my album option to buy the remaining "Heaven Tonight" tracks. Eleven downloaded but not the two already purchased. Apple wanted me to buy them again, for 99 cents apiece. Their status changed since the original album had "Remastered" in the title, I deleted, which automatically consolidated all 13 tracks to the same "Heaven Tonight". But the two "Surrender" songs were still 128kbps protected-AAC. I deleted them and prepared for redownload and victory.
But iTunes retrieved the same locked, lower-bitrate files, while the other 11 are 256kbps DRM-free. I gave up, called it an un-"Heavenly Tonight" and decided to just switch to Beats Music on Monday.
Update: Surrender is so difficult. Early afternoon on March 24, I tried logging out of iTunes Store, closing the app, reopening it, and signing back in. That process restored the previous two tracks to the "Remastered" album, while in the store the two tracks appear as "purchased" and the other 11 as "play". Playing either "Surrender" retrieves the 90-second sample. Maybe I should have used "iTunes Mismatch" in the headline, eh?
Photo Credit: Steven Depolo