Panda Cloud Antivirus 3 Free adds scheduler, USB vaccination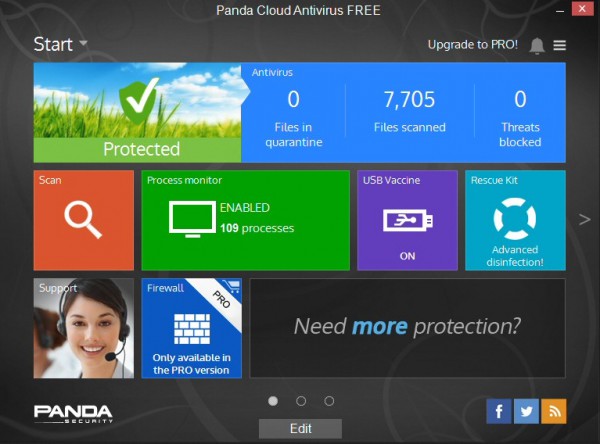 Panda Security has announced the release of Panda Cloud Antivirus 3.0, the latest edition of its popular cloud-based antivirus tool.
As with many other security packages, the program now has a Windows 8-style interface. Panda has made a better job of it than most, though: it looks good, is easy to use, and you can even drag the tiles around to rearrange them.
Panda Cloud Antivirus 3.0 Free gains two major features which were previously reserved for the commercial Pro edition. It can schedule scans, at last. And its automatic USB vaccination helps keep you safe from autorun viruses.
Both the free and commercial editions support a new Rescue Kit, which can create a bootable rescue USB drive, or run Panda's industrial-strength Cloud Cleaner to detect and remove even the most stubborn and stealthy of malware.
Panda Cloud Antivirus 3.0 Pro now includes a Wi-Fi monitor, listing every device currently connected to your network.
There are plenty of smaller tweaks, too, ranging from useful new options (the ability to shut down your PC after a scan has finished) to general all-round performance improvements.
And the company is also introducing a "Panda Account", "an exclusive area where you'll be able to download your products, manage your services, obtain documentation". Perhaps more of a marketing opportunity for Panda than anything else, but other companies do something similar and it can be useful.
On balance, then, this is a welcome update, and the addition of the scheduler in particular makes Panda Cloud Antivirus 3.0 FREE a much more capable package. If you're currently running the previous edition then it should update itself very soon, otherwise 3.0 downloads are available now.