Apple isn't Phabulous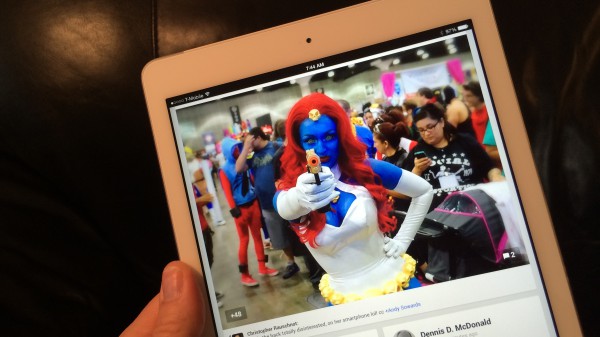 Goldilocks knocks on Apple's door looking for the right mobile device. She first picks up iPad Air, which with 9.7-inch screen is too big. Then she tries 4-inch iPhone 5s, but it's too small. Finally she grabs iPad mini, thinking the 7.9-inch display is just right. But unlike the fairy tale, Goldilocks is disappointed. She drops the tablet, goes next door to Samsung's house, and takes the Galaxy Note 3, which at 5.7 inches -- and with stylus -- is just right.
There's a gaping hole in Apple's product line -- and one CEO Tim Cook better quickly fix. Through it sales leak to competitors, but into a category where Apple doesn't compete. Tech-Thoughts analyst Sameer Singh observes about first calendar quarter global handsets: "As of now, we can assume that ~20 percent of all smartphones shipped have screen sizes large enough to become acceptable substitutes for tablet computing tasks".
Phablet-size devices 5.5-inches or greater accounted for about 12 percent of shipments -- or nearly 29 million units -- during Q1, according to Canalys. Looked at differently, smartphones with 5-inch or larger screens accounted for one-third of shipments -- 39 percent to China and 43 percent to Asia-Pacific. The category, which Samsung dominates, grew by 369 percent year over year.
Apple offers no large-screen phones and certainly nothing in the phablet category. Problem: iPhone is too small and iPad is too big, and both cost too much for the majority of buyers in big-growth emerging markets.
Apple calendar first-quarter results reveal the trend in progress. iPhone accounted for 57 percent of revenues and iPad 16.7 percent. But tablet revenue fell 13 percent year over year and by 34 percent sequentially. Meanwhile, iPad missed Wall Street consensus by about 3 million units. More broadly, tab shipments dramatically slowed, with IDC putting growth at just 3.9 percent.
If phablets are the real reason for the recent growth decline in tablet shipments, implications are enormous for Apple. Sales saturation in mature markets mean slower tab replacements, but expected growth elsewhere is now uncertain. In emerging markets, the recent trend is users going from cellular phone (dumb or smart) to tablet rather than PC as their next computing device. Phablet is best-of-both option, and the just-right choice for many people.
For example, in China, the world's largest smartphone market, during March, phablets accounted for 40 percent of smartphone sales, according to Kantar Worldpanel. "It's clear that phablets really are changing the way Chinese consumers use smartphones", Dominic Sunnebo, Kantar Worldpanel analyst, says. "More than one in five phablet owners now watch mobile TV on a daily basis, half do so at least once a month, and this is without widespread availability of 4G".
Personally, I've seriously looked at Google Play's fantastic deal on Sony Ultra Z. That thing is enormous, but for $449 all the phone and tab you could ever need.
As more of us talk less, viable phone size options increase. For, say, a woman who always carries a purse or student who rarely travels without a backpack, phablet is a reasonable alternative -- for small business owners on the go, potentially even more so.
Apple offers nothing in the category. In this fairy tale, there's no happy ending.
Photo Credit: Joe Wilcox