You can have Apple iPhone 5s, I'll take HTC One M8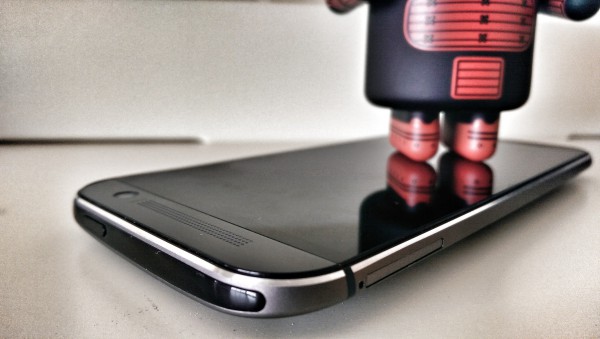 Many new smartphone shoppers will compare the HTC One M8 and Samsung Galaxy S5, which are about the same size, offer similar high-end features, run Android (with customized user interfaces), and arrived in U.S. retail stores within days of one another. But since I move from iPhone 5s to what henceforth will be referred to as The One, the two devices are uniquely attractive, and both pack bleeding-edge cameras, my comparison is more Apple to oranges. If iPhone 5s is high up your shopping list don't buy without first considering The One. It's my choice, although granted it might not be best for you.
I moved from the original One, the M7, to the 5s a few months ago. You might laugh at the reason. I find that my daughter, who shuns Androids for Apples, is more likely to text message when we both use iPhones. She is away at college. But the 5s, like iPhone 5, immediately disappointed for phone calling. Reception tends to breakup in my neighborhood on both devices, using AT&T or T-Mobile. Calling is superior and adequate on either One, and even better on the Moto X. The One illuminates the Apple's inadequacies, which simply are unacceptable coming from the company that popularized touchscreen smartphones.
Innovation Invitation
While rumors abound about iPhone 6 and Apple plans for a bigger-screen model, the here and now is the measure that matters -- what we know to be true rather than what someone conjectures. By that measure, Nokia is metaphor for Apple. In 2007, iPhone sideswiped Nokia, which couldn't quickly adapt to design ethics around the touchscreen and sensors -- attributes that humanized the cell phone. For the Finnish handset maker, the keyboard and success selling feature phones hobbled early efforts with touchscreens.
The newest iPhones demonstrate that Apple, like Nokia during late-last decade, can't break free from older design ethics. Innovation -- a word long applied to Apple -- defines the newest Androids. iPhone 5s is more refined than the previous three versions but the core concepts are largely the same.
The fruit-logo company fixates on touch, while competitors transcend it, by advancing touchless interaction and emphasizing benefits that change with contextual usage. Apple pursues path to design disgrace, unable to rise above the Android Army, which storms the fruit orchards much like iPhone did BlackBerry, Nokia, and Sony-Ericsson (now just Sony), starting seven years ago. Apple brought fundamentally fresh design concepts to smartphones. Competitors stood still, while the upstart marched forward.
Now they rush ahead. During 2013, Android share, as measured by actual device sales, rose to 78.4 percent from 66.4 percent a year earlier, according to Gartner. Meanwhile, iOS share fell to 15.6 percent frpm 19.1 percent.
Apple's saving grace: Androids are more likely to compete with one another than iPhone, much as different Windows PCs did when pitted against the Mac during the personal computing era. Nevertheless, innovation appropriately describes the HTC One M8, Motorola Moto X, Samsung Galaxy S5, or Sony Xperia Z2. Three months using iPhone 5s as my cell phone, I say "also-ran" more appropriately describes Apple and CEO Tim Cook's quarterly conference-call promise of something great soon comes.
One, Two, Three
HTC delivers what, by reputation, Apple should: A truly compelling smartphone rife with useful, contextual benefits. The One clearly is a labor of love. The design craftsmanship is sublime and attention to detail reminds of Apple products released during Steve Jobs' strict stewardship. Like its predecessor, The One is the best smartphone I have ever used. The handset is a joy to behold and to use.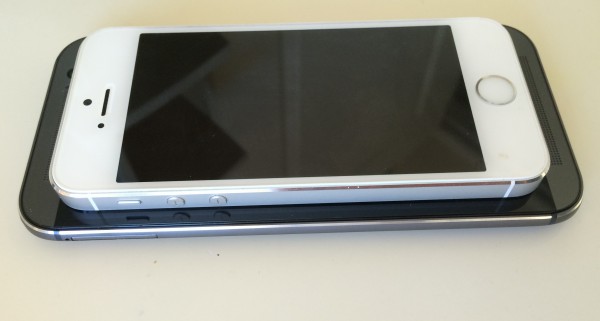 But, unlike last year's model, "best" isn't perfection. The One is huge for its screen-size class, an attribute sure to put off some buyers. During my first few days using the phone, I perpetually thought: "It's too big". A week later, when picking up iPhone 5s, perceptions changed: "It's too small". The entire length of iPhone 5s is about the same as the length of the HTC smartphone's screen. Right, just the display. The One measures 146.36 x 70.6 x 9.35 mm compared to the Apple's 123.8 x 58.6 x 7.6 mm.
Another imperfection: The aluminum enclosure is more finely crafted and sealed than the M7 -- to a fault. The back is super smooth and there are few ridges around the sides to grab against fingers. The One is slippery, as a result. I've dropped it a foot onto my desk and nearly fumbled a half-dozen other times. For the record, I don't encase my mobiles and have never dropped or broken a phone or worried about doing so until The One.
These imperfections set against those iPhone 5s carries: Calling problems in areas of weak signals (failing that goes back to iPhone 4); data throughput issues (again, in areas of weak signals); non-HD display; small screen for cost class; and proprietary power and data connector, among others.
Some attributes shared in common: Superior attention to detail in design; largely aluminum enclosures; fluidly-fast responsiveness; remarkably good cameras and supporting editing features; and long-lasting battery life for each's size and cost class.
HTC One M8 specs: 5-inch display with 1920 x 1080 resolution and 441 pixels per inch; 2.3GHz Qualcomm Snapdragon 801 quad-core processor; 2GB RAM; 16GB or 32GB storage (depending on model), expandable with microSD card to 128GB; 4-megapixel duo-lens camera (2.0µ pixels sensor and f/2 aperture); 5MP front-facing camera; 1080p video recording; 4G, LTE; WiFi AC; GPS + GLONASS; Bluetooth 4; NFC; DLNA; ambient-light and proximity sensors; accelerometer; barometer; digital compass; FM radio; gyroscope; 2600 mAh fixed battery; Android 4.4 KitKat with HTC Sense 6. Weighs 160 grams.
Apple iPhone 5s specs: 4-inch display with 1136 x 640 resolution, 326 ppi; Apple A7 64-bit processor; 1GB RAM; 16GB, 32GB, or 64GB storage (depending on model); 8MP rear-facing camera (1.5µ pixels sensor and f/2.2 aperture); 1.2MP front-facing camera; 1080p video recording; 4G, LTE; ambient-light, fingerprint, and proximity sensors; accelerometer; digital compass; gyroscope; GPS + GLONASS; Bluetooth 4; WiFi N; 1570 mAh fixed battery; iOS 7. Weighs 112 grams.
Stacking the basic specs up one, two, three: The One packs more memory, higher-resolution display, expandable storage, faster WiFi, superior "selfie" camera, better camera controls, and FM radio. iPhone 5s is more suitable for one-handed operation (like texting and driving, ugh), provides 64-bit processing (for the few supported apps), and unlocks by finger touch.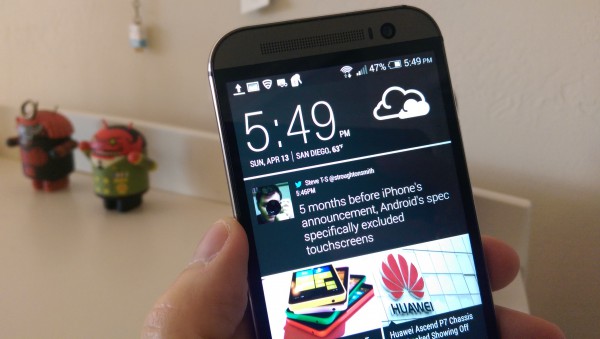 Digital Lifestyle
Choosing any phone is about you, not what another person -- whether professional reviewer or someone whom you know -- recommends. Smartphones are hugely personal and contextual devices that connect you to things that truly matter. Your mobile is a lifestyle decision. Each of these two mobiles could fit your digital lifestyle, depending on what attributes are more important. Certainly operating system and cloud connectedness are considerations. For many Mac users, iPhone will fit better, although Google's lifestyle apps -- from Google+ to Maps to YouTube and more -- are best of cloud class on iOS. Let's compare some lifestyle attributes among iPhone 5s and The One.
Personal style. Do you want to be seen holding a boxy, ugly mobile or one that commands attention? Carrying a handsome device is a lifestyle decision. How the phone looks says something about you. For some people, appearance doesn't matter; for many others it's all that matters. As previously stated, these are both handsome handsets, with striking fit and finish. Both feel solid in the hand because of their aluminum enclosures, giving them a ruggedness that is uncharacteristic of a market so dominated by plastic.
Both phones look so good, size is bigger design decision differentiator. The Apple is easier handled and looks less gawky held to the face. The HTC provides overall better content experience -- everything from taking photos to texting to watching videos, among other activities. Size matters in other ways, if like me you move from iPhone to The One. For the first few days after switching, I suddenly could no longer type text messages or much anything else. My muscle memory was attuned to a smaller display, and the move from 4-inch to 5-inch screen changed everything. HTC provides more generous space between keys, taking advantage of the extra screen real estate.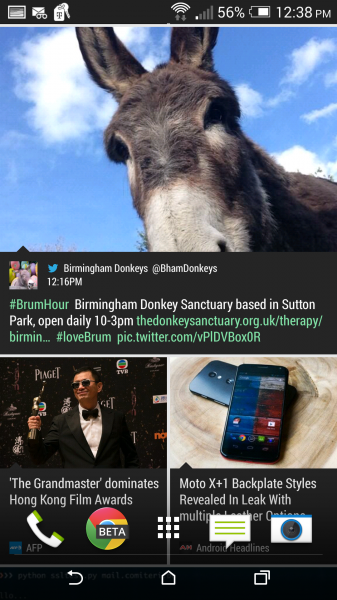 If you like to truly personalize your mobile, Android trumps iOS customization by many measures. Meanwhile, HTC makes KitKat sweeter with Sense 6. The user interface is more refined than its predecessor. Subtle changes to attributes like fonts make the overall experience more pleasing than Sense 5. Hehe, The One has more sense than its predecessor and makes stock Android unobtrusively more usable.
There's customization you want and that which is imposed on you. Apple prevents cellular carriers from loading crapware on iPhones. HTC doesn't. I assume T-Mobile's variant is typical. Like its predecessor, The One comes with loads of storage-sucking software you may never want or need. I should feel good about the anti-malware, but complaining is my nature. That said, I can discern no performance penalty imposed by the crapware.
Something else: Popups are (cough, cough) everywhere. My God, did HTC hire a Windows Vista UI designer? The One delivers, at least on the T-Mobile variant, scads of annoying (but presumably helpful) pop-up tips. While they diminish with time and usage, the popups are sure to shock some users.
Strangely, The One is otherwise so charming, so delightful, so enjoyable, these annoyances are quickly ignored. Whereas iPhone 5s annoyances mount up over time and aren't as easily dismissed. The aforementioned calling and data problems, both symptomatic of antenna design decisions going back four device generations, irk with prolonged use. The screen feels too small when every other major device has one that's so much bigger. Then there is the sameness -- how little iPhone changes over time, how little Apple lets you personalize the experience, or how limited are contextual sharing options (Facebook, iCloud, and Twitter) for meaningful content like photos or weblinks.
Sharing and social are baked into Android and extenuated by a single The One feature. BlinkFeed, which HTC describes as "your world in one screen", is a catch-all news, social, and weather app/UI. I absolutely love it. Nothing on iOS compares. 
Performance style. Both smartphones are worthy performers that are plenty responsive. But The One feels faster and better multitasks than iPhone 5s, despite the on-paper advantages of the 64-bit chip. That's more about software than hardware and what Google and HTC will let you do that Apple won't.
The One's battery life is exceptional, easily outclassing iPhone 5s, which is no slouch. The HTC benefits from larger-capacity battery, Snapdragon processor, and other refinements that give surprising life lift compared to the M7. I easily get a full day's charge -- as in 24 hours -- even with heavy use. I can say something similar for iPhone 5s, but Apple limits multitasking and makes other usage compromises to eek the current. I get fuller, more meaningful usage from The One, over the same time period.
That said, I haven't given The One proper camera vetting at an event like San Diego Comic-Con, where the handset would be my only shooter and photos and videos would upload to the web in real time. In such setting, the only worthy performer lasts eight hours of continuous use. iPhone 5s fails that test, but so does nearly every other mobile.
Apple's mobile can't compete consuming content. The HTC's screen is gorgeous, from virtually any viewing angle, with superb contrast and color accuracy -- and it's bright. HD viewing and superior pixel density outclass iPhone 5s, which surest shortcoming is the tincan audio. The One's size is as much about the front-facing speakers that frame the screen and deliver rich, satisfying sound. Whether watching a movie or listening to music, The One bangs where iPhone 5s pops. Sit and share with friend, family member, or lover. There's intimacy you will cherish.
Something else: Cellular carriers often stand between Google and its OEM partners and new features. Users typically must wait around for the newest but belatedly-delivered Android to get them. No longer. HTC now offers key apps separately via Google Play, which means updates delivered apart from the main OS. These include BlinkFeed, Dot View, Gallery, Sense TV, and Zoe. Hehe, there's even a Service Pack app that sidesteps carrier control. Well done! Between Google and HTC, which make available core benefits through apps, carrier-imposed fragmentation disappears -- at worst leveling the update playing field with iOS and at best beating it.
Photo style. I made my final phone choice, and quite possibly you will, too, based on the cameras. Apple and HTC offer two of the best smartphone shooters anywhere. You won't be disappointed by either, but you'll get more bang from one than the other.
Several attributes distinguish both devices.
For example, more megapixels usually mean more trouble, when, as the case usually is with smartphones, the sensor's physical size stays the same. Artifacts appear in images, which lose clarity and suffer other problems, depending on other factors and software's capacity to compensate. Apple and HTC opt for larger but fewer number of pixels, which improve image quality across most shooting scenarios but particularly in low-light situations. That's 2 micron pixels for The One and 1.5 micron pixels for iPhone 5s. More typical: 1.1 micron pixels, like Galaxy S5's 16MP shooter.
Something else really matters: The shooting software and its predefined post-processing priorities. When moving from the Samsung Galaxy Nexus, with the 5MP camera to the LG-made Nexus 4, I expected the 8MP shooter to take better photos. But the Samsung consistently produced better images, particularly indoors, despite lower megapixels. Galaxy Nexus made more intelligent and appropriate decisions about automatic settings. Some of the biggest differences between iPhone 5s and The One come down to priorities set during shooting and afterwards. In the two comparisons below, which photos do you prefer? Take a look, decide, and read below them to see which phone is the shooter.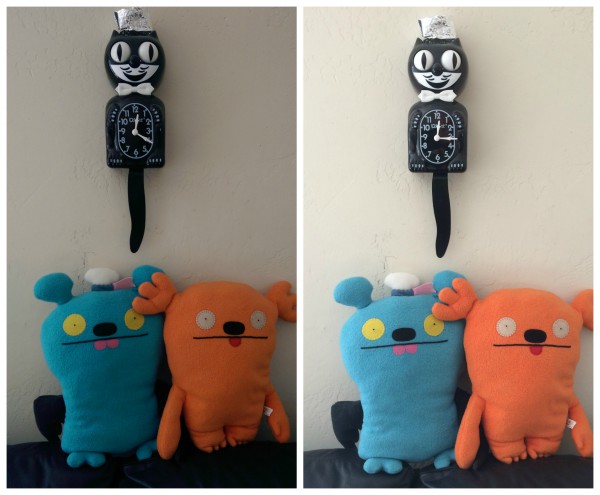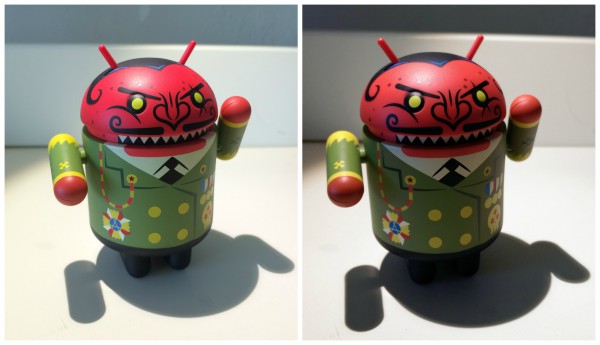 In the first, iPhone 5s took the right photo. Apple blows out the highlights, while HTC favors contrast. Same can be said of the Android Collectible, where The One shot the right photo. I took about 10 images in succession, choosing same point of focus (clock face in the first), for both smartphones. The successive pics for each phone are remarkably consistent, with respect to white balance, contrast, and color.
Data for the iPhone 5 uglydolls:
f/2.2 aperture
focal length 4.12 mm
exposure 1/30 secs
ISO 80
Data for The One uglydolls:
f/2 aperture
focal length 3.82 mm
exposure 1/60 secs
ISO 160
It's interesting that while The One's lens lets in more light, iPhone 5s squeaks in lower ISO, which would be my preference. However, between the two cameras, I consistently prefer the default decisions The One makes. If the photography story ended there, the two phones would be evenly-enough matched shooters. But HTC truly innovates by delivering what it calls a "duo-camera" design. There are two lenses on the back of The One. While through one lens, The One snaps the photo, the second collects additional information so the user can apply additional effects.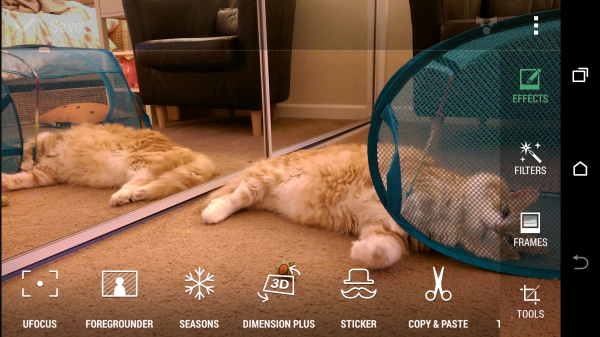 While other smartphones can add seemingly similar affects, they are much less artificial on images The One produces. Here you see the editing user interface.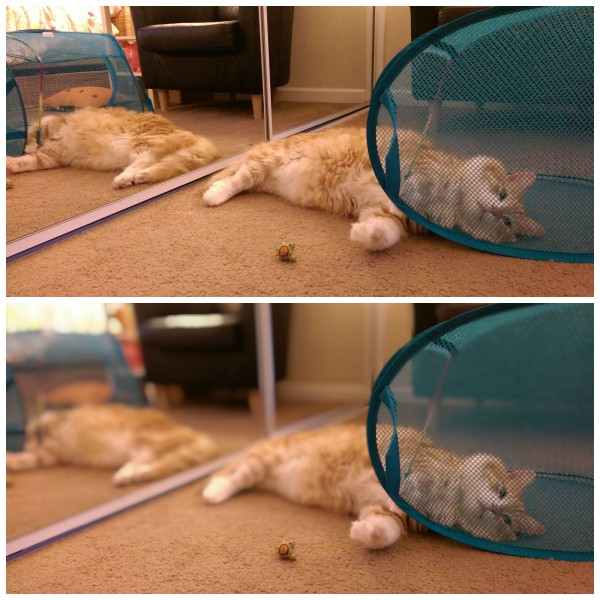 In the above comparison, you see an original photo (top) and the enhanced below it. I purposely snapped my cat Neko in low light, lying against the mirror, with distracting background elements, and in mesh (to make focusing harder for the camera). I wanted challenging circumstances for the base photo, to which I applied The One's "UFocus" feature, which when set to his face blurs most everything else not in the same plane of view. Bokeh, baby!
The feature really isn't meant to be applied to a photo like this, with so many distracting elements in the same plane of view. That said, the eye is drawn to the kitty's face, which is so handsome where else would you want to look? UFocus really shines when there are two objects in foreground and background and you want to focus on one and blur the other. This can be done post-production, and Apple offers no capability like it.
I could go on about the camera system's benefits -- such as Zoe, which makes 30-second clips from photos (with music) -- but will stop with two more. The first, again, sets apart The One from iPhone 5s. The user can change settings like would be possible on a dedicated camera, including exposure value, ISO, and white balance.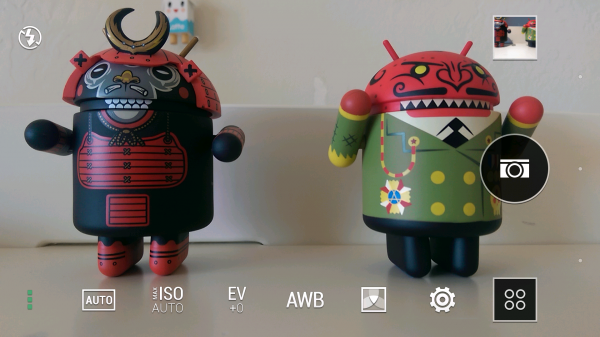 The second: That 5MP front camera is the selfie shooter's wet dream. The One provides ample megapixels and overall appealing image quality to make your selfie, Google Hangout, or Skype call look sensational. iPhone 5s can't compete. No way. Nohow.
The One Choice
I am generally satisfied with my switch to the HTC. My daughter will have to adapt and text me anyway. She has her Apple lifestyle. I'm Android and Chromie. The One's bigness lessens as I adapt, BlinkFeed is better than ever, the camera is one day of delight followed by another, and phone calling and data throughput are just so much better.
At my 92 year-old father-in-law's apartment I couldn't get any Internet on the iPhone 5s, which crackled and broke up every phone call. Using The One, data is consistently 3Mbps or better and calls clear, by comparison. If HTC can deliver something so basic, why can't Apple? My daughter complains about phone calls, too, using iPhone 5s. That's from an area around campus where she gets five bars and I measure data speed at 25Mbps average.
The One is a relief. Liberation. Innovation. The device looks great and feels good but can be a slippery sucker, as previously warned (you can adapt to it). But you're covered, with HTC Advantage -- a program providing one-time free screen replacement during the first six months of ownership.
AppleCare+ is the iPhone 5s alternative. You pay Apple $99 at time of purchase and the company will replace your screen -- or the entire phone -- for another $49. HTC's plan is better value, but you're hosed if breakage comes on Day 185. Apple covers you for two years, up to two instances, but you pay for the privilege.
By most measures that matter to me, the choice is clear. You can have Apple iPhone 5s, I'll take HTC One M8.
Photo Credits: Joe Wilcox