Receive notifications from iOS apps on your Mac with Notifyr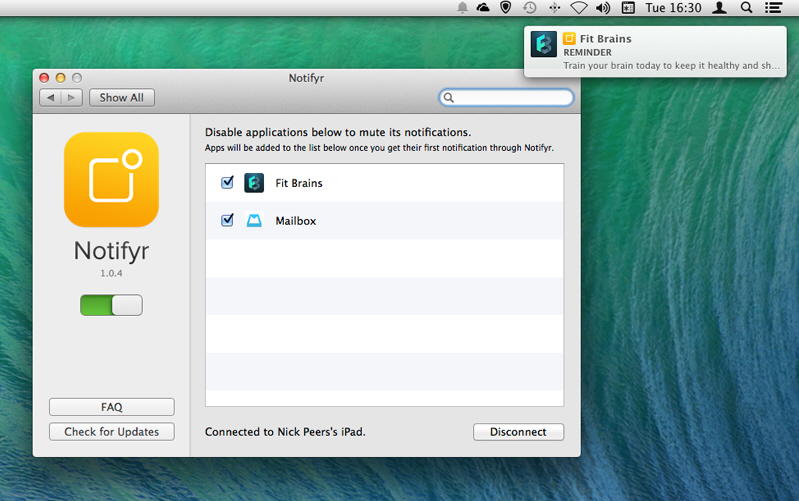 Ever wished you could receive notifications from your iPhone or iPad apps on your Mac? While some -- typically network-based ones like iCloud updates or Twitter notifications -- get channeled to both devices, what happens if you're relying on receiving an important reminder from your mobile, but get distracted while working on your Mac?
The answer -- of sorts -- lies with Notifyr, a cross-platform solution that uses Bluetooth to channel iOS-specific notifications to your Mac via its own Notification Center.
The hardest part of using Notifyr is the initial setup process, which can be confusing if you're not quite au fait with what's going on. Here's how it works. First, download the Mac version for free. Double-click the zip file and then open the PrefPane file that appears, which will verify your Mac supports the app -- it needs to be running Mavericks and support Bluetooth 4.0 -- before installing it.
Once your Mac passes muster, head on over to the App Store and purchase Notifyr itself. This iPhone-optimized app needs to be run in portrait mode, otherwise you'll miss the important part of the message you'll need to set things up. Next, make sure Bluetooth is enabled on both devices, then open the Notifyr System Preferences pane on your Mac and install the helper app if prompted, then verify it's enabled and ready to go.
Now click Select Device and launch the Notifyr app on your mobile, remembering to be in portrait mode to reveal the all-important Authorize button at the bottom of the screen. Tap this and click Allow when prompted, then tap Continue. After a short pause you should see your iOS device appear on your Mac -- select it and click Connect, then follow the prompts to pair the two.
The whole setup process is a little fiddly, but that should be it -- you can now return to the home screen, leave Notifyr running in the background and it should start to send notifications received on your iOS device to your Mac.
At some point you may receive a notification from an app you don't want or need reminders from -- once Notifyr has sent one notification from that app, its name will appear in the Notifyr Preferences pane, at which point you can choose to "mute" it by removing the tick next to it. You'll definitely need to do this with apps that duplicate notifications already sent via your Mac, such as the aforementioned Twitter notifications.
And that should be it -- it's all a little fiddly in its current form, and obviously you won't be able to leave your iPhone at home as it'll need to be within range of the Mac in order to transfer notifications via Bluetooth, but Notifyr does does exactly what it says on the tin, so if you've been crying out for a way to divert notifications from iOS device to Mac, this is it.
Notifyr 1.0.4 is available now as a free download for Macs running OS X 10.9 or later, and as a $3.99 purchase for iPad, iPhone and iPod touch devices running iOS 7.0 or later.