Wise Care 365 version 3 sports major new interface, adds four new modules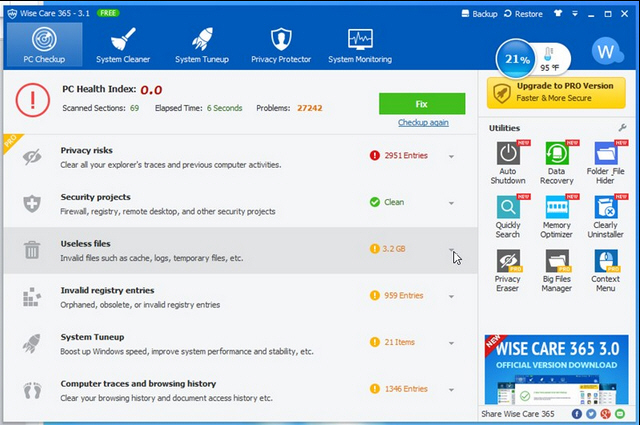 WiseCleaner.com has released Wise Care 365 3.11, a major update to its all-in-one Windows maintenance tool. Version 3.11, which comes in free and paid-for versions, opens with a complete redesign of its user interface.
The new release also adds four new tools, revamps two of its major engines and comes with a number of optimizations to other parts of the suite.
The new user interface follows in the footsteps of others in adopting a flatter, simpler look to tie in more closely with the Windows 8/8.1 user interface. Individual tools are now identified using Metro-style square icons although the overall layout remains consistent with previous versions, so existing users should have little trouble acclimatising.
Four new tools have been added to the suite, two of which reside under a new System Monitoring tab. These are Process Monitor, which offers a complete list of running processes that users can close with a single click, and Hardware Overview, which offers various system information pages.
The new tools are accompanied by a new Hardware Temperature Overview monitor, which is displayed on the main Hardware Overview page, and offers three temperature gauges for CPU, graphics card and hard drives.
Version 3 also adds a new floating icon, which provides users with a thermometer for the CPU temperature and a measure of the current CPU usage. Clicking it allows users to perform various one-click optimizations without having to open the main program window.
The new release also debuts two completely rewritten scanning and cleaning engines, one for the PC Checkup module, the other for the Registry Cleaner. In addition three other modules -- Registry Backup, Registry Cleanup List and Common Cleaner -- have all been optimized.
Wise Care 365 3.11 is available now as a free, function-limited download for PCs running Windows XP or later. Pro licenses are available with prices currently starting at $22.50 for a single-PC, single-year license. Lifetime upgrades are also available.