Yahoo might use your ear to unlock your phone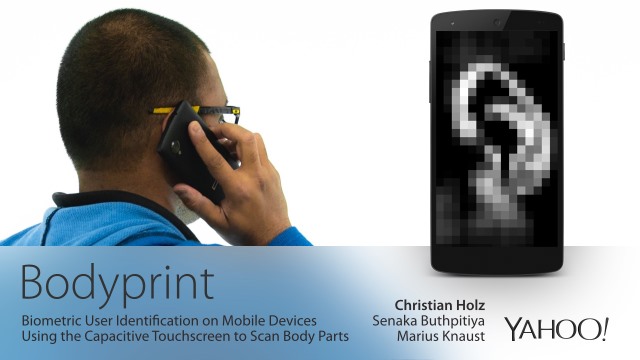 Smartphone security takes a number of forms; you might access your phone with a PIN, your fingerprint, or via facial recognition. But if Yahoo's plans gather momentum, you could be using your ear to unlock your phone in the not-too-distant future. The idea builds on the idea of the unique fingerprint we all have, taking advantage of the capacitive touchscreens that are now a standard feature of phones.
There's no need for special sensors as the way different parts of your ears touch the screen when held in the 'talk' position can be used to uniquely identify you. It's all part of Yahoo's Bodyprint program, which is also looking at how the way you hold your phone could be used as an unlock tool.
It's a technology that could be easily implemented in cheaper handsets, bringing a new level of personal security to smartphones at the lower echelons. The technology can be used to not only permit or deny access to an individual smartphone, but could also be expanded to multi-users systems whereby different people are permitted access to different files.
Yahoo conducted small-scale tests that achieved a 99.52 percent level of accuracy:
We present Bodyprint, a biometric authentication system that detects users' biometric features using the same type of capacitive sensing, but uses the touchscreen as the image sensor instead. While the input resolution of a touchscreen is ~6 dpi, the surface area is larger, allowing the touch sensor to scan users' body parts, such as ears, fingers, fists, and palms by pressing them against the display. Bodyprint compensates for the low input resolution with an increased false rejection rate, but does not compromise on authentication precision.
Check out the video below to see how Yahoo views the future of smartphone security: