The smartphone craze is over in China, as shipments decrease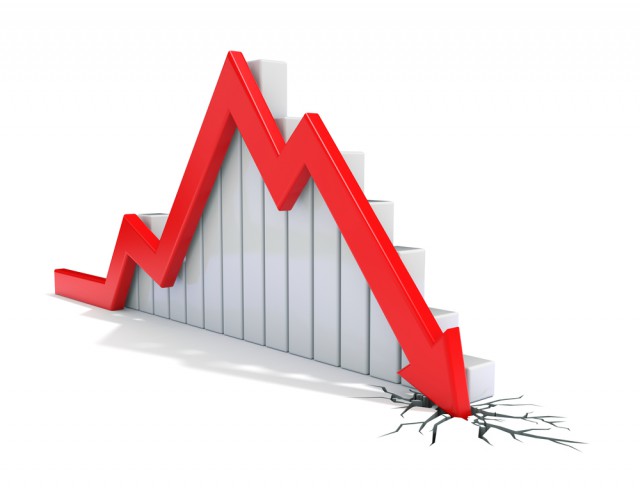 China's smartphone market has declined year-over-year for the first time in six years, according to a new report from IDC. In the first quarter of the year, shipments decreased by 4.3 percent compared to the same period from 2014, with the likes of Samsung and Lenovo posting huge drops.
Apple leads the pack in China, shipping 14.5 million iPhones in Q1 2015, 62.1 percent more than a year ago. Meanwhile, rival Samsung, which comes in fourth place, saw shipments of just 9.6 million units, a whopping 53 percent lower compared to Q1 2014.
Xiaomi takes second place on the podium, with 13.5 million smartphones shipped, 42.3 percent more than in Q1 2014, while Huawei and Lenovo occupy third and fifth place, respectively, in the country. Huawei posted shipments of 11.2 million units, 39.7 percent higher than in Q1 2014, while Lenovo shipped 8.2 million smartphones, 22.1 percent lower year-over-year (taking Motorola in account, the drop is actually 23.1 percent).
"Smartphones are becoming increasingly saturated in China", explains IDC's Kitty Fok. "China is oftentimes thought of as an emerging market but the reality is that the vast majority of phones sold in China today are smartphones, similar to other mature markets like the US, UK, Australia, and Japan. Just like these markets, convincing existing users as well as feature phone users to upgrade to new smartphones will now be the key to further growth in the China market".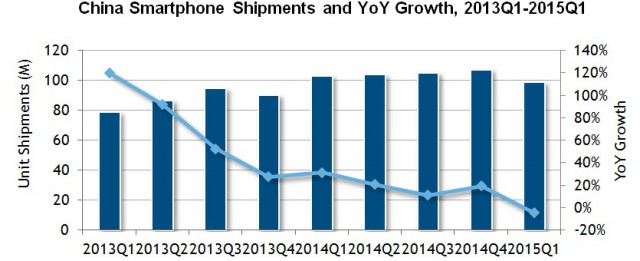 Based on the information shown above, China's smartphone shipments have been falling on a sequential basis since Q1 2013 with two exceptions, namely Q1 2014 and Q4 2014. Sequentially, the market contracted by 8 percent, with IDC blaming the large inventory buildups in the last quarter of 2014 for the decline.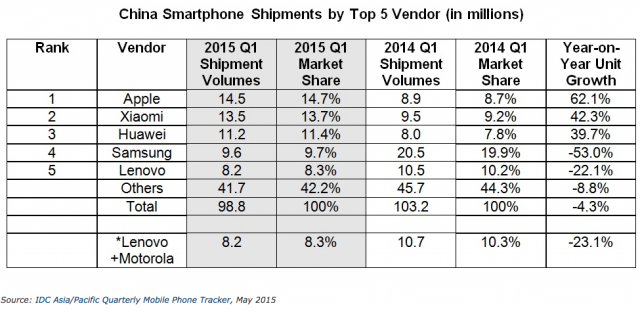 Image Credit: Onypix / Shutterstock