Say, Nexus nerds, what about Project Fi?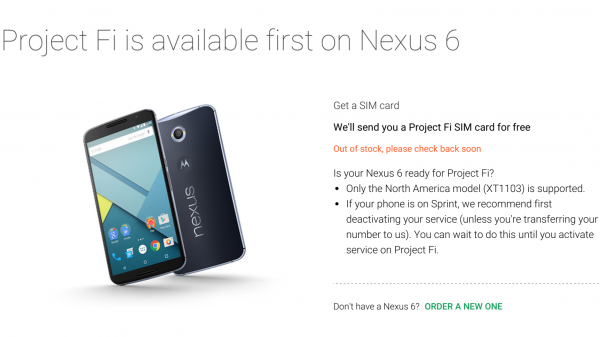 As September 29th approaches, and Google's annual autumn launch event, rumors increase in frequency, and a few in absurdity, about what will be revealed. The gadget-obsessed shouldn't forget what else might arrive with one, or even two, rumored new Nexus smartphones: Expanded support for Project Fi. I am surprised how little buzz there is among the fan base. Where are the rumor-wagging tongues?
The search and information giant introduced the invite-only cellular service in April 2015, piggybacking Sprint and T-Mobile networks for a cool $20 a month, plus 10 bucks more for each gigabyte of data (refunding for portion unused). The gotcha: Project Fi only supports one device: Nexus 6. You buy one or you bring your own. Otherwise it's fee-Fi-fo-dumb for you.
New Nexus handsets, presumably supporting all major US carriers (like Nexus 6 does), would enable Google to expand Project Fi's reach—maybe even drop the invites and go wider. My Project Fi invite arrived on August 13th, but my sister had my Nexus 6 while I tested iPhone 6 Plus. (She later gave the phablet to my mom after an accident destroyed her uninsured Moto X Developer Edition. Sis bought the Motorola Dorid for herself.) I am a Nexus 6 owner again, taking advantage of Amazon's recent, insane, and presumably inventory-clearing, price cuts.
I am ready to sign up, finally, and tried to do so this morning. But, whoa, Google is—get this—sold out of SIM cards. See the screen shot and wonder along with me. What? Did the five other Nexus 6 owners all demand SIMs simultaneously? Seriously, how do you run out of SIMs? Devices, I can understand.
Perhaps Google's agreement with Sprint and T-Mobile is capped at X-number of users. Or, maybe, the SIMless situation foreshadows expansion coming along with those rumored new handsets. BTW, choosing to buy Nexus 6 with Project Fi is interesting, too. Google lists the 64GB phablet as "permanently out of stock". What could be more definitive than that?
As a new owner of Google's OnHub router, and understanding how much Project Fi relies on WiFi for calling and data, I am curious to see if there is any extra bang using the two together. I will have to wait for SIMs to restock or perhaps to test a new Nexus—not that I bubble to do so. Based on the leaks, I see nothing that pines my desires away from my Motorola-made, Google-branded phablet.
Meanwhile, I wonder: What's next for Project Fi?