Microsoft Back to School Deal: Buy Huawei MateBook Windows 10 PC, get free keyboard!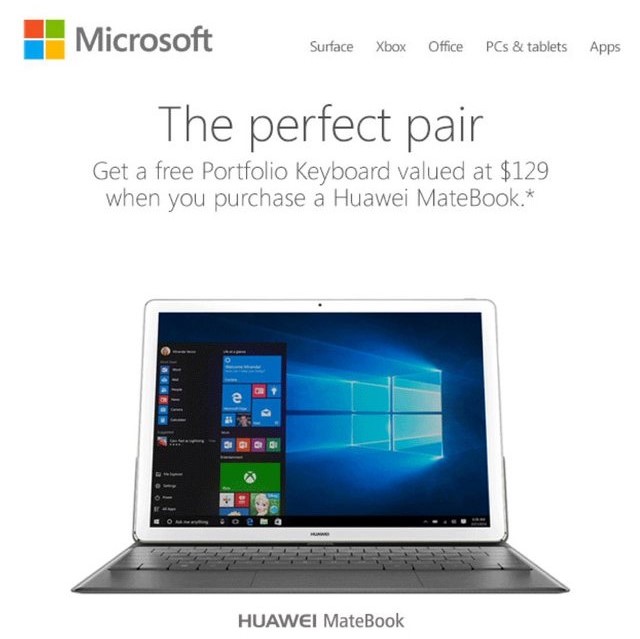 If you are looking to buy a new computer for college or high school, there are many great options. In my shopping guide, I listed some choices, with one being the Huawei MateBook. Like the Surface Pro, it is technically a tablet, but when the keyboard attachment is connected, it is functionally a laptop too.
Unfortunately, having to buy the Portfolio Keyboard adds $129 to the overall price. Thankfully, this is no longer an issue. You see, for a limited time, Microsoft will give you that keyboard for free when you buy the Huawei Matebook. Best of all, this promotion includes the base model, meaning you can get the full Windows 10 experience for a steal!
You can read my review of the Huawei Matebook here. It is quite the satisfying computer. Below is an excerpt from that review.
Do I recommend the Huawei MateBook? Absolutely. However, there are some caveats. If you type on your lap a lot, this is not for you. If you do a lot of hardcore processor-intensive work, such as video editing, the core m processor won't meet your needs -- you must value silence and battery to raw power.

The MateBook is for someone who has modest needs, such as office work, movies, music, web surfing and casual light-weight games from the Windows Store, but wants it in an elegant laptop that is also a tablet. In other words, regular work and consumption -- perfect for the typical home user and office worker. For those on a budget, it can be a great desktop too, killing 3 birds with one stone. Small businesses in particular should target this as a silent workstation that is budget friendly.

If you value silence, great battery life, beautiful design and lightweight portability, this is the laptop/tablet hybrid to get. Huawei has done Windows 10 right. Highly recommended.
My warning about lap-typing is still true today. The MateBook is brilliant when used as a tablet or in laptop mode on a desk or table, but if you type a lot on your lap, it should be avoided.
The Core m3/128GB/4GB that I reviewed is quite peppy and capable -- a great buy at $699. With that said, if you can afford it, the m5 with 256GB storage and 8GB of RAM is a worthwhile upgrade at $999.
As icing on the cake, you also get a free 8-inch tablet made by NuVision (seen here). The smaller size could prove useful when laying in bed and reading.
Want to take advantage of the deal? You can get it here.