Windows 10 has over 50 percent market share, according to Microsoft -- wait, what?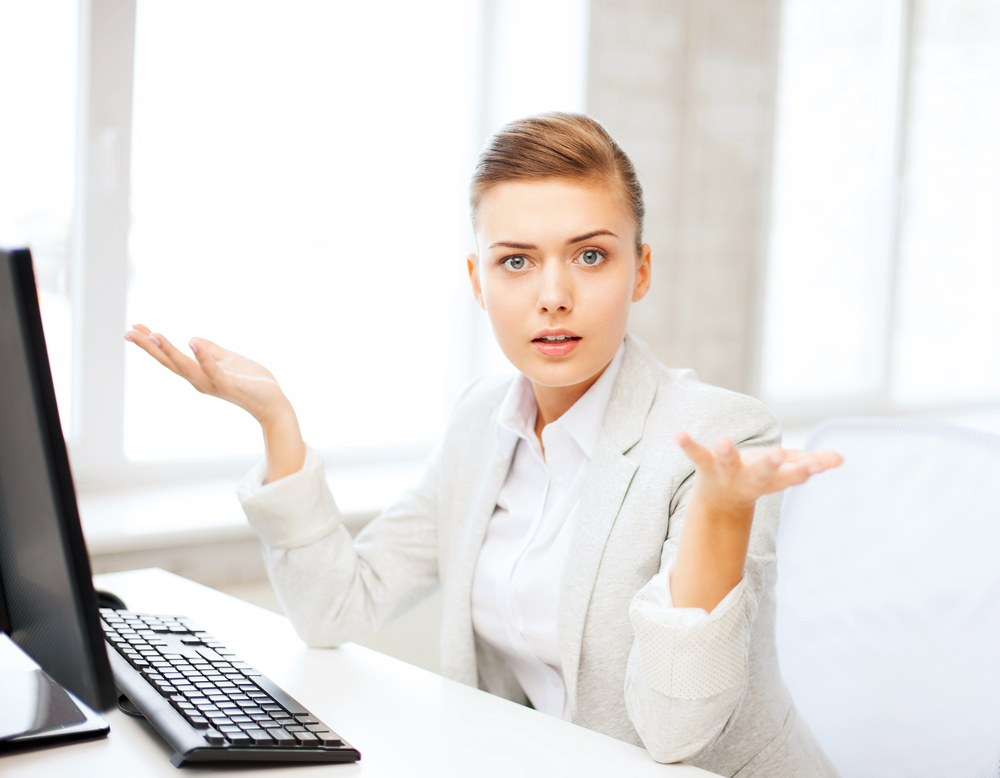 NetMarketShare's desktop operating system usage figures are due out in a couple of days, and what happens in terms of Windows 10 growth will be interesting as it will be the first time the new OS isn't available for free.
Before those figures arrive however, Microsoft has released some of its own, and according to the software giant Windows 10 now has 50 percent of the market in the US, and 51 percent in the UK. And, as if that wasn't surprising enough, those numbers are from June, so the current percentage will likely be much, much higher.
Microsoft's Windows trends page has been updated to show figures for May and June. In May, Windows 10 was on 46 percent in the US (47 percent in the UK, 36 percent globally). Windows 8.1 had 12 percent (14 percent in the UK and globally), Windows 8 was on one percent (the same in the UK and two percent worldwide), and Windows 7 was on 41 percent (38 percent in the UK, 47 percent globally).
In June, Windows 10 hit 50 percent in the US (51 percent in the UK, 39 percent globally), while Windows 8.1 dropped to 11 percent (12 percent in the UK, 13 percent globally), and Windows 8 remained on one percent in the US and UK, but two percent globally. Windows 7 was on 38 percent (36 percent in the UK, 46 percent globally).
Microsoft's figures are a world apart from NetMarketShare's, which in July showed Windows 10 on just 21.13 percent of the market globally, way behind Windows 7 on 47.01 percent.
A big reason for the difference in numbers comes down to how they are recorded. NetMarketShare records actual OS usage (based on web browsing), while Microsoft records the number of devices Windows 10 is installed on. These include tablets as well as PCs, and the figures include devices not yet sold in shops and warehouses. Microsoft also only records Windows 7, Windows 8, Windows 8.1 and Windows 10, while NetMarketShare includes both XP and Vista.
The latest update to Microsoft's Windows trends has rather broken the page, as it now shows the months in alphabetical order (April 2015 followed by April 2016, and then August 2015 and December 2014). It would be easy to assume from that oddness, and the heading of "Windows trends: Sep 2015" that the figures quoted are incorrect, but actually they are pretty much in keeping with the trend shown in previous updates.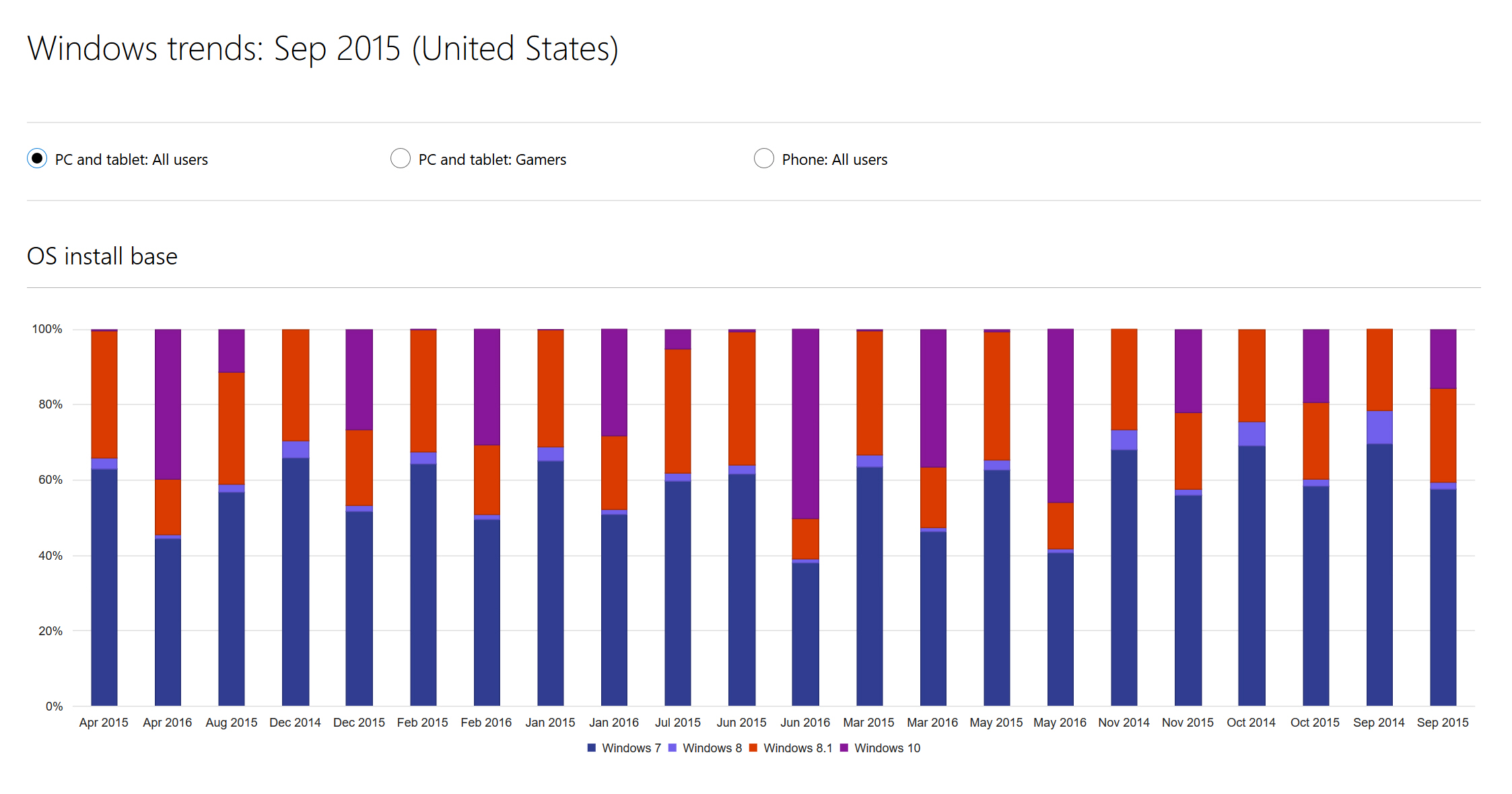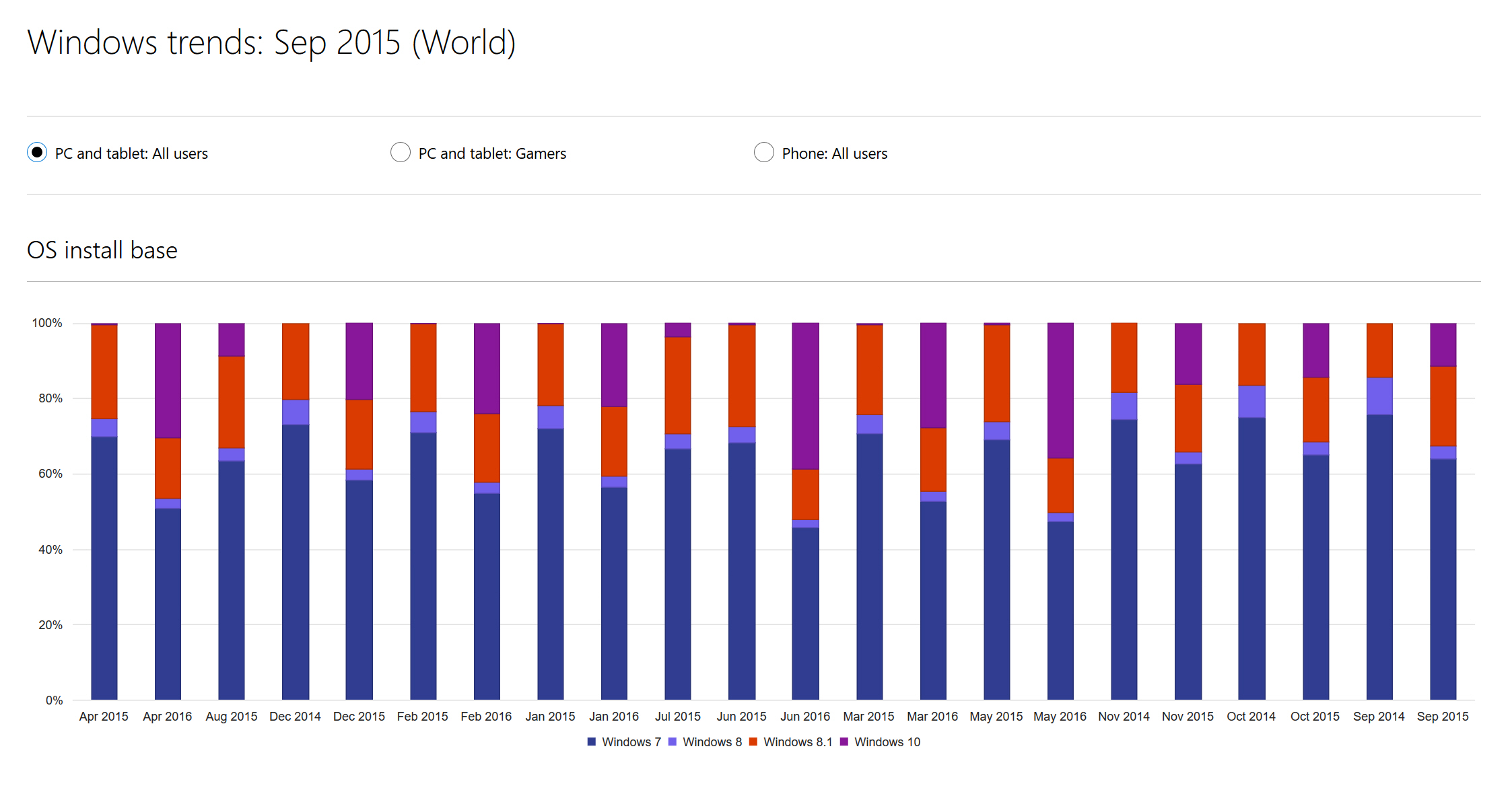 In April, Microsoft had Windows 10 on 30 percent globally, and the OS climbed to 36 percent in May, and 39 percent in June. Previous months showed the OS growing at a rate of about two percentage points a month, but that was before Microsoft started tricking users into upgrading.
Based on the latest figures/growth, it's safe to assume Microsoft currently has Windows 10 closing in on 50 percent share globally, which seems a bit mad, especially in a single year.
Microsoft was originally aiming at getting Windows 10 on to a billion devices by mid-2018, but then changed how it reported these numbers when it became clear based on the current numbers (350 million devices in June) that it was unlikely to hit that target.
It seems rather odd to me that Windows 10 was on 350 million devices in June and had 39 percent of the global Windows market. That suggests a total market size of 897 million devices (excluding XP and Vista systems) which is very low, especially when you consider global PC shipments for this year alone is predicted to be 255.6 million.
Of course the number of devices that Microsoft announced included Windows 10 Mobile phones, but that's a fairly minuscule contribution.
Either way, the share numbers are intriguing. It will be interesting to see what NetMarketShare reports on Thursday.
Photo Credit:  Syda Productions/Shutterstock