Microsoft releases Windows 10 Redstone 4 Insider Preview Build 16353 for PC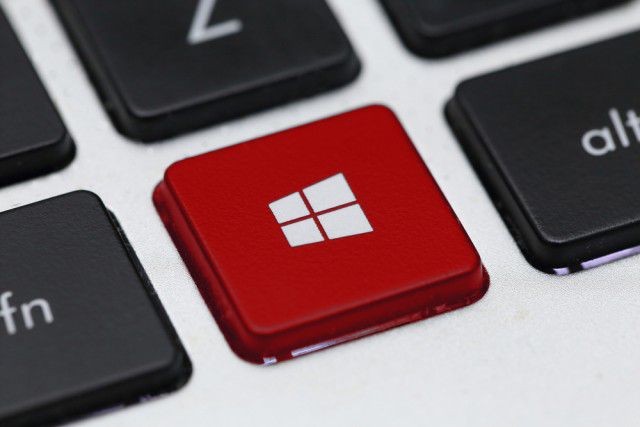 I've faced a bit of criticism for claiming the Windows Insiders program was getting confusing and convoluted. Yeah, for some of you, the program is totally clear -- I get it. Please understand, however, that not all Insiders have their lives revolving around Windows 10 like maybe you do. And that's a good thing. When collecting data, you want to have varying degrees of knowledge and understanding, as that provides more diverse feedback.
Today, Dona Sarkar legitimizes my concerns by acknowledging that things are getting a tad confusing. While announcing a new RS4 build for the "Skip Ahead" folks -- Windows 10 Insider Preview Build 16353 for PC -- Sarkar clarified some aspects of the Insiders program; she also included a helpful graphic. This is a good sign for the Insiders program, as it reaffirms the company is willing to listen and improve.
"Today we are releasing Windows 10 Insider Preview Build 16353 for PC to Windows Insiders in the Fast ring who have opted in to Skip Ahead only. As we mentioned in last week, Insiders who joined Skip Ahead will continue to receive builds from the RS_PRERELEASE branch which has transitioned to RS4 which is the release that will come after the Windows 10 Fall Creators Update (RS3). Insiders will notice that the build numbers have jumped ahead to 1635x. Previously, we jumped ahead with build numbers at the beginning of development for RS3. Because we are just beginning development for RS4, Insiders shouldn't expect to see a lot of big changes or new features just yet. Our focus remains getting the Windows 10 Fall Creators Update ready for release," says Dona Sarkar, Windows Insiders Program, Microsoft.
Sarkar also says, "We have had some Insiders ask us some questions about Skip Ahead and to clarify what it is. Back in July, we announced Windows Insiders in the Fast ring could opt-in and 'skip ahead' to builds that would be part of the next feature update for Windows 10. There was a limit on how many Insiders in the Fast ring we would allow to skip ahead and that limit had been reached several weeks ago. Insiders can no longer opt-in their PCs to Skip Ahead. Up until last week, we had been releasing identical builds to Insiders who didn't opt in to Skip Ahead and to those who did. As of today, the builds are no longer the same as mentioned above."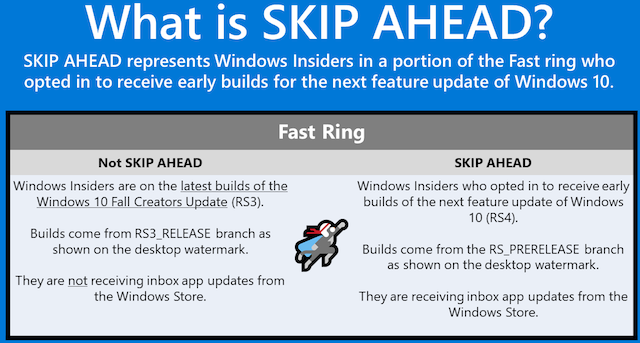 Sarkar shares the following "General changes, improvements, and fixes for PC."
When the Action Center is black (the default option) the "clear all", "expand"/"collapse", and "see more" link text will now all use your accent color – making them pop more and improving discoverability.
We've updated the Action Center to now support a two finger touch gesture to dismiss all notifications. Place two fingers vertically within the Action Center near the edge opposite to the side of your screen. Then slide these fingers towards the side of the screen. You will notice all notification groups following your fingers and then dismissing as you slide your fingers off the side of the screen.
We fixed an issue in XAML resulting in text animations appearing slightly blurry in the last flight until the animation had stopped (for example, when loading the main page of Settings).
We fixed an issue resulting in the taskbar being unexpectedly thick if you booted up the PC while plugged in to an external monitor with a different DPI.
We fixed an issue that caused minimized per-monitor DPI aware windows to miss DPI changes and end up with a mix of DPI scaling upon restoring.
We fixed an issue from recent flights where when Slideshow was enabled resuming from sleep a second time might place the Lock screen in a state where it couldn't be dismissed without pressing Ctrl + Alt + Del.
We fixed an issue resulting in an unexpected change in mouse sensitivity in the last flight for PCs using non-default display scaling.
We fixed an issue resulting in Asphalt 8 not accepting input in recent flights.
We fixed an issue resulting in progress wheels on certain websites in Microsoft Edge unexpectedly moving out of place during their rotation.
We fixed an issue where the Windows Hello strings would appear on top of the page when performing a pin reset from the login screen.
Photo credit: charnsitr / Shutterstock