G.SKILL unveils AMD Ryzen Trident Z RGB memory kits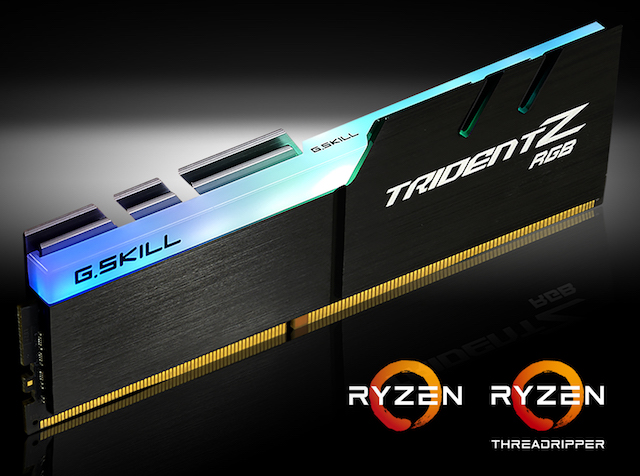 If you are building a new PC these days, you should definitely check out AMD processors. Its Ryzen chips are an amazing value, while the Ryzen Threadripper variants are multi-core beasts. There's nothing wrong with Intel, but now is clearly the time for AMD to shine.
If you need RAM for such an AMD build, compatibility can sometimes be a bit of a pain, so you should always consult with your motherboard manufacturer's list of compatible sticks. Of course, you can never go wrong with G.SKILL, and today, the company unveils new memory kits for both regular AMD Ryzen and Ryzen Threadripper. These Trident Z sticks aren't standard, however -- they feature RGB lighting to make your build look pretty! I mean, everything is better with lights, right?
"Specifically designed for AMD Ryzen and Ryzen Threadripper platforms, now there are vibrant options up to the popular DDR4-3200MHz CL14 or the massive 128GB (8x16GB) kits at up to 2933MHz. For a full range of memory kit capacity options, the new Trident Z RGB memory kit models are available at DDR4-2400MHz in 2-, 4-, and 8-module kit configurations with 8GB and 16GB modules, which allows for 16GB, 32GB, 64GB, or 128GB memory kits for your AMD system," says G.SKILL.
ALSO READ: G.SKILL DDR4 RAM sets world record with 5.5GHz overclock using Intel X-series CPU
The popular RAM-maker further says, "AMD currently has two platform offerings, where Ryzen supports dual-channel with 2 or 4 memory modules and Threadripper supports quad-channel memory with 4 or 8 memory modules. To give a boost in memory performance to AMD number-crunching workstations and high-end graphic rendering systems, G.SKILL offers several selections for each AMD platform, including memory speeds of up to DDR4-2933MHz or ultra-high capacity at 128GB (8x16GB). To differentiate between the new AMD-optimized Trident Z RGB kits from the original, look for the 'X' at the end of the Trident Z RGB model numbers."
G.SKILL shares the compatibility list below.

While pricing is not yet known, G.SKILL promises that the AMD Ryzen Trident Z RGB memory kits will be available next month, in October. This RAM should be sold at the usual retailers, such as Newegg and Amazon.