Shutterstock unveils 2018 Creative Trends Report -- cryptocurrency, fantasy, and more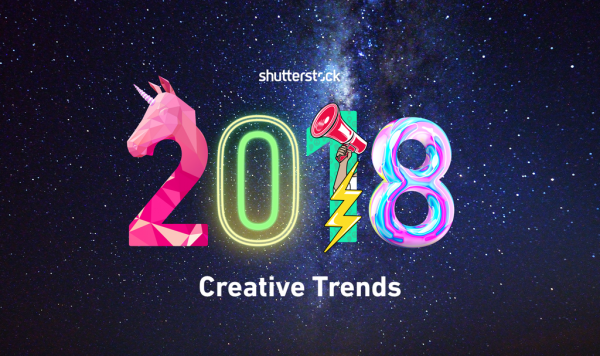 Shutterstock is an excellent website to obtain high-quality media -- images, music, and videos. Not only is it easy to use, but it has a large and diverse selection too. That is probably why so many companies use the service (including us). With so many people searching Shutterstock for media, the company has the opportunity to analyze that search data to predict trends. This is smart to do, as unused data is arguably worthless data.
Today, Shutterstock unveils its Creative Trends Report for 2018, and the data is quite interesting. If you aren't familiar, it is a report that highlights certain media trends based on search data. Even though it focuses on media, the subject matter can reveal larger overall worldwide trends too. As an example, one of the big media search trends is cryptocurrency -- this should come as no surprise, as Bitcoin and others have seen huge gains (and losses) lately. As you can see, people will search for media that represents things that are happening in the world.
"The major trends identified in this report from Fantasy to New Minimalism are determined by analyzing billions of searches within Shutterstock's collection of 170 million images by customers including those in the advertising, film, and media industries. The data gathered over the past year across images, videos, and music helped to determine the standout ideas and concepts that we believe will influence creative direction and design aesthetics in 2018," says Shutterstock.
ALSO READ: Fedora 28 wallpaper contest now open -- submit your image to the Linux distro!
The popular media company further says, "Shutterstock predicts major trends that will dominate popular culture as well as emerging trends that will burst onto the design scene this year, like Holographic Foil and Natural Luxury. The annual Creative Trends report takes new shape this year, with strong data pointing to a few distinct trends and identifying major increases in specific themes as well as showcasing 20 country specific trends. A team of data scientists, creative professionals, and content reviewers interpreted year-over-year surges in 2017 to compile a cohesive list of 11 styles that will permeate design in 2018."
ALSO READ: Top 10 TV shows of 2017 based on IMDb page views -- number two will shock you!
Shutterstock shares in-depth information about the top three trends as featured in the 2018 Creative Trends Report.
Fantasy: From mythical beasts to magical landscapes, symbols and styles of the fantasy genre help us slip into another world. Searches are increasing for recognized fantasy characters – the term unicorn is up 297 percent and mermaid is up 145 percent from the previous year. Epic, orchestral music is also growing in popularity as marketers and creative professionals look to add a bit of the supernatural to our everyday.
NewMinimalism: Minimalism is evolving from its modest roots to a look fit for modern times. The new minimalism goes beyond crisp, clean lines to feature bold, vibrant colors and fluid styles that reimagine this consistently popular artform. While searches for continuous line increased 432 percent from the previous year, a new contender in minimalism, neon circle, was searched for 387 percent more than the year prior.
Space: The sci-fi genre continues to triumph the box office and the creative world is taking note with an emphasis on space. Searches for solar are up 991 percent and interest in astro has increased 671 percent, while the popularity of the unmistakable sci-fi synthwave sound has increased 494 percent from the year prior.
ALSO READ: Samsung CJ791 is world's first curved Thunderbolt 3 QLED display
You can see the full list of notable trends in the below infographic. Which ones do you find interesting? Please tell me in the comments below. I can tell you that I am truly astounded by the cactus trend!