Microsoft to finally begin selling its ridiculous Surface Connect to USB-C Adapter this week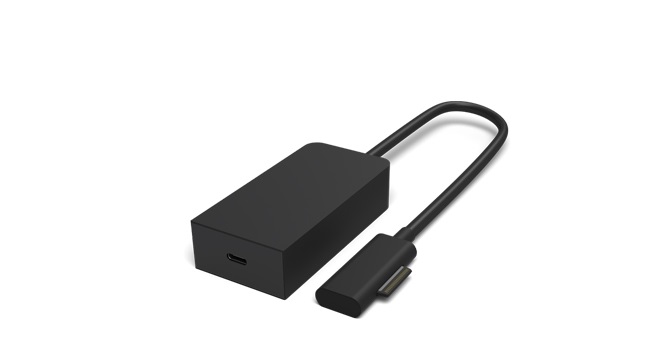 I'm a big fan of some Surface hardware. Microsoft's own laptops and tablets are often well-made and very elegant. Quite frankly, if you want a Windows 10 PC, the Surface Laptop is a great pick. The Surface Pro is a solid choice too, although it can be difficult to use in a lap -- a non-starter for many. The Surface Book series and Surface Studio are decent choices too, albeit pricey.
Unfortunately, while the latest Surface Pro and Surface Laptop computers are rather great, they have one huge issue -- lack of USB-C. It is mind-boggling that Microsoft omitted this port, but OK, what's done is done. Last year the company promised a USB-C dongle would be released eventually, and it will finally become available this week. The problem? It looks like a clunky joke.
Read also:
I mean, take a look at the image above. It is an enormous box that connects to the Surface Connector port. Does Microsoft really expect consumers to carry such a monstrosity in their bags when on the go? Sigh. Anyway, the Windows-maker shares specs and such below.
| | | | |
| --- | --- | --- | --- |
| Dimensions | Adapter Body: 82mm x 40mm x 20mm; Overall length including Surface Connect Cable: 284mm | Weight | 90g |
| Compatibility | The newest Surface Pro (models 1796 and 1807) and Surface Laptop (Model 1769) | Power requirement | External power source with minimum power output of 27W and 12V |
| Cable | Surface Connect | Ports | 1 x USB-C |
| Operating System | Windows 10 version 1703 and above | Warranty | 1-year limited warranty |
Microsoft shares the following small print.
Display output and data throughput capabilities are dependent on the USB-C docking solution used. Requires external power source with a minimum power output of 27W and 12V.
Worst of all, according to The Verge it will apparently cost $79.99 when it becomes available June 29 -- a huge asking price to add a single port to a a computer. Not to mention, this dongle will only work with the newest Surface Pro or Surface Laptop. If you switch to, say, a Dell or HP laptop in the future, the Surface Connect to USB-C Adapter basically becomes a proprietary piece of garbage.
Unless you desperately need to connect a USB-C device to your Surface Pro or Surface Laptop, you should probably take a pass. Hell, you might even want to upgrade to a Windows 10 laptop with integrated USB-C, such as the excellent Huawei MateBook X Pro