Toshiba XG6 NVMe SSD is world's first with 96-Layer 3D Flash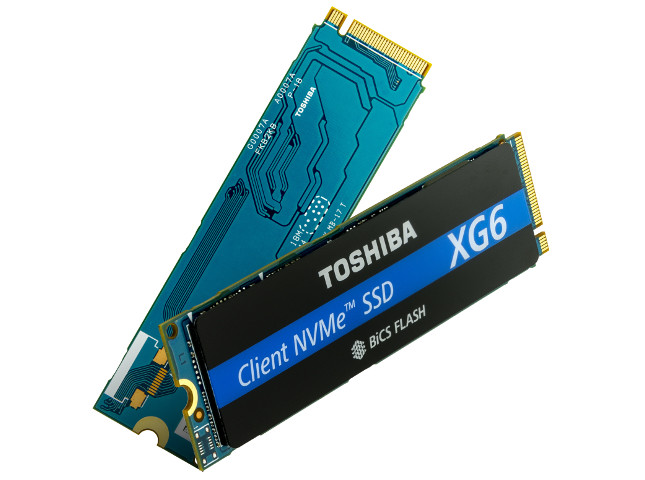 For PC builders and enthusiasts, these are quite exciting times. Hardware is faster than ever, making it possible to build some monstrously powerful computers. Solid state drives in particular have made storage blazing fast -- especially since NVMe began replacing the slower SATA drives.
Today, Toshiba unveils its latest NVMe solid state drive and it has some revolutionary technology on-board. You see, the "XG6," as it is called, is the first SSD to feature 96-Layer 3D Flash.
"As the inventor of flash memory and the first to introduce the concept of 3D flash memory, Toshiba Memory is driven to continually push the boundaries of what is possible -- and move the technology forward. Its 3-bit-per-cell (triple-level cell, TLC) BiCS FLASH technology improves the performance, density and efficiency of SSDs. And its innovative 96-layer stacking process combines with advanced circuit and manufacturing technology to achieve a capacity increase of approximately 40 percent per unit chip size over 64-layer 3D flash memory," says Toshiba.
ALSO READ: Toshiba launches 240GB XS700 Portable Solid State Drive with USB 3.1 Gen 2 Type-C
The famed company further says, "The new XG6 series is available in an M.2 2280 single-sided form factor and supports PCI Express Generation 3x4 lane and NVM Express revision 1.3a. A powerful combination of efficiency and performance is a hallmark of the XG6 series, which consumes 4.7W or less of power and reaches up to 3,180MB/sec of sequential read and nearly 3,000MB/sec of sequential write, and up to 355,000 random read and 365,000 random write IOPS. Achieved by optimizing SoCs, the sequential write performance of the XG6 series leads the industry."

Toshiba shares the following notable features of the XG6 NVMe SSD.
Security: Pyrite or self-encrypting drive models supporting TCG Opal Version 2.01, as well as support for block SID and digital signature
Support for user-selectable over provisioning feature through NVMe command
Top-of-the-class sequential performance (client class)
Enhanced SLC buffer to improve drive performance for client workloads
While pricing and consumer availability are unknown, we do know storage size. The XG6 NVMe SSD will be sold in 256GB, 512GB, and 1TB capacities.