Cavalier Audio launches premium Maverick Bluetooth/Wi-Fi speaker with Amazon Alexa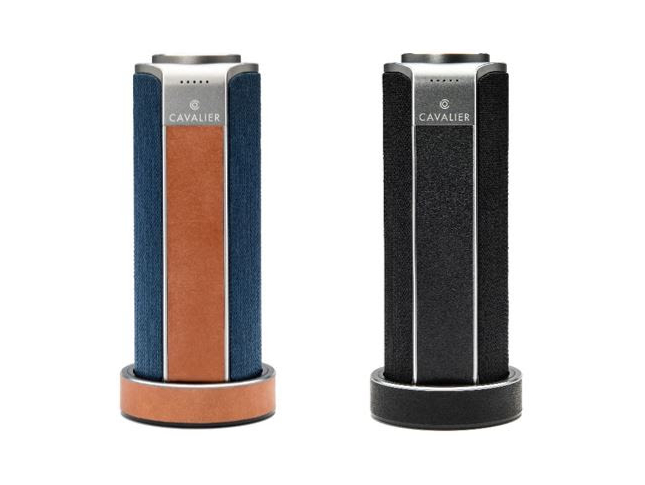 Amazon Echo devices are very convenient for listening to music. Not only can you use your voice to play, say, Spotify or Pandora, but SiriusXM too. Unfortunately, the Echo devices aren't exactly audiophile products. While the normal Echo is passable, the Dot is downright terrible for audio quality -- this is probably why Amazon suggests connecting it to an external speaker.
But what if convenience isn't enough? What if you want to use Alexa and also have superior audio quality? Today, a company named Cavalier Audio launches a premium portable Bluetooth/Wi-Fi speaker with Amazon Alexa support that aims to solve that dilemma. The "Maverick," as it is called, promises better audio quality compared to Echo, but also, it is comprised of premium build materials, such as leather.
ALSO READ: D-Link launches trio of security cameras with Amazon Alexa and Google Assistant support
"Dreamed up by an experienced team of musicians and engineers, the Maverick speaker brings world-class acoustics to life with a 20W stereo speaker system featuring two active drivers and dual passive radiators that create a true room-filling experience. The speaker is fully portable thanks to both Bluetooth and Wi-Fi capabilities, allowing listeners to enjoy music no matter where they are. Maverick lets users go completely hands-free with built-in Amazon Alexa voice control technology that supports Wi-Fi streaming with platforms such as Pandora, Spotify, iHeartRadio and Amazon Prime Music services," says Cavalier Audio.
ALSO READ: Amazon brings Alexa to France
The company also says, "Maverick comes equipped with a premium leather charging base to give the speaker a true home setting with a design that complements a mix of interiors. Cavalier's precise attention to detail is reflected in Maverick's included, custom-stitched charging cable with USB-C connector and canvas carrying case so users can take the speaker with them in style. Its integrated programmable smart button allows listeners to customize touch controls, including playlist shortcuts for streaming platforms like Spotify and iHeartRadio, for those moments when it is just easier to press a button."
Cavalier Audio shares the following features and benefits.
Built-in Amazon Alexa with Far-Field Voice Activation
20W Stereo Speaker system with 2 active drivers paired with 2 passive radiators
Far-field microphones give users the ability to take calls without stopping the music and killing the vibe
Built-in rechargeable battery with up to 9 hours of playtime
Wi-Fi for Alexa support and Streaming with Voice Control for TuneIn, Spotify, iHeartRadio, Amazon Music, Amazon Music Unlimited, Pandora, SiriusXM, and Audible
Bluetooth 4.0 Wireless Audio Streaming
Speakerphone with Built-in Echo Noise Cancellation
Spotify Connect Integration allows direct control of Music playback via Spotify App
Cavalier Multi-Room Audio Support
Cavalier Setup and Control App (for iOS and Android)
Programmable Smart Button changes default music controls to include playlist shortcuts for Spotify and iHeartRadio
Premium leather charging base for a true home setting with included custom stitched USB-C charging cable
Includes a canvas carrying case for on-the-road use and protection in style
ALSO READ: Schlage smart deadbolt door locks gain Amazon Alexa voice unlocking feature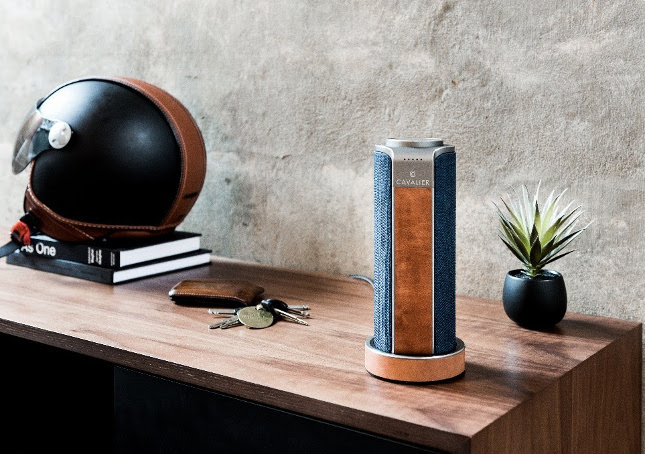 If you want your own Maverick, you can buy it from Cavalier Audio directly here. It can be had in either indigo or black for $299.99. And yes, the charging dock is included in the price.